A fat, gay man's story of embodiment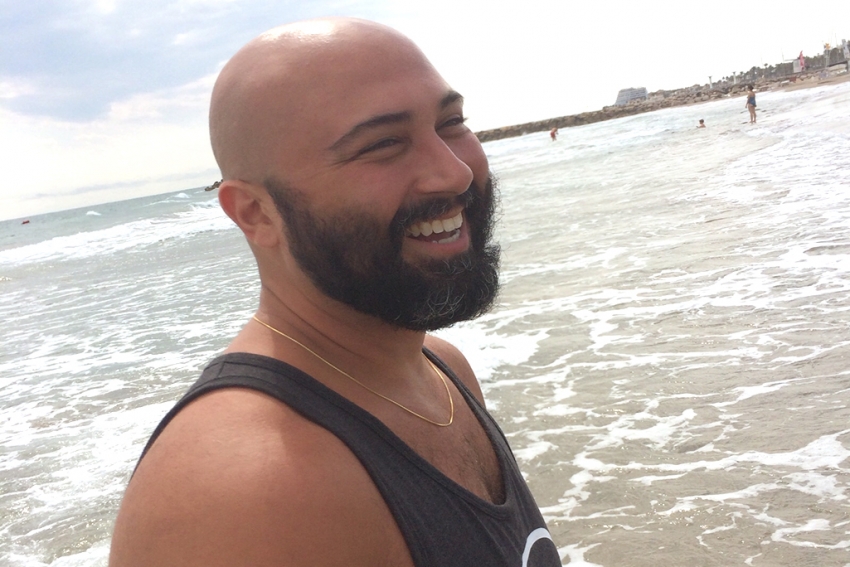 I have struggled with my body my entire life—mostly because I've been unhappy with it. I am finally at a better place with my body, as a proud, out, gay man in my late thirties, but it has taken a lot of time, effort and experience to get here.
I believe that in the gay community there is an unspoken hierarchy of attractiveness. Our experiences with other gay men depend on where we rank in the hierarchy. As gay men, we tend to measure ourselves, those we desire and those who desire us against certain ideals of attractiveness. The young, lean, muscular, smooth, white, cisgender (non-trans) male body is over-represented in media and accepted as the most attractive. This ideal body is not just a physical type—it is also a manifestation of the abstract "masculinity." Think: Abercrombie model, action movie superhero, pop star, athlete. You get the picture.
This idealized masculine body is not only unachievable for many of us—it is also anchored in heteropatriarchy. This means that the "ideal man" is represented in an image that replicates the standard construct of the straight man: athletic and muscular, but more importantly, not "feminine." Typically, in gay culture, effeminate behaviour is a characteristic that ranks at the bottom of the attractiveness hierarchy. This form of homophobia is intimately tied to misogyny, a dislike of women.
When I was a younger man entering the gay scene, I quickly discovered that where I ranked and where I wanted to rank were two different places. I crushed on guys who were "out of my league." I watched my "more attractive" friends meet or date guys who ignored me. I saw others get attention while I was ignored or rejected. I felt bad about my body, which was soft, mostly fat, with little or no visible muscle. I had small shoulders, and big everything else. My face was pretty and my mannerisms were effeminate, leaving me at the bottom of the social order.
So I took action.
Not at first—at first, I took drugs: MDMA (Ecstasy or molly), crystal meth and cocaine—party drugs—mostly on the weekend (which was Wednesday to Sunday on my calendar) and eventually every day. Partying became a way for me to numb my experience as the guy at the bottom of the hierarchy. I was used to getting teased and being left out, but that doesn't necessarily get easier as you get older. In my teens, I had wrestled with thoughts of suicide. In my twenties, after I started partying, I became motivated to change my body and my life. I lost weight and things started to shift for me. I was living in my new, "non-fat" body, and I was exploding with excitement. I was still using drugs, but now I was hooking up with a variety of different guys. I was finally getting the attention I had always longed for. My health and safety took a back seat. In a community where attractiveness has a certain value, I was no longer invisible. I abused my newfound power. I took advantage of other guys, mostly by capitalizing on my knowledge and experience, having lived at both the top and the bottom of the hierarchy. I had gay men figured out: I had finally learned how to "play the game." I felt I deserved to act that way, after having suffered for so long alone and in silence.
This continued for years. My obsession went from partying to working out. The gym became a priority in my life. My desire to maintain my new body was motivated by my (internalized) homophobia—I didn't want to be that person I hated, that person at the bottom of the hierarchy. I even considered doing steroids, as I knew many other guys who had done so.
Slowly, over time, my body insecurities have lessened. Now that I'm older, I just don't care as much about what other people think about my body. My increased comfort may also stem from spending time in gym locker rooms, where there is every body type under the sun and I got used to getting undressed in front of strangers, or from finally challenging myself to do the things I feared—like going to the beach and allowing people to see my body.
I believe all of these factors have helped me on my journey from being the young, fat kid with thoughts of suicide to being the gay party boy who abused drugs and sex, to being a man obsessed with muscle mass and "masculinity," to being the person I am today. I still work out (though not obsessively), I still party (on special events and holidays) and I still use my knowledge and experience to my advantage with other men, though I am much more respectful about it now. I'm still me, just older and wiser.
Now, I feel good when I look in the mirror. I look more like a man I'd find attractive, and that is new to me. I finally embraced being a big guy. I stopped trying to have a lean body, and discovered there were many gay men looking for a big guy. I stick around spaces that celebrate huskier, thicker men, or go on dating apps specifically for larger guys. Simply talking about my body issues over the years has helped—with friends mostly, but also now with colleagues. The more I speak about the topic, the better I feel. Talking has also helped me to understand how my experiences and perspectives—and those of others—are influenced by socially constructed ideals of attractiveness and masculinity. When we know how social concepts influence us, they have less power over us.
I am fortunate to be able to bring my experience and learning into the work I do. I have recently created a project, funded by the Movember Foundation, called m.bodiment, which fosters dialogue about gay, bisexual, trans and queer (GBTQ) men's body image. Through a video series (available to view at m.bodiment.ca), the project highlights personal experiences and the impact of body image on men's mental and physical health. Though every participant's story is different, everyone had felt bad about his body in one way or another. Some experience racism, some feel too old or too fat or "not masculine enough." Some have felt—and some still feel—invisible in social spaces. Some have experienced anorexia, surgeries or hormone treatments, all in order to achieve what they perceive to be the desired body or image of a man.
Too many GBTQ men have endangered their health trying to achieve the goal of the ideal body. Estimates of eating disorder rates among gay and bisexual individuals are significant.1 Too many men feel bad about their bodies because they don't look like Justin Bieber, James Bond or Thor. Gay and bisexual men are disproportionally impacted by body image issues; research suggests that eating disorder development among gay and bisexual men is at least 10 times greater than that among heterosexual men.2 Research also shows that body dissatisfaction among gay and bisexual men is associated with depressive symptoms and other negative psychological health outcomes.3
We need to shift our thinking: all bodies are good bodies. We need to understand that our bodies are not wrong; the system is wrong. Any system that makes us believe our bodies are somehow wrong is a bad system. We need to rethink what we find attractive and ask ourselves why we think the way we do. And we need to talk about all of it. By talking about it, we can share what we know, learn more from others and learn about ourselves.
And if we talk about it long enough, maybe we can dismantle the hierarchy.
About the author
Frank is Program Coordinator at Egale, Canada's national lesbian, gay, bisexual and trans human rights charity. He also studies sociology and sexual diversity at the University of Toronto. Frank leads the m.bodiment project on gay, bi, trans and queer men's body image. He encourages you to visit mbodiment.ca to learn more
Footnotes:
Feldman, Matthew B. & Myer, Ilan H. (2007). Eating Disorders in Diverse Lesbian, Gay, Bisexual Populations. International Journal of Eating Disorders, 40(3), 218-226.

Strong, S.M., Williamson, D.A., Netemeyer, R.G. & Geer, J.H. (2000). Eating disorder symptoms and concerns about body differ as a function of gender and sexual orientation. Journal of Social and Clinical Psychology, 19(2), 240-255.

Blashill, A.J., Tomassilli, J., Biello, K., O'Cleirgh, C., Safren, S.A. & Mayer, K.H. (2016). Body dissatisfaction among sexual minority men: Psychological and sexual health outcomes. Archives of Sexual Behavior 45(5), 1241-1247.