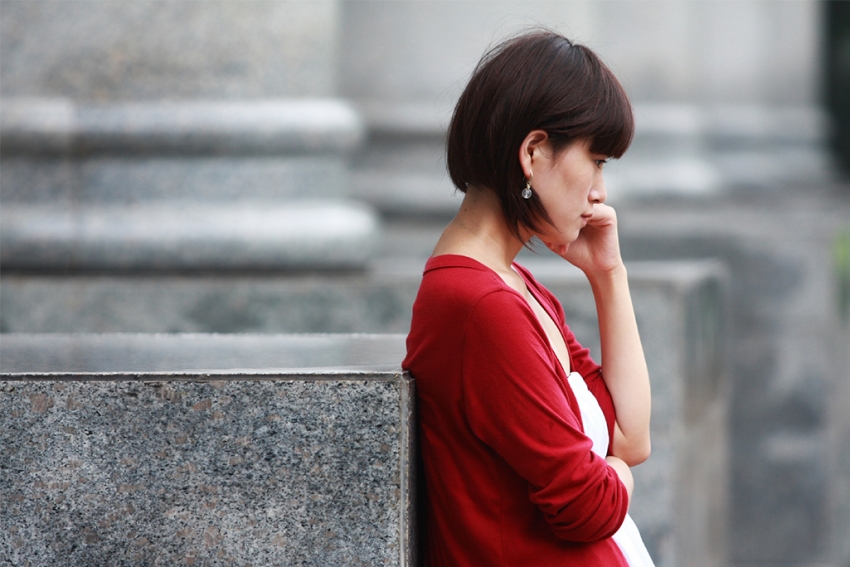 I came to Canada in 1975 from Seoul, South Korea. I was 19 and too full of bravado to admit anything of the pain, fear and anxiety I felt. I was anxious all the time and reacted to this discomfort with aggression: throwing things, yelling, accusing, picking arguments until violence occurred.

I didn't know what mental illness was. And, if there was popular education about mental illness available in Canada at the time, I wasn't aware of it. How could I be? It took me many years to become fluent enough in English to be aware of the nuances in Canadian life. But I did know that 'crazy' people in Korea were tied up, ridiculed, physically abused and hidden from others.

There are similarities between having a mental illness and being an immigrant. With both there is the fear and loneliness of alienation, discrimination and isolation.
My youth in Korea
I started drinking at 13 and loved its effect. When I was 14, I was expelled from school after a suicide attempt, having swallowed tranquillizers in a suicide pact with my best friend. My mother had been on retreat at a Christian seminary for about a year, and this brought her home. I transferred to another school, skipped classes and drank nearly every day with friends.

My delinquency was rooted in my home environment. I was the only child of a single mother who struggled with social disruption and poverty caused by the Korean War (1950–1953). My mother's dream of becoming a teacher or journalist, involved in modern social movements with her activist peers, was broken by deep depression. This was never diagnosed. My mom was so bogged down by physical ailments that these overshadowed the depression. As for my father, I only saw him three times in my life, on short visits.

Home was a gloomy and volatile place where no one felt safe. My mother and I lived with my aunt, her child and a nephew, who were all dealing with pain at least as great as my mother's. The nephew had lost his mother to suicide before the war, and his father was shot during the war. The other cousin had schizophrenia and drank heavily, which frequently ended in physical violence against his mother and mine. My aunt and my mother engaged in bitter accusations—though these episodes alternated with periods of acceptance and deep caring. I constantly clung to my mom. I had stomach aches and suffered anxiety whenever she was away.

Shame, fear and anger dominated my life. As a teenager, I fantasized all the time: I wanted to be with some other people, some place else, living a happier life. When I found alcohol, I was relieved.

At 16, however, I met my future husband, and he helped change my outlook positively. Eight years older than me, Sam was a shining young man who was going to overcome all life's troubles with faith and hard work. He admired my artistic endeavour for school projects and was full of suggestions and help. He was also able to help my mother financially. I stopped drinking, excelled in art courses and graduated as a top student.
Canada . . .
Coming to Canada meant leaving all the pain behind and starting a new life. Sam was reunited with his mother 19 years after she had left her two sons following an ugly divorce. I joined Sam as his fiancé, and we were married in Toronto a week later.

But the open wounds of my youth were not at all healed. And my husband, who had also been traumatized as a result of the war's effect on his family, had been even more traumatized by losing his mother at age nine. A grim life followed: he was beaten and put to work in factories while attending high school at night. Valiantly Sam tried to cultivate the patience, hard work and kindness I so admired.

Working hard at menial jobs, under great pressure to assimilate and succeed, sadly, we began to fall apart. Both of us showed signs of strain: my husband, through drinking that ended in physical abuse and impulsive overspending, and I through a string of extramarital affairs and defiance against social norms. I'm sure I was the only Korean woman in Toronto at the time who smoked cigarettes publicly, and even worse, in front of my in-laws (a big no-no). I started and quit many college courses, neglecting my need to learn and grow.

After 11 years of marriage, I fled back to Korea, leaving behind my daughter Irene, who was 10 at the time. I filed for divorce and began serious daily drinking. I was resigned to the pain, remorse and depression.

When I came back to Canada a year later, in 1987, I was desperate for a different life. One of my fantasies while a teenager in Korea was to become a hippy in America. All the music, drugs, beautiful arts! All fun, no work!

By the time I came to Canada, the hippie era was over. But my new common-law partner David had lived through the '60s. We moved to BC in 1990 with my then two-year-old son William, and I decided to drop out of Korean-Canadian society. I became a pot smoker and welfare recipient who was living with a 'foreign' man, with a child born out of wedlock.

I had a really hard time being a mother, though I loved my children very much—Noah was born in 1992. But I couldn't manage making breakfast for the kids day after day, or dinner, for that matter. In fact, anything I had to do, I resented and avoided if I could.

As an adult, my anxiety erupted regularly with my menstruation, when mood swings devastated me. The only way I found relief was by throwing raging tantrums, which shattered what little peace and joy I'd built up since the last fit. Doing this over and over was a hell I didn't know how to get out of.

David realized early on that I had problems and steered the children from harm whenever I became hard to deal with. He also encouraged me to paint and to devote my energy to nurturing myself, rather than striving for outer success. I am very grateful for this.

In 1997, after a bad fit, I ended up in hospital emergency in the Fraser Valley, where we were living. I was seen by a psychiatrist who kept me there about a week and sent me home with antidepressants. But in 1999, David and I separated. My moods and fits had taken their toll on him.

Having joint custody, I moved near David in Vancouver to minimize the damage the split would cause the children. But I was very isolated and experimented with street drugs (ecstasy, LSD, mushrooms, alcohol), looking for peace and calm. In 2002 I saw a Vancouver psychiatrist, who diagnosed me with borderline personality disorder.

My addiction to marijuana lasted 19 years. I came to an end and a bottom in 2006. I had turned 50, was broke and had a bad drug habit. Ultimately, I felt rootless, in or out of society. I decided to go to Narcotics Anonymous (NA).
My recovery
Narcotics Anonymous (NA) provided me with a place to go when I had nowhere else. Sharing with people who suffered addictions resulting from their trauma was a revelation. And it gave me a structure, so I didn't feel like I was floating around or falling. I attended NA for three and a half years.

I've recently stopped attending NA. I completed the full 12-Step program, but hadn't bonded socially with group members—except for my current partner John. His support of my recovery—his love, kindness and understanding—cannot be overlooked.  

My illness is still present in my occasional depression, mood swings and a tendency to argue with loved ones. What I fear most is an imagined or real alienation from my small family. I still experience severe paranoia, lashing out at the people I love, believing they hate me.

Today, I am fortunate to enjoy the support and presence of all my children: Irene, William and Noah, and grandchildren Cedar and Naoli. They help me immensely with my sense of belonging. My daughter and I had prolonged difficult times, but she is very kind to me these days, especially since I stopped using pot. My two sons are very nice young men who give me love and humour me about my weird ways—but they understand that I love them.

In spite of the fact that my family of origin caused me pain, I love them and miss them. I now understand how hard it was for them to lose their children, husbands, wives, mothers, brothers and sisters, grandparents, homes and money to war, and then face life broken. I don't blame anyone for my mental illness and addiction. I'm glad to finally understand it.
About the author
Julianne is a 55-year-old Korean-Canadian artist and mother of three children. She lives on disability pension and volunteers at the Mood Disorders Association of BC office in Vancouver

Julianne would like to dedicate this story to her mother, Yong Sok Kim