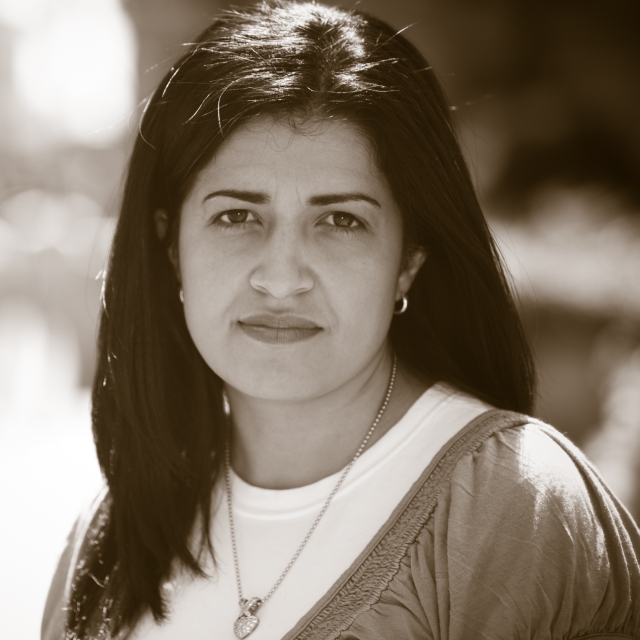 For better, for worse, for richer, for poorer, in sickness and in health—these are vows that many people make when they commit themselves to another individual in marriage. But how deeply do people think about what these commitments might, in reality, look like?
Let's consider "in sickness and in health." Our health is something many of us take for granted until something bad happens. And, does our idea of sickness and health include our mental health? Do we respect those vows of commitment when the person we love most is diagnosed with a mental illness?
I'm married to someone who has a mental illness. My husband suffers from an undiagnosed delusional disorder. John didn't have this illness when we met as teenagers 30 years ago. We dated, pursued our education and married in our early 20s. We were a 'normal' hard-working couple raising a family. Then, in October 2011, just six months short of celebrating our 20th wedding anniversary, mental illness found its way into our lives. It came with an immeasurable force, creating chaos and instability. Our relationship has been tested in every way imaginable.
The day the sky fell
The first time John experienced a psychotic break, I was on a business trip in Toronto. He thought I was trying to kill him by poisoning our water supply. He wrote a message to the police, hid it in our home, dialed 911, and then called me to tell me what he'd done. A dozen emergency responders arrived at our home, searched for evidence and weapons, and after 45 minutes convinced John to get into an ambulance and go to the hospital. The medical staff assured him he wasn't poisoned and four hours later sent him home.
I arrived home that evening—scared, confused, unbelievably tired and at a loss about what to do. John and I tried to talk to each other, but it didn't go well. He was distant, belligerent and angry, and there was a wild look in his eyes. Who was this man and what had he done with my gentle, kind, soft-spoken husband?
Life as we'd known it—gone!
We tried to keep up our work and family routine, but the next four months were a living hell.
We could barely stand to be in the same room as each other, and separation and divorce were frequent topics of conversation. Arguments about infidelity, poisoning, spying and untruths became a daily battle. John accused me of engaging in indiscretions with male friends, co-workers, neighbours—basically, any man I'd ever met. He even asked for paternity tests on our three children. In social settings I was afraid to talk to men for fear of triggering "delusional John." I even started taking one of the kids grocery shopping with me, for an alibi.
Initially, John was obsessed with getting medical confirmation of a physical or environmental cause of his illness. On the up side, this meant that he readily went to see health care providers. But this was not my 'old' John. In December 2011 he found Jesus for a short time—an unlikely switch for my scientist husband who leaned toward atheism. By then he was on an antipsychotic medication prescribed by our family doctor.
Antipsychotic medications are very powerful drugs and can cause personality changes. John's initial medication was sedating and made him appear unemotional and detached. Seeing these changes in John was daunting, to say the least. We had always been each other's best friend, lover and soulmate, and our bond was being stretched way too thin.
John took a three-month leave from work. Luckily, he had health benefits through his employer. I was unable to continue working fully in my role with a family business—I couldn't put two coherent thoughts together.
Not sure what was happening and with no clear diagnosis, I found it difficult to explain things to John's and my family. When this all started, I thought only street people who fry their brains with drugs got mental illness.
And this wasn't something we felt comfortable going to friends with either, since John and I both experienced feelings of shame and embarrassment. The stigma surrounding mental illness makes many people—including us—uncomfortable and at a loss for words. Not sharing information with family and friends led to isolation and loneliness.
This was not a healthy situation for any of us—John, me or the kids. We needed professional help.
There's no quick fix
That first psychotic break catapulted us into the abyss of BC's overloaded mental health system. Getting needed specialist help was not on the cards for a very long time. Our family doctor did his best to prescribe for the mental health symptoms and drug side effects, but he's not a psychiatrist so his knowledge is limited. He also made numerous referrals to psychiatrists, which were either rejected or only resulted in one-off sessions.
John had two 48 hour stays in the hospital Psychiatric Emergency Service (PES); neither resulted in any follow-up specialist care. The first stay, the day after the initial psychotic break, resulted in a prescription for Ativan (anti-anxiety) and a recommendation to see our family doctor. The second, at the end of February 2012, at least resulted in a change in medications that was more effective and reduced the horrible side effects (agitation and restlessness). But if there's a loving wife at home and a warm bed to sleep in, the mental health services are happy to send a patient home.
Antipsychotic medications take a long time to work effectively; trial and error and patience are required to find the right medication. It took over two years to find a caring psychiatrist who John could see regularly, and who was willing to try different medications and closely monitor my husband's progress.
'In sickness'—renewing our wedding vows
Mental illness in any form affects both partners in a relationship. Both of us were confused and frightened about our future together. While I was terrified at what was happening to my husband, he was 10 times more terrified. John was keying into the fact that something was going wrong with his brain—a horrifying realization.
But in April 2012, we were able to take a long-planned family trip to Costa Rica, where we renewed our wedding vows for our 20th anniversary. And, yes, "in sickness and in health . . . until death do us part" was part of the vows we reaffirmed.
How did that happen, given the previous five months?
A first glimmer of hope came in December 2011, when John emailed with the first poem he'd written for me since our early dating days. "You are a mirror of my soul . . . As I was looking at you, the mirror made me see my own darkest dreams, not what you really are." The poem concluded with "I will always love you." At first I was angry, stunned and not ready to forgive and forget. But on re-reading I began to feel that John was still there somehow, and I knew I couldn't give up on him then.
Also, I knew that if John recognized how sick he was and asked for help at the hospital, I could forgive him. This recognition happened in February 2012. When, one day, his delusional thoughts included one of the children, John knew something was seriously wrong with him. He chose to go back to the Psychiatric Emergency Service, even though he'd hated his last visit there. Imagine, in psychosis, you're put in a strange environment peopled with many others having 'strange' experiences...
The new antipsychotic drug worked a lot better. John returned to work full-time in March. And some semblance of our old life seemed possible.
Re-jigging the relationship and life together
Over time, we both tried to learn as much as we could about mental illness, delusional disorder and antipsychotic drugs. And I published a memoir, Unfaithful Mind, about the first year and a half of our journey. Writing our story helped me make sense of it all, and I wanted to record what had happened, for our children. In a short time, my naïve ignorance of mental health had shifted and I became an accidental mental health advocate. When John isn't in a nasty psychosis, he has supported me in this endeavour.
One year after John's initial psychotic break, I began attending a support group for spouses of people with a mental illness facilitated by the BC Schizophrenia Society (BCSS). Every month I take away different positive outcomes: renewed energy, the understanding that other people suffer too, or feeling uplifted by sharing my experience and insights with others.
We haven't had much success with counselling. It seems hard to find a practitioner who has the background and skill to work with this kind of mental illness and the realities of our now 30-year relationship. We're considering mindfulness practice and cognitive-behavioural therapy (CBT), and hoping CBT may at least help John deal with the ongoing unwanted thoughts when he's not in full-blown psychosis.
Psychosis still rears its head every four months or so. Each new round—our last just in January 2015—brings a crushing and devastating force to our relationship. The nature of the delusions attack my character and my heart. It has been challenging to not take them personally.
But we're still happily married and cherish our relationship, although some aspects of it have changed. Sadly, we struggle with trust from time to time. John's medication helps a lot, but it doesn't completely eliminate all the bad thoughts spurred by the illness. Walking on eggshells around John has become a habit for me and our children. When John notices I'm sidestepping issues, or engaging in superficial small-talk, he begins to think that I think something is wrong with him, and things snowball from there.
John continues to work hard at the same career he had before the onset of mental illness. He diligently takes antipsychotic medication. Perseverance and motivation play a large part in keeping him well, and for that, I am so proud of my husband.
With patience and hope, we are establishing a new relationship. Our goal is to learn how to alleviate stress as much as possible, to pre-empt the psychosis before it starts. For example, making different life choices, such as John working at home some days.
The idea that mental illness is here to stay is something we've had to accept, along with our need to have a clear diagnosis. What's most important is that the medications are controlling the symptoms.
This is very much a work-in-progress. Some days we have a handle on it, and other days, all we can do is ignore it so that dinner can be prepared. As time goes on, we think less and less about what happened. Our optimism and belief that we can move forward with our lives has improved. We now know we're going to make it.
About the author
In 2013, Marion published her memoir, Unfaithful Mind, detailing her journey through the onset and treatment of her husband's mental illness. She volunteers at the BC Schizophrenia Society and is planning to return to school for graduate training in mental health and addictions. Marion lives in beautiful Victoria, BC