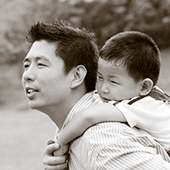 Postpartum depression (PPD) is a type of depression that occurs after childbirth and is a serious mental health issue. Many people believe it only affects mothers, but fathers are affected too.
But who knew? When my wife Emma was pregnant, we took the time to learn everything about pregnancy and childbirth, including about PPD. None of our reading and none of the medical professionals we talked to ever mentioned anything significant about fathers getting PPD. By the time I realized I had depression, our family had nearly broken apart.
Post-partum husband
Emma became depressed shortly after our son Brendan was born. I saw a mother who was extremely anxious, overly exhausted and constantly feeling guilty. Naturally, I tried to 'fix' the situation—because I am a man, and a man must be physically and emotionally strong. When my wife was too tired to make dinner, I made dinner. When the laundry needed to be folded, I folded it. When Emma needed to sleep, I took our son out for a walk. I thought this would fix my wife's exhaustion and anxiety, but it didn't.
As it became more and more evident that I couldn't fix my wife, I became more and more exhausted and frustrated. I was angry and confused. I didn't feel like a confident man anymore, and I lost the urge to be intimate with my wife. I felt I was losing my identity as a man and as a person. I just wanted to ignore the problem and have it go away.
Prior to having a child, my wife and I were typical modern professionals. I worked in the corporate world, and she ran her own business. Our social lives were very active: we saw our circle of friends regularly and enjoyed eating out weekly.
I wanted that life back. I had read all the right books and taken all the right prenatal classes, but nothing prepared me for the loss of the life I had before becoming a father.
I wanted to cry and give up being a father. But I was afraid to acknowledge those thoughts and feelings in myself—it wasn't becoming of a man and father to feel those things. I pushed them down so deep that I couldn't feel anymore. I pulled away from my family and started to spend more time outside of home, socializing and looking for companionship. It nearly destroyed my family.
Both of us on the healing road
The healing finally started when my wife joined a weekly support group at Pacific Post Partum Support Society (PPPSS). She had learned about this life-saving non-profit agency from the parent and infant drop-in group she attended at the local health unit. At first, PPPSS provided weekly scheduled support over the telephone, and then offered her a place in one of their support groups when a spot became available.
During Emma's depression, she had strong thoughts about ending her own life. The post-partum counsellors at PPPSS referred her to SAFER (Suicide Attempt Follow-up, Education and Research), a service funded by Vancouver Coastal Health. Through this service, Emma saw a counsellor once a week.
Emma's experience with the counsellor led her to encourage me to see a counsellor too. The old me would have sneered at the thought of seeing a counsellor, because that would've meant I was mentally and emotionally weak. But, with my life and my family in shambles, what did I have to lose? A family friend who is a counsellor recommended someone for me to see.
My counsellor and I looked at my family history, and this was an eye opener. My parents were the model of how I behaved in my marriage. My father was the one who fixed everything. When my mother wanted something done, he would do it. I translated that as something I needed to do to keep my wife happy.
I never saw or heard my parents talking about their own emotions and feelings, so it was difficult for me to connect with Emma on an emotional level. I never understood how to properly reflect upon my own emotions and to share them with others.
Conflict resolution in marriages was also something I never learned growing up. I thought a perfect relationship is one without any conflicts, because my mother and father kept them behind closed doors. I now know that every relationship has their problems.
I also grew up believing I had to be perfect to be accepted. I never got any attention unless I got a perfect score at school or when I got accepted into UBC, and they liked talking about how other children succeeded in school or extracurricular activities.
The most powerful part of the sessions was allowing myself to feel all my repressed emotions—allowing myself to feel vulnerable for the first time. That was a game changer! I learned that allowing others to see my emotions was not about being weak, but being strong. I hadn't told anyone how much of a difficult time I had with our newborn and in my marriage, because I wanted to have that 'perfect' family. Now, I have the confidence to express my exhaustion and frustration and then ask for help when it's needed.
Eventually, as Emma and I continued to heal, we started seeing a couples counsellor and learned the power of listening, of empathy and of vulnerability with each other. We explored in detail about how postpartum depression was affecting us as individuals, as a couple and as a family. We learned to acknowledge each other's feelings and to offer each other support by listening, not by trying to fix the 'problem.'
Now, when Emma is having a difficult time, I listen and validate her feelings, instead of instantly trying to fix the problem. Now, when I get angry at Brendan, I take time to reflect upon the situation and then talk to him about the emotions each of us was experiencing.
PPD affects every family member
Another part of not being prepared for fatherhood reflects the gap in our health care system that uses a medical lens and focuses solely on delivering a healthy baby. When I accompanied my wife to see health professionals during her pregnancy, the focus was always on mom and baby's physiological health. Whether it was at prenatal classes or the hospital, or during the community nurse's postnatal home visit, everyone gave their full attention to Emma and Brendan.
I have no issues with the amount and quality of medical care the system provided to deliver us a healthy baby, but there was no psychological or emotional support for Emma or me. Society and the mainstream medical profession don't give enough attention to how pregnancy, birth and PPD can affect every family member.
As whole human beings, we are equal parts physical, emotional and psychological. We need a health system that takes care of the whole being, for moms and dads as well as babies, to ensure that our young families thrive.
About the author
Allen has lived in Vancouver for the last 40 years, and has been with his wife Emma for nearly 20 years. Their son is eight years old. Allen works in the private sector, while Emma completed her social work degree and does outreach work for the provincial government