Elder care needs to respect LGBT seniors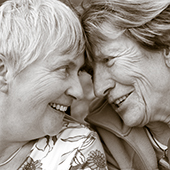 For about a year, I noticed that Bridget was forgetting things. "Where are we going?" "What am I supposed to be doing?" And her personality was changing. "No I don't want to sit there!" We had a family with a four-year-old child staying with us for several weeks. "Make her keep quiet." "She can't have any toys around. Tell her to pick everything up."
"Honey," I said, "I think that maybe something is happening to you. Maybe you should see the doctor." Bridget ignored me. A few weeks later, again I suggested a visit to the doctor. And this time she said, "Okay, if you want me to go, I'll go." Our family doctor gave Bridget a referral to the geriatric program at the hospital.
After an interview and the mini mental test, the doctor said. "You have mild memory loss. Come back in a year."
One day, two months later, I came home and the house was full of smoke. I found a pot of potatoes on the stove that had boiled dry. The pot was all black. Another day when I came in, I heard water running somewhere in the house. Bridget was outside in the garden. Good thing that there was no stopper in the sink! Bridget became scared when she realized what she was doing.
We got another referral to the geriatric doctor. We came out of the doctor's office holding hands, walking in silence. Bridget asked, "Do people die of dementia?" I didn't know how to answer that. It was the first time she had said "dementia." It took her many months before she could say it again.
From closet to cover girl
Saying "dementia" was as difficult as it had been to say "lesbian."
Bridget and I have been together for 37 years. When we first realized we loved each other, we were both Roman Catholic nuns. Homosexuality wasn't even talked about in the church and is still forbidden. Until 1990, homosexuality was still considered to be a mental illness. The closet we hid in was very deep and very dark.
Facing Bridget's disease, we looked around for resources for us as a lesbian couple. We couldn't find anything. There was the Alzheimer Society of BC, which provided workshops and support groups for many groups of people, but nothing just for members of the LGBT community. We wanted a group where we wouldn't have to think about being careful about what we say. Where we shared a common history and culture and where people would understand our experiences without us always having to explain.
I had conversations with Patrick, a gay man and a volunteer with the Alzheimer Society about the needs of LGBT people and dementia. As a result, the Alzheimer Society began a support group, and Xtra, the LGBT newspaper, did a front-page story to raise awareness of dementia in our community. Bridget became a cover girl!
No choice but residential care
Dementia is an incurable, progressive disease. "Yes, Bridget, people do die of dementia." Medications prescribed to help slow down the disease didn't work for Bridget. Her disease advanced quickly.
Bridget developed what is called sundowning, where behaviours are affected by the time of day. She began turning night into day, and her inability to get in and out of bed on her own meant we both were up and down several times a night.
I became exhausted. I couldn't keep doing this so I took her to the hospital. They tried medications to change her sleep patterns. She began to have trouble walking. By the time she came home, she needed two people to assist her getting up and down off a chair, in and out of bed, and on and off the toilet.
Most people in our lives wanted me to put Bridget into residential care—my eyes are filling with tears as I write this—but I was scared about what it would be like for her and me as lesbians. Would we be welcome if I showed her affection openly? Would I have to hide the fact that I loved her? Would they shun us? Would they be homophobic? Would the staff know how to intervene if there were conflicts or snide comments?
I brought Bridget home. Vancouver Coastal Health (VCH) provided us with home care workers for only four hours a day: two hours in the morning to get Bridget up and two hours at night to get her into bed. For her afternoon nap, I was alone.
Suddenly, three weeks later, Bridget was unable to stand up. I took her back to the hospital. She stopped eating, lost a lot of weight and got weaker and weaker. Everyone thought she had about three months to live. She moved into hospice. Then, suddenly, she began eating again, compulsively. She wasn't going to die as soon as everybody thought. The doctor said she was "medically stable" and couldn't stay in the hospice.
Once again, residential care loomed large. I really wanted Bridget to come home, but I knew I'd only get four hours a day of help from VCH—and now she couldn't walk. A health care worker came to the hospice to assess Bridget for the "first available appropriate bed." I was expecting a several-months wait, but two weeks later she was offered a bed in a facility operated by a not-for-profit organization and funded by VCH.
What is an 'appropriate' bed?
I struggle with the VCH "first available appropriate bed" policy. I suspect that what VCH calls "appropriate" is not the same as I perceive it to be—the policy does not consider our sexual orientation. In Vancouver Coastal Health, elder care that respects LGBT seniors does not exist.
The VCH assessor said, "Things are much better now. After all you have the Pride Parade." However, I constantly hear: "Is she your sister?" "Oh, you are such a good friend." Often when we're sitting in the lounge, Bridget asks, "Will you put your arms around me?" I do. We hold hands, and I kiss her. I have no idea how the workers or the other residents will respond.
Almost all the residents are heterosexual and many also have dementia. They grew up when lesbians and gay men were considered criminals and mentally ill. And what about the workers? Recently, a worker compared our sexual orientation to her brother's alcoholism. Workers have told me the Bible says that being lesbian is sinful and abnormal.
Health system, not caregivers, needs to educate
Alzheimer Society of BC's Rainbow Caregiver Support Group
Caregiving can be all-consuming and caregiver self-care is often neglected. One of the ways the Alzheimer Society of BC helps caregivers care for themselves is through support groups. There are groups for spouses, adult children, Chinese-speaking caregivers, and since January 2014, the Rainbow Caregiver Support Group for lesbian, gay, bisexual, transgender and queer (LGBT) caregivers and/or those caring for an LGBT individual with dementia.
Because LGBT people with dementia and their caregivers may face unique challenges. This free monthly group provides an opportunity for:
dementia education and information

sharing common experiences, practical tips and strategies

emotional support

support that is specific to and appropriate for LGBT caregivers
For details, and to register for this Vancouver-based support group, contact Kara Turner, Support and Education Coordinator, Alzheimer Society of BC, at 604-675-5153 or [email protected].
For information on Alzheimer's disease and other forms of dementia, visit www.alzheimerbc.org.
Sidebar contributed by Alzheimer's Society of BC
As a result of LGBT people organizing, laws have been changed and the human rights of LGBT people are protected. Few residential care homes, however, have written policies or practices that are inclusive of LGBT people. Our relationship will not be acknowledged. And the health care system doesn't provide us with sufficient help for me to care for Bridget at home.
There are already LGBT people in the system, and there are many more to come. But in Vancouver Coastal Health, elder care that respects LGBT seniors does not exist. We are caught in a system that doesn't require publically funded programs to have LGBT competency training. This is important for the resident, their partner and their friends.
It's not my job, as a caregiver and partner of someone needing care, to have to educate workers. Yet, unless I make it happen, we will continue to be invisible.
For the last 25 years, Bridget and I have lived and volunteered with LGBT members of our community. It feels strange and uncomfortable to be in a heterosexual, heteronormative environment. The first few days Bridget was in the facility, the label on her can of ginger ale said "Mrs." And, though no one has made any negative comments, I notice that I feel tense when we hold hands, when I kiss her. We hung a rainbow ornament* on the Christmas tree and it disappeared the next day.
For us, everything feels bland here. All the pictures and decorations are in pastel colours. A few rainbows around the place would colour things up!
*The rainbow flag has been a symbol of lesbian, gay, bisexual, and transgender social movements since the 1970s.
About the author
Chris is a retired, white, 72-year-old lesbian whose partner has dementia. Chris has been a member of the City of Vancouver Seniors Advisory Committee for several years. She and her partner of 37 years are very active in the LGBT community