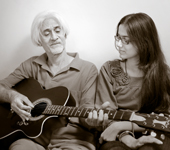 My dad was raised in a Sikh family in India, the eldest of six children. He came to Canada in 1976, leaving his wife and children (I was three years old) in India until he could get a house here. In India he was in the military and a farmer. In Canada, he worked in a sawmill from 1976 until about 1993. My mom, sister and I came to Canada in 1985, when I was 13. Today, my two children and I live with my father and mother; we moved in a year ago. Prior to that I lived seven years in a marriage and six years as a single mother, though was located close by my parents. My sister, who has two children, lives in the United States.
My dad suffers from schizophrenia disorder, characterized by psychosis symptoms such as hallucinations, delusions and paranoia and by disorganized speech and behaviour. He was diagnosed in 1989, when he was 45. I've known about my dad's illness since 1990, when I was 17.
When I was a teenager Dad said things that didn't make sense to us. He'd say, "There are people outside, black and white, who are going to kill me and my family"—and there'd be no one outside. Though he carried a knife for protection, he wasn't dangerous. He'd call the police; they'd just listen to him, then leave. It was all in his mind.
His brain was playing tricks on him. I felt sorry for him, because we weren't able to convince him that these things weren't real.
Things got really bad in 1989. Dad wasn't able to work much because of severe psychosis, not sleeping and allergies, so knew he needed to get help. Generally, males 'rule' in Sikh culture, so my uncle—my mom's brother-in-law—took my dad to a male Indo-Canadian psychiatrist who spoke Punjabi.
Often Dad wouldn't take his prescribed medication because he didn't think there was anything wrong with him. So my mom would put the liquid meds in his food. At times he'd think she was poisoning him, so he'd make his own meals and wouldn't take food from anyone else. When he took his medications regularly, his symptoms were well controlled.
From 1989 to 1993 Dad worked on and off. But then, on the recommendation of his psychiatrist, he went on disability income. This was very little income to support the family, so my mom started to work outside the home, her family helped financially, and my sister and I worked part-time while going to school.
Dad was stable from 1994 to 2008. In 2009, however, his hand started shaking severely, a side effect of the medication he'd been on all those years. He was switched to a newer antipsychotic, and, basically, everything fell apart.
Also in 2009 Dad went into a catatonic state where he could hear everything but couldn't move his body or open his eyes. As a result he ended up in the psych unit at Vancouver General Hospital for four weeks. This was hard on me, a single mom with kids, working full-time and visiting him at the hospital every day on my lunch break. Sometimes Dad would beg me to take him home because he thought the nurses were harming him. He'd call me 20 times a day to check that I wasn't being harmed by strangers.
When he got home, mom and I had to retrain him to do simple things like pouring his cereal from the box into a bowl and to do simple chores, to help him return to daily functioning. We encouraged him not to sleep all day, to get out of the house and to walk a bit.
It took about six months for his new medications to start working. Still, in the past four years, Dad has had periods of believing people are spraying gas and he constantly checks around the house. He coughs because of the 'gas.' He also believes there are people in the basement talking about him and reporting everything to the underground world. He runs out of the house to get help and wants to go stay in the hospital for his safety.
Since 2009, every time the season changes, so does his mood. Sometimes the change is minor and sometimes it's major. When he's not well, he's very anxious, doesn't sleep much, keeps everyone awake, and worries a lot about me and Mom and the kids.
Burdens and blessings
It can be hard. He has been admitted to hospital four times in the past five years. In the summers of 2010, 2011 and 2012, I had to cancel vacations with my kids because Dad wasn't well. This year, however, we went on vacation and had a lovely time; my mom was able to manage him.
Last year Dad went through a period of being afraid to drive, so I had to do all my parents' chores without much help. Plus, Dad requires follow-up visits to his psychiatrist and family doctor, as he gets injections every three weeks. Thankfully he's driving again. (It's a funny thing: my dad now keeps track of when he needs his medication injections and never misses. I think he's finally realized he has mental illness, though he doesn't express this to us.)
I found it hard that we never talked about my dad's illness outside of our family, which includes my mom's siblings and their spouses. Most of my dad's family were in India until recently. And I wish there'd been more community support for Sikh families and a support group to go to back in the 1980s and '90s.
Now there's much more awareness and courses one can take. In 2010 I attended a family support group at Raven Song Community Health Centre in Vancouver. It's very helpful to hear about other families' daily struggles and how they cope. I could relate to other people's pain at seeing their loved one suffer, and I learned how to support my dad better.
I also took a nine-week course there called Strengthening Families, which helped me understand more about mental illness. I'm now more open to talking to other people about my dad's illness. There's nothing to be ashamed or embarrassed about.
Dad is very lucky. He's been blessed with good medical help and strong family support. We—my mom, me, my sister and my mom's family—have always stood by my dad and helped him to do his daily exercise, prayers and whatever else was needed.
In Sikh culture the kids are supposed to look after their parents; it's not common to put them in a care home. But today, in Canadian Sikh culture, people are looking at their individual situations. Ideally, I want to take care of my parents at home. But if my dad's condition worsens and mom and/or I can't cope, we'll have a family meeting to decide what's best for Dad and for our family.
Right now the situation is fine; we're able to look after him. We stay positive and take things day by day, one step at a time. And since I've moved in with my parents, I'm there for both of them. My dad is going to be 70 next year, and my mom is 65.
Dad is very independent—he cooks, does household chores, helps Mom with yard work and drives my mom since she doesn't drive. Until recently, he played many sports. Now he meditates daily, volunteers at the Sikh temple and takes part in a social group at the local seniors centre. My kids go bike riding with my dad, and we all go for walks with him. My cousins drive Dad to his doctor's appointments, if needed. And this year I've signed my dad up to take the HandyDART if I'm busy.
I believe everyone in one's life is a blessing from God/higher power/the universe. I've learned so much from my dad. When he's well, he's such a good, spiritual, positive and active father. He sacrificed a lot to give his family a good life in Canada. He had two daughters, but never once said "if only I had a son." (In Sikh families the son takes over the family home and name; girls are looked down upon as a burden, even killed or aborted for not being a boy.)
When Dad became ill, my mom had to take over responsibilities like managing the money, which started a shift away from the traditional roles. I'm very thankful that my parents never turned their back on my sister and me, and that we've always been encouraged to make our own decisions.
Truly, through the burden of my dad's illness, I've learned so much about life. I call Dad "my angel."
About the author
Kam* lives in Metro Vancouver. She's the mother of two and a caregiver to her dad. Kam has a Health Care Worker diploma and works full-time as a medical office assistant. She volunteers at the Sikh Gurudawara (temple) and at her children's school, including the parent                 advisory council
*pseudonym