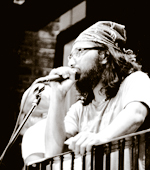 Vancouver's rich diversity of cultures and natural surroundings seems to create inspiration. Beneath the beauty, however, the city rumbles with darkness. The Downtown Eastside—a raw and painful showcase of class, post-colonization effects on indigenous peoples, mental health and addiction struggles—is a stark contrast to the shiny office towers rising in the downtown core.
My own mental health crisis manifested itself during my working career in high technology. I was a go-getter, successful, productive and well liked. I was well on the way to the happy-ever-after ending, with a good job, a marriage and a house in North Vancouver. My over-active mind and the insatiable appetite of the corporate world was a dangerous mix, however.
I was officially diagnosed with bipolar disorder in 2004. My manic phases—erratic, irrational, irritable, impulsive—presented many times before that and were highly destructive. I suffered serious financial setbacks and eventually lost my home, my wife and the dreams of the life she and I had worked so hard to build.
During my darkest time I wasted away on a couch in my parents' home. Burdened by guilt, shame and severe depression, I was trapped in a psychological prison of my own making. My mother, originally from the Philippines and a devout Catholic, believed I was in spiritual crisis. And, I believe, she didn't fully trust the mental health system. My mother imposed a regimen of daily prayer, which she felt was care. But I was resistant to what I felt was oppressive Catholicism, and this caused a lot of conflict. After 15 months, when my mother attempted to order an exorcism, friends approached the medical system to get me help.
I spent five weeks in the Sherbrooke Centre at Royal Columbian Hospital, where I discovered art therapy.
Art became my medicine
Dealing with medications, doctors, psychiatrists, the mental health system and disability culture: these were all new worlds to me. But through art I've been able to have dialogue with myself about my lived experience.
During an art therapy session at Sherbrooke, I had an epiphany. In a group art session, we were asked to draw the emotions we were feeling internally on the left side of the paper and our external emotions on the right side. The left side of my paper memorialized my mounting losses, while the right side remained blank. I had no outside.
The act of creating was freeing. All the emotions I'd ignored around the losses in my life seemed to explode and expose themselves through the simplicity of coloured markers on white paper. I gathered more art supplies and paint and began to express more of the emotions I was feeling: the Catholic guilt, the broken relationship with my wife, the loss of time because of my depression. Digging myself out of the emotional hole was a lot of work, but painting created time and space for the needed reflection. I turned my hospital room into an art gallery. I gave my work to others almost asif I was sharing medicine.
From 2006 through 2008 I tried to regain the life I once had. Released on my own recognizance, without a properly working compass and having no money, it seemed my only recourse was to go back into corporate life. Driven by the mania of the business world, I had another roller-coaster ride, only to again end up frustrated and broken, bankrupt and back in the mental health system. It was another long struggle uphill to get back on my feet.
In late 2009, however, an opportunity to work in community radio presented itself. I had a desire to engage in conversations about my mental health as well as to connect with other artists—I think it's in my personality to share and express experiences. Hosting a show about mental health disability became a way for me to raise my voice and to empower myself and others around me. Sound Therapy
Today's modern world is saturated with media—TV, radio, social media and the Internet. Dialogue on commercialized media is often psychologically violent and provocative. This is how they gain the attention of viewers and advertisers. The pace at which communication takes place can create misunderstanding, and in our fast-paced world, conflict can escalate rapidly.
I don't believe our minds have adapted well to the bombardment of information. It's overwhelming. I feel we need more time and space to process information. To complicate things further, in Vancouver we have a collision of ethnicities, cultures, language and perspectives. It's a beautiful mosaic and a multi-national traffic jam at the same time.
In 2009, a friend and I created Sound Therapy Radio, a one-hour weekly radio show dedicated to engaging conversation about mental health, on CJSF 90.1 FM Burnaby. CJSF is the Simon Fraser University campus community radio station. The show provides a platform for extended dialogue and creative expression around mental health issues. It's intended to share grassroots personal stories; it's about individual spirits and everyday people, not systems, institutions or professionals. We want to have insightful conversations and eliminate stigma. It's peer support radio.
My involvement with Sound Therapy Radio has given me a multi-faceted view around other people's mental health experiences. It's painful hearing others' stories of struggle, whether it's about dealing with PTSD after seeing a car-accident death, or having postpartum depression, or as one young man related, dealing with suicides of multiple friends. It's tempting to try and save people, but I remind myself of my own path and remember that my role is to create a safe space for people to express their stories, and allow the community to understand and share in the compassion.
Sometimes I refer to the radio show as a creative campfire. In Aboriginal cultures, it could be referred to as a talking circle. In essence, it's a way to slow down. Then dialogue can become a powerful tool, creating a safe space for understanding, and in the case of mental health, reducing stigma.
I've more recently been able to expand this conversation into community television in collaboration with community based filmmakers, Sound Therapy Arts TV, which begins airing in April 2014, will bring an arts-based mental health conversation to ShawTV Vancouver.Mental health issues will be explored through a myriad of formats and arts disciplines, such as interviews, performances, stories, films, stand-up comedy and festival coverage.
We need to create even more opportunities for these spaces of meaningful, compassionate and courageous discussion—such conversation opens up possibilities and can be a gateway to healing.
Creating my own safe 'water' world
I don't regret this up-and-down journey through life. The metaphor of a fish comes to mind: I've swum through turbulent and somewhat toxic corporate waters, to the system of support ladders and dams created by the social safety net. I've swum alongside other broken spirits who, like many people in the Downtown Eastside of Vancouver, are focused on everyday survival.
Through discovering my creative being, I'm now able to take all these experiences and create the world that works for me. I swim in solidarity with the Indigenous people who have been caretakers of the land and have a nature-based spirituality. And I can imagine and create a free, positive and safe water that I desire to live in.
About the author
Jay is a multidisciplinary community-engaged artist, a radio and television producer and a protector of the environment. He created Sound Therapy Radio (soundtherapyradio.com) on CJSF 90.1 FM, a national award-winning radio program, and can be found at jpeachygallery.com