Looking out for Adam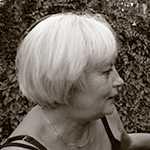 I'm a third-generation Vancouverite who knows the BC health care system as both a health professional and a family caregiver for a client. I have provided community support care to health care clients for 37 years. And, my son Adam, 32, was diagnosed with schizophrenia in 2002.
Over the years I've had many home support clients who were suffering undiagnosed mental illness. I commonly encountered hoarding, delusional behaviour, depression, paranoia, alcoholism and neurosis.
I was never trained to work effectively with clients with complex issues—it was as if the health authority hoped these issues would just go away. It wasn't until 2000, when my son Adam turned 18 and began behaving strangely, that I realized the truth of this suspicion.
Desperately seeking sanity
Adam had been a well-behaved honour student, the most popular in his school, and a promising, self-taught artist and musician. Although he experimented with drugs like any teenager, he wasn't doing drugs or alcohol when these behaviours started.
My formerly social son now kept to himself in his room and never made eye contact. He obsessively picked up garbage to clean the streets, then six months later lost the ability to even take care of his own personal hygiene.
His behaviour became increasingly alarming: swinging a baseball bat, screaming that he wanted to kill someone; talking about rape constantly; and walking the streets all night shouting profanities.
I had immediately begun seeking medical help for Adam—though, because at 18 he was legally an adult, I had no authority over him. I continually phoned the police, the mental health hotlines and any emergency service I could find. None of them could help, they said, because my son wasn't causing harm to others or to himself.
When I finally convinced Adam to go to the hospital, the ER doctor declared that Adam was "on drugs" and once they wore off he would be better. I begged the doctor to do a drug test or keep my son for observation, but he dismissed my concerns with disdain.
I finally got help from a young clinic doctor who saw the mental and physical deterioration of a young man and the distress of his family, and signed commitment documents. At age 20, Adam was diagnosed and finally received the treatment he desperately needed.
The surreal nightmare continues...
Adam lived with me for the next four years. In the first two years after diagnosis, he was hospitalized twice for three months each time, then released into my care with no follow-up. His medical care has consisted of monthly visits to see a mental health worker at one of the Vancouver Coastal Health mental health teams. For years I've accompanied Adam on these visits, to make sure he gets his meds.
Though the antipsychotic medications help reduce hallucinations, Adam will never be the same promising young man again. He needs proper housing and staff to help him with daily activities for the rest of his life.
These mental health workers (probably psychiatric nurses) are mandated to look after the health of the client. This does not cover case management, help with finances or, apparently, finding housing. No mental health worker ever put Adam on a wait-list.
I supported Adam with all of his needs. I made sure my son bathed, brushed his teeth, slept, took his meds and ate properly. I took care of his finances and housing needs.
And I had to 'work' the system on his behalf. There is no possible way that a person with severe mental illness can navigate the maze of bureaucracy. First I had to convince Adam to sign permission documents. Given his deluded state of mind, this was not easy. It then took three months to get basic income assistance—and I found out the welfare system no longer has social or financial aid workers to assist people with their finances. It took another two years to get Adam disability status. Just acquiring a yearly bus pass is an ordeal.
Over the past 12 years, I asked every single mental health care worker about permanent housing with support staff, but my queries seemed to fall on deaf ears.
The long and winding 'road' to supported housing
In 2005, I finally got Adam into a group home through Fraser Health Authority. It was a glorious six months—I had some respite and Adam was much happier. When he has support, he is cleaner, well fed, calmer and less likely to lapse into psychosis. He was with people his own age, there were no episodes of agitated, late-night roaming and he ate three meals a day.
Unfortunately, these group home programs are typically six months long. The intent is to assess clients and find them a place to live. The reality is, they tell you what you want to hear, but the housing doesn't materialize.
Luckily, I was able to arrange for Adam to live in a bachelor apartment, below me in my building. And it was back to the trenches, trying to support his needs as best I could.
Then, in 2008, he got into a large subsidized apartment operated by Fraserside Community Services. Adam lived alone, with no support services at all, and the location was nowhere near where I lived. He did not do well. And, it turned out, this housing was, again, temporary. Because the housing managers wouldn't tell me anything, and because Adam often can't grasp what he's being told or remember to tell me, the fact that this housing was for just two years escaped me.
I was able to get Adam into a shared apartment through a friend of mine. However, this only lasted about a year. Adam was evicted for poor hygiene.
For about six months, in 2011, Adam was homeless in the Mount Pleasant area of Vancouver. He stayed in the Yukon shelter when possible, and otherwise, stayed outdoors.
This time, the housing I was able to find for Adam was in the Downtown Eastside (DTES)—a single-room occupancy (SRO) hotel. It was a decent hotel, but he was renovicted (i.e., evicted for planned renovations) from there, with three months notice.
When Adam was given the renoviction notice, I really stepped up my efforts to get him decent housing. The housing advocate at a mental health non-profit told me there was nothing he could do unless my son was homeless. When my son was homeless, I went back to them and was told there was nothing he could do because my son was homeless now.
At another outreach agency in the DTES, the staffer was positive she could help my son find a place to live, and even offered to help him move. I was thrilled. Six months later, the day before my son's eviction date, this worker returned to her office after a long illness—and my son ended up with only a phone number to get on another wait-list. I was devastated. I scrambled to find a last-minute room, and the only place I could find was a decrepit SRO. Because my son had no help moving, he lost most of his possessions.
In spite of all my efforts to help my son, he ended up living in a horrible DTES SRO. He had no place to cook and the shared bathroom was disgusting. He had to spend some of his disability support money to supplement his rent, so, consequently, ate out of garbage cans. He was exposed to criminals, violence, drugs, theft and disease. And I couldn't visit my son because of the bedbugs—I couldn't even give him a hug.
I became the proverbial "squeaky wheel"—once a week phoning a staffer at Vancouver Coastal Health. And, finally, the wheel got "greased": in November 2014, Adam got moved into supported housing operated by the MPA Society.
Strain on family
The lack of support from Vancouver's social agencies is alarming. The services are difficult to find out about and to access—there clearly aren't enough of them to meet the demand—and the lack of continuity of care is beyond frustrating.
It's been hard to see all kinds of other people getting help, while my son was forced to live in vermin-infested, substandard and dangerous housing and often went hungry. For example, my ex-son-in-law, who comes from a prominent Aboriginal family, is employed and fully capable, waited just six months for for a brand new two-bedroom unit and pays $200 a month rent. My quadriplegic neighbour lives in a new subsidized apartment.
The task of caring for my son is a 24/7 job, and there has been no one to help me. Because of the stigma and fear around mental illness, I was shunned by family, and I've had no time, money or energy to foster friendships or other kinds of support. The BC Schizophrenia Society has support groups for caregivers, but they were very inconvenient for me to attend.
I can't imagine how Adam would have managed to this point without me. I am convinced he would've been forever lost if I hadn't been there for him. Many nights I lay awake contemplating suicide—not because of my suffering, but because I wondered if my son would get more help if I were dead. This is how our government saves taxpayer dollars—by putting this incredible burden of care onto families.
Amazingly, and in spite of all his miserable circumstances, Adam doesn't do drugs or alcohol, has never been in trouble with the law and is a pleasant and happy person. When he's hungry, instead of complaining, he'll say, "I just try not to be hungry." He even thanked me for the horrible SRO: "It's fabulous, Mom." He's happy with whatever he's given. But he deserved a lot more, a lot sooner.
Postscript
My daughter, 29, has recently been diagnosed with severe depression and post-traumatic stress disorder, and has addiction isues. I have also been helping my daughter fight for treatment and support, and I pay half her rent so she won't be subjected to another year of homelessness and abuse. I honestly feel that my daughter might not be ill today if I'd been able to pay more attention to her.
About the author
Angel was born and raised in Vancouver. She is a single mother, an artist and a health care support worker, with experience providing care to clients with developmental disability, dementia and mental illness. When she's not working 16-hour days, Angel assists her two adult children who live with mental illness