A landlord perspective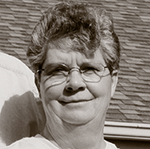 At Mental Health and Addiction Services for the Northern Health Authority, my coworkers and I have, at times, assisted clients in their search for affordable housing. Landlords with empathy for people who may have mental health and addictions issues can help, and we need to recognize the contributions they make.
In small communities like Queen Charlotte (population of 945) on Haida Gwaii, any subsidized housing tends to be geared to families or seniors, and there may not be many apartments available to rent. Even so, keeping these apartments rented can be a challenge for the landlords.
To get a landlord perspective, I interviewed Queen Charlotte locals Arlene and Terry Pierre.*
Landlords—the role of empathy
When the Pierres bought their home in 1976, the house next door had to be included in the sale because both houses were on the same septic tank. This is how they became landlords, offering several self-contained units for rent. Now retired, Arlene and Terry still rent to four individuals.
Over the years they've had tenants who would be classified as the working poor, or who receive a pension or government income assistance. Most of their tenants have been single renters, and some of them were living with mental health and addictions challenges.
Terry framed this question: "Given that there are renters who have conventional means to pay the rent and ability to communicate, and there are renters who are less equipped to deal with day-to-day life, would we give the latter an equal chance to rent?" His answer: "I would rather have a stable, long-term tenant that I would never have to chase for the rent—it's just plain easier. But I'd say we're probably a bit more generous to people because we don't have many options."
The Pierres are willing to help people who are trying to make changes in their lives. Said Terry: "I don't care what people's income brackets are; I care that they will come up with the rent—being able to fund a lavish lifestyle doesn't impress me. I'm much more interested in seeing if the person is going to make something of themselves, and if they need a little help."
Terry recalled one tenant, the son of a friend: "He'd been in dire circumstances with the law and corrections, but it seemed like he was actually going to turn his life around. We feel very good about the fact that he did well, at least in terms of paying the rent and taking care of the place. Now, years later, he's much closer to leading a conventionally successful life. But if we hadn't given him a chance, I don't know what would've happened."
Challenges of being a rental landlord
One challenge is keeping rental units occupied. In Queen Charlotte, the rental business is somewhat seasonal. "It's easier to rent in the spring and summer; once you get into October or November," says Terry, "you're less likely to find a longer-term tenant." Transient residents can both help and hurt; right now a new hospital is being built and the crews take up places to live, but they won't be long-term renters.
Rent payment can be problematic. Some renters have been in arrears [owed rent] for such a long time that the Pierres had to serve them with eviction notices. "We certainly have been stung over the years," Terry recalled. "We have tenants who are in arrears right now. One has had an alcohol problem and been on and off the treatment path for years. He has seasonal income, and even though he may pay his rent when he works, it's sometimes a problem during his off-season. We don't want to dump on people when they're down, but we do get tired of having to do the financing that should be government's job to do."
The Pierres have an unwritten policy of not raising the rent for existing tenants. "They've been with you for several years, and it's less hassle than getting new tenants. The reality of life is that if you raise the rent $50 a month and the housing sits empty for only one month, then you've already blown the profit for a whole year anyway."
Some renters have exceedingly high expectations of what a landlord should do to make the tenant feel comfortable. Terry recalls one person wanting things 'just so' and insisting, unreasonably, that renovations be done immediately, even though safety or malfunctioning appliances were clearly not the concern. "While aesthetics are important, there has to be some reasonable time frame by which a landlord can be asked to fix up the place," says Terry.
On the other side of the coin, when asked about renovictions (evicting tenants to renovate, usually with a subsequent increase in the rent), Terry said: "Forcing people who are already living on the margins of society out of a building to which they have no hope of getting back into—there is something wrong about that. There should be some safeguards for the people who are already living there."
In a multi-unit building, a landlord has to deal with interactions between tenants who may not always have the best communication skills to explain what's upsetting them. One person may be awake all night and keep their television or radio on too loud, or pace in their room. Some tenants have no visitors, while others have a larger social circle. These are all potential sources of conflict.
Arlene doesn't particularly recall complaints from neighbours. She does note that one time, when RCMP came to take a statement from someone who had witnessed an accident (not related to their tenancy), the officer remarked: "We don't come to this neighbourhood very often." Says Arlene, "At that point it became clear to me that there are other areas in this village where RCMP do get called frequently."
Terry recommends that landlords check people's written references. Sometimes the people giving the reference overestimate the person's ability to look after themselves and pay rent. And references from relatives can sometimes be biased. Says Terry, "We have, at least on one occasion, received letters of reference that were, in hindsight, outright fraudulent. And when the tenant finally left, they went on to sting somebody else who didn't bother checking references." The Pierres recognize, however, that this can make it harder for young people who are just starting out. "We vary, but if we're not sure about a tenant, we'll ask for two references from commercial landlords," says Terry. "And sometimes you just take a chance."
Very few people disclose their personal challenges up front. But the Pierres are known to respect individual privacy concerns, and this helped one tenant open up to Terry about the fact that he was headed to an addictions centre for treatment. The tenant wanted to let his landlords know that a friend was going to check on his place while he was away. He also wanted to assure the Pierres that his rent would continue to be deposited directly into their account.
Other times, people's challenges just become obvious. Liquor bottles and beer cans on the porch can be a source of making money on the returns, but with one tenant it was an indication that he'd found money for alcohol and would have difficulty paying his rent on time. It can be helpful to know someone is struggling; the landlord may be willing to wait a few days for rent payment or for a ministry application to go through.
Over the years, the Pierres have learned that it is beneficial for both landlord and renter to have a rental agreement. They also, nowadays, prefer to have automatic rent payments set up with the government ministry issuing the funds.
What can help landlords?
The Pierres assert that having government cover the rent for people who need to go to treatment or are hospitalized takes away a lot of stress—for both the individual, so they can start getting better, and for landlords.
But also, they say, if a tenant is on some form of social assistance and if there are damages caused by them or by people they allow into their living space, it would go a long way toward making landlords more willing to rent to people in need if the ministry responsible covered the damages. "Otherwise, landlords are up a creek, and few, if any, are willing to be up that creek all the time," says Terry.
The Pierres have had satisfactory experiences with community agencies that assist individuals with finding affordable housing, such as Mental Health and Addiction Services or Wellness Society outreach services. Local people are more likely to come up with funding, particularly for clients who don't have resources for the security deposit. In this small community, everyone's a neighbour, so a lot of workers in agencies go the extra mile to help someone move or prevent emergency housing situations.
However, the Pierres also see a lot of frustration in people dealing with non-local agencies such as the Ministry of Social Development and Social Innovation. Says Terry: "Our experience has been that the people who most need help—not necessarily people who need mental health assistance, but people who are just in dire circumstances—face a system where the government tries to do everything remotely. You need access to Internet, the ability to use a computer and the ability to not get frustrated when the connection fails while you're in the middle of everything. We're both convinced that the government—so they don't have to pay out money—sets things up to see if people will just go away. I don't truly believe there is commitment in the current government to really help the people who need help the most."
As landlords and community members, Arlene and Terry are happy to do their part, but they see a larger role for government in helping people attain and maintain affordable housing. They see a need in their area for independent living support services for people who need help with lifeskills or housekeeping. And when an individual moves, this support should follow them to their new home. There's also a need for government to establish low-income housing for single people with mental health and addictions issues everywhere, but especially in smaller communities.
"I think that communities have some sort of responsibility to care for all members of the community, says Terry. "The Islands [Haida Gwaii] are generally pretty accepting of people with differences, which is a good thing."
*pseudonyms
About the author
Astrid works as Team Leader for Mental Health and Addiction Services with the Northern Health Authority on Haida Gwaii. She and her coworkers have assisted people with mental health and addictions issues, who have a lower income, to find housing