A personal perspective on implementing mental health programs in First Nations communities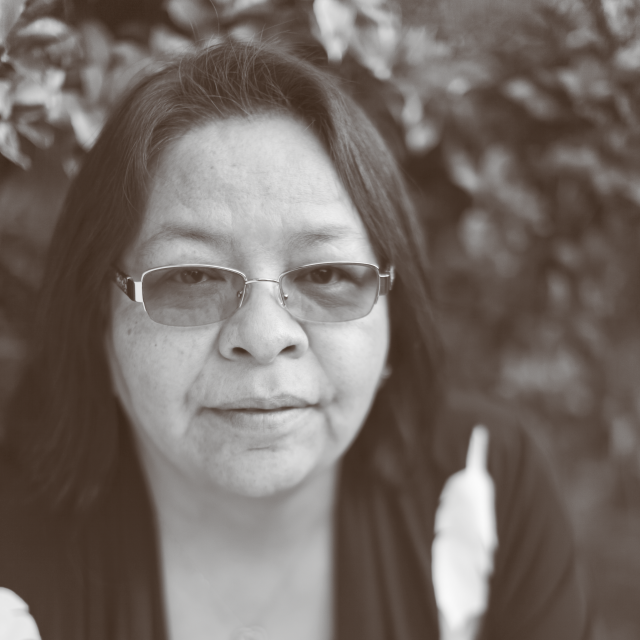 This is a very personal story, exploring the meaning of the work that I do and the impact of mental health issues—and the hope that surrounds mental health programming—in First Nations communities.
I am the health director for the Osoyoos Indian band, and I work in all areas of health, with all age groups. I have been working for eight years in this community, but I have been a health professional for 35 years. I have three grown children, and I am a member of the Okanagan Nation. Like many others who have grown up on the reserve, I have a large, extended family around that supports and cares for me.
My story begins about 10 years ago, when a family member was diagnosed with schizophrenia. At one point he thought he was becoming a spiritual being, one who lived two separate but distinct lives, one in the real world and one in the spiritual world—a shape shifter. At the time, I had little knowledge of schizophrenia; watching my relative and his family go through this was frightening and often heartbreaking. I began a quest to learn as much as I could about mental illness: I wanted to explore the cultural perceptions of mental illness and to improve my peoples' understanding and access to the mental health care system.
Schizophrenia is largely misunderstood among First Nations (as are other mental illnesses). It is often perceived as behavioural problems or an individual's lack of self-discipline; there is a tendency to blame the individual experiencing the symptoms. Often, symptoms of mental illness are addressed through ceremony and guidance to resolve the "behaviour" rather than through medical intervention. Although these actions are critical to the overall well-being of the individual, such cultural perceptions of mental illness may impede medical treatment. I became interested in helping people find the right balance between cultural perception and medical treatment.
With the development of mental health educational programs, misperceptions about mental illness are slowly changing. In an attempt to further reduce the stigma associated with mental illness, some First Nations patients may choose to explore their cultural belief systems, including spiritual and ceremonial designations such as shape shifting, in order to explain their illness and educate their families and communities. Unfortunately, the medical system is not designed to support this paradigm, which involves sacred ritual and private designations. I have learned that there are limitations to the medical model; as a health professional, I sometimes must step back and respect the beliefs of my patients and their families. Treating mental illness is as much about identity as it is about medicine.
Other health professionals ask me how working with First Nations is different, especially on the reserves. I find it challenging to explain to colleagues the differences between First Nations and other groups in a way that they will understand—to be frank, sometimes even I struggle to understand the complexity of our communities and relationships. We are family-based, and each nation is culturally unique, with its own values, traditions and identity. As First Nations, we have lived on our home land since time began. Our connections to each other and the land are intertwined and inseparable. Our cultural practices combine physical and spiritual energy, and include respecting and acknowledging the presence of our ancestors, who continue to guide and support us, even in death. While the presence of our ancestors is comforting for the healthy, it can be confusing for those experiencing mental illness. Our belief structures can create complications for the patient and the treatment provider. Social challenges like poverty, addictions and violence add to this complexity.
From a historical perspective, our language, cultural values, way of life and our identity as Okanagan people have completely changed in only five generations. I still hear stories about the way my great-grandmother lived. Although her people struggled to access food and shelter, my grandmother remembers the ceremonial and social order that kept her family and the community healthy and moving forward.
In the recent past, with reserves, poverty and residential school, many of the traditions and cultural values have been lost, resulting in social chaos. Many of the social issues faced by our communities, especially our youth (including drugs, alcohol and violence), are the result of us coping with this chaos and loss of personal identity. The support system and cultural practices that were once a source of strength for First Nations have been eroded. We are left with a foreign set of rules rather than a culturally relevant support system.
I am a survivor of this process. My parents were residential school survivors, and their parents were denied the right to raise their children in their language and culture. This background is relevant because when we deal with mental health issues in First Nations communities, the historical context must be considered at the same time. This makes the task daunting, but speaking from the perspective of an Okanagan woman, I believe the rewards are greater and far more personal.
When I started working with the Osoyoos Indian band, there was little awareness of mental health issues and even less of mental health programming. Jurisdictional issues made accessing resources outside of the reserve frequently overwhelming and complex for community families. The challenges were often systemic: communities did not know how to navigate the system, and the provincial health services felt that First Nations were a federal responsibility and didn't provide services to on-reserve patients. Dialogue was the first step—talking with Elders, families, health care practitioners, leadership and individuals who were dealing with mental health issues. This created awareness and fostered understanding to counter the stigma that many families faced. But it also created a sense of urgency.
With the support and direction of the Osoyoos Indian band leadership, I started a mental health program that was community-based and culturally relevant. Working closely with Interior Health, we began by building a referral model with Interior Health, the First Nations Health Authority (FNHA) and other organizations, which allowed us to assess those clients and their families in the community who needed urgent help due to serious mental health issues, connecting them with mental health specialists and programs.
Understanding treatment is only a small part of living with mental illness; once the client had appropriate health care, we worked with the client to ensure that he or she had adequate housing and social supports. The next step was to foster independence, making sure the client could access training or employment. Then we turned our focus to educating the families and the community about different forms of mental illness, available treatment options and supporting loved ones on a lifelong journey. The program focuses on the individual and his or her needs, but it is also inclusive of family, community and culture.
The future of Aboriginal health in BC is changing. We have the FNHA and, for the first time in the history of First Nations people, we have the opportunity to advance the health of our communities. First Nations health has become the priority for our leaders, and has the support of government. The power of this process is that it reflects the collective knowledge and voice from all levels: leadership, community and individuals.
I have been fortunate to be involved with the First Nations Health Directors Association, an association of on-reserve health directors. This organization lobbies for resources and support for health directors and works closely on the planning and implementation of the regional health strategy. The FNHA understands the role that health directors play in every First Nations community and, more importantly, in the support of every individual and family coping with mental illness. Our goal is to create strong, culturally relevant mental health programs and support systems within the community that will prevent self-induced illness as a result of drugs and violence and that will help individuals and families dealing with mental illness. Our vision is a community that views mental illness as a disease treated through community-based, culturally relevant programs supported by family and community members.
My hope is that the fear and suffering experienced by my family is never so acutely experienced by another family. By collaborating with each other, the FNHA and the provincial health authorities, we can ensure that the individuals and families experiencing mental health challenges receive the appropriate and culturally safe services that every person needs.
About the author
Jacki is Health Director for the Osoyoos Indian band and a member of the Okanagan Nation. She has developed provincial and national mental health policy and has implemented one of the most successful mental health programs in the Interior. Jacki is a founding member of the Health Directors Association of BC