A family doctor's perspective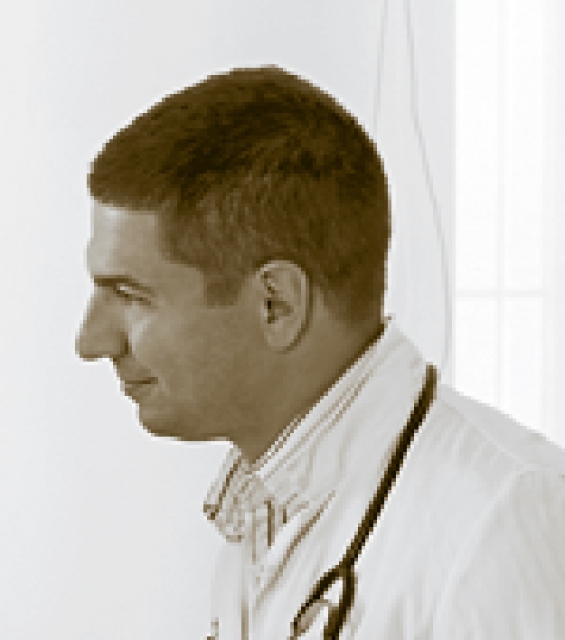 Just ask the question. Iris* sat beside my desk with her list of concerns. Tiredness, sore muscles, not sleeping well, no appetite but can't lose weight . . . the list went on. I wanted to help but didn't know where to begin. As a family practitioner, you get a sense from the moment you enter the room to see some patients that it won't be an easy visit.
When I was training to be a doctor, we didn't get much time in the office to deal with common things like ear infections or skin problems let alone psychosocial issues. We were trained in hospitals and worked in specialty wards dealing with heart attacks, cancer, serious infections and broken bones. Training in mental health issues took place on psychiatric wards where we saw patients with severe mental illnesses, all of them on medications.
So, just ask the question. Iris, my fourth patient of the afternoon, continued to describe her various complaints. I was already 20 minutes behind, had charts to complete and phone messages from people waiting for medication refills.
I didn't have anything to help me fix this patient's problem. I was trained to deal with illnesses by taking a history, doing an exam, running some tests and coming up with a diagnosis for which I provided a solution. I fixed things. In dealing with Iris, all I could do was listen, provide some common-sense solutions and maybe a prescription, then send her on her way. Her issues—physical and otherwise—were not resolved. She would be back.
That was 30 years ago.
No lab tests to answer these questions
I didn't know what questions to ask. I didn't have an approach, much less the solution to the difficult but common problems that many patients brought to my office. I could run every test in the book looking for answers to the problems that Iris was concerned about—but these complaints didn't have an answer that these tests could show.
The things Iris felt were real, and they were signs of struggles she was having with her mental health. But I knew that if I probed about feelings I might open floodgates that I wasn't prepared to fix. This wasn't like diagnosing a broken bone and applying a cast.
We physicians hear many things in our offices. People's mental health issues manifest themselves as physical complaints, drug or alcohol abuse and poor lifestyle choices. These are present to varying degrees in most patients we see.
Even with physical illnesses, mental health issues can determine whether one person fades away or another thrives with the identical problem. One man runs across the country on one leg and is a national hero, and another does the same and struggles with his demons.**
Today there is support to ask
Just ask the question. That was actually the key message I heard six years ago when the BC Medical Association's (now Doctors of BC) Practice Support Program developed an adult mental health education module for family practitioners.
We were shown questionnaires we could use in "real GP time" to determine if a patient had depression or anxiety. These simple and practical questionnaires can uncover anxiety or depression problems hidden by insomnia complaints, recurring minor illnesses like colds, chronic diseases like diabetes, overuse of pain medications or even an inability to lose weight. All are physical conditions with mental health issues lurking in the shadows.
We were taught cognitive-behavioural skills we could demonstrate to patients. These skills can help patients change their thinking patterns, become more physically active, and learn how to relax and meditate—all skills that can help people suffering from anxiety or depression symptoms feel better. People work on a single, reasonable and achievable task. For example, patients could be taught abdominal breathing to calm themselves down, given tips on identifying and changing negative thoughts, or be encouraged to write down their activity and discoveries so they can become accountable to their goals.
These skills help improve my patients' mental health so that they can recover, deal with their various illnesses, improve their lifestyle and learn coping mechanisms without turning to drugs or alcohol. These skills give people hope; their futures look better; their relationships improve. They give people strength; they breathe easier; they accomplish more. 
We were also given the Antidepressant Skills Workbook (see related resources) to share with patients. And we were made aware of Bounce Back, a coaching program for patients with mild to moderate anxiety or depression, that we could refer people to.
Both these resources allow a patient to self-manage his or her condition. The physician can provide patients dealing with anxiety or depression symptoms with a structured program they can work on at home. Patients can either do this work on their own using the Antidepressant Skills Workbook, or with the assistance of a telephone coach from the Bounce Back program.
Having these resources available enables a busy physician to give patients (like Iris) something that will help them, without cutting into office time (which can also impact other patients).
Related Resources
Bilsker, D. & Paterson, R. (2009). Antidepressant skills workbook (2nd ed.). www.comh.ca/antidepressant-skills/adult.
Free versions in English, French, Punjabi and Chinese, as well as audio versions for the hearing impaired, are available online.
Encouraging patient self-management
So much of what we physicians did in the past was based on the "prescriptive" model: patients came to us with a physical problem and we provided a solution (medications, advice, investigations or referrals). We now recognize that being prescriptive is fine for simple problems—someone has an ear infection and here's an antibiotic for it, for example. But it takes a different approach to get someone to actually make a long-term commitment in their life that will result in a change in their health.
Patient self-management has become a key component in developing commitment to change. In my practice, I'm using a technique called Brief Action Planning (BAP). With BAP, patients are encouraged to develop specific and detailed goals, to commit to them, to express their level of confidence in achieving these goals, and finally, to plan a follow-up or check-in to help them be accountable to their plans.
These are plans and goals the patients develop for themselves, not things someone else tells them they should do. Working with people in this way has been one of the most powerful and satisfying things that I've done in my 32 years of practice.
Now, when faced with someone with physical or mental health issues, I'm not afraid to ask the question: "It sounds like you have a lot going on. How is this making you feel?"
Now I can do something useful. I have more empathy because I'm listening to the answers that come from asking the right question. I'm working with people on their own terms; working with them to develop their own solutions. It's the first step in being able to accomplish something meaningful for myself and my patients.
*pseudonym
**Allusion to Terry Fox and Steve Fonyo
About the author
Bruce is a husband, father, educator and Family Physician working in Powell River, BC. He works as a peer mentor with physicians around the province and teaches Doctors of BC Practice Support Program modules in adult mental health and lifestyle self-management techniques