And reap the benefits of physical challenge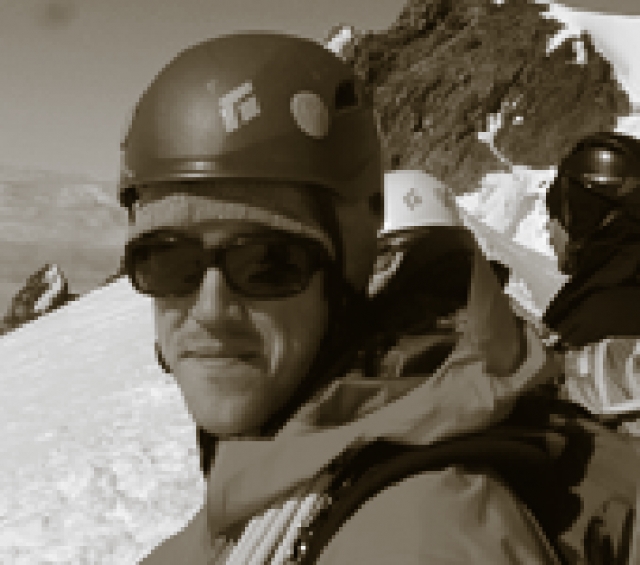 After a suicide attempt, hospitalization and diagnosis of schizophrenia in 2007, my entire focus was on mental health. While the diagnosis was tough to hear, it explained the terrifying thoughts I'd been having.
I did all I could to understand the illness and gain clarity about what were symptoms and what was reality. I also focused on getting back to university. With strong support from a mental health team, family and friends, four months later I was back at Simon Fraser University (SFU).
This boosted my confidence so that I felt ready to reach out and support others, which I had also committed to do should I be lucky enough to make a recovery. I shared my story with the BC Schizophrenia Society, then launched a mental health club at SFU with support from the Mood Disorders Association and other, and more. I fell in love with the mental health community that so welcomed and supported me.
Around this part of my personal journey and recovery, I realized that mental wellness was not enough, and that good overall wellness would produce the best outcome for my mental health.
A return to sports
One of the biggest gains to my mental health was getting back into sports. For two semesters at SFU I watched recreational soccer out my dorm window, wanting badly to join in. Finally I signed up for a team, and soon after signed up for the outdoors club. Both of these provided not only fun ways to exercise, but great friendships.
Still, for a couple of years I struggled with weight gain despite the soccer and hiking activity. This was partly due to my medication, but also to poor eating habits and not enough exercise. I was fairly active playing soccer and hiking over the summer, but generally lost my fitness gains in the winter.
Lesson #1
My illness caused a lot of emotional pain—from thinking people were going to kill me, to thinking I had no future, to weight gain from medication side effects. Motivated by this pain, however, I decided to completely overhaul my health.
In February 2011, I created a 30-day wellness challenge for myself. I listed about 10 bad habits I'd stop doing: drinking alcohol and coffee, eating fast food, staying up late, etc. And I listed things I'd start doing: drinking green tea, getting up at 5:00 a.m. and exercising daily, for example.
For the first two or three days, I loved it and was succeeding with most of the goals. But after five or six days, I started to fail and become discouraged. I got completely overwhelmed by the pressure and expectations I had put on myself. I quickly learned that pushing myself so hard, even in ways positive for my physical health, could be detrimental to my mental health and wellness.
Brent's tips for making physical gains
Here is my advice for those starting the journey toward health and wellness:
Find something that gets you excited and work toward it. It could be fitness-related, mental health-related, relationship-related, career-related or anything. It should be something that requires you to push yourself so you grow, and that if you achieve it will make other goals easier to achieve.

Simplify your approach. Don't try to do everything at once—focus on just one path at first. And break the big end-goal into bite-sized milestones.

Find support. Find people who have achieved what you want to achieve. Study them, model them and even reach out to them. Also, find someone, or a group of people, to support and encourage you, and to hold you accountable. This is a super important step as it helps you stick with it when things get tough.
With these strategies, I truly believe that no matter what you're going through, you can improve your life. If you're already coming up with reasons why this might not work for you, stop yourself and just give it a try. You might surprise yourself!
Lesson #2
I needed a new strategy. My progress had to serve my overall health and wellness and had to be sustainable.
I decided to focus on just one thing—exercise. From March to June 2011, I had three sessions (all I could afford) with a personal trainer. I started to feel more energized and happy right away. The simplicity of focusing just on exercise helped me build initial momentum and set me up for success.
I also started studying endurance athletes—especially ones who had previously been unhealthy, like Rich Roll, a vegan ultra-athlete, and Ray Zehab, founder of impossible2Possible.* I tried to model their paths toward health and wellness.
Inspired, I set the goal of running a 50-kilometre ultramarathon (any distance longer than a marathon). How simple, yet how big the ultramarathon goal was excited me. I knew I'd likely achieve a healthy weight and improve my energy and productivity, which would also help my mental health. I was also getting into mountaineering, so figured the fitness gained from running would transfer positively to climbing mountains. I would have to be in the best shape of my life to achieve this goal.
And, I wanted to offer hope to others, letting them know by my example that they too could pursue a big goal even while living with mental illness.
When I started running, I couldn't complete a 2-km loop around a lake without walking break. But I kept pushing. I started by working toward running 20 minutes without a walking break. Then I worked my way up from a 5-km trail run, to 8.8 km, to 16 km, to a half marathon (21 km). I was running one to three times per week, and had a couple of running partners, which really helped me keep on track and stay motivated.
My girlfriend Val played a big part in supporting me throughout this time. We had met a few years earlier during a snowshoe trip. She was on the SFU varsity track team and always inspired me to get in better shape.
Soon I was losing weight, thanks to three changes I had made. First, I became more consistent with running, which made me want to eat better. Second, I started reading nutrition books and invested in a good blender and some superfoods. Third, I switched to a new medication because a new side effect—prolactin increased to a risky level—had shown up.
After about a year and a half on that path, Val and I were signed up for our first 50-km ultramarathon, to take place January 1, 2013.
We ran the first half of the race, but soon realized that 50 km is a lot farther than 21 km. Our legs burned out and after about 26 km we both bailed to avoid injuries. It was a solid lesson that endurance events require energy, mental strength and physical strength. We had focused well on energy (through nutrition) and mental strength (through my mental health recovery), but needed more emphasis on the physical aspect of training.
A couple of months later, we signed up for the Squamish 50, a 50-km mountain run to take place in August 2013. Taking the physical training aspect more seriously, we trained specifically for this challenge—running hills and turning hikes (e.g., to the summit of the Stawamus Chief, a 700-m granite dome, overlooking the town of Squamish, BC) into hike/runs. We still didn't follow a training plan very well, but we did one to three good runs per week on average, with bigger hill-runs around once a month.
Then, in August, we took off from the Squamish 50 starting line with enthusiasm. Unfortunately Val ran into knee problems and had to stop running, but she was a trooper nevertheless. I was able to finish with a decent time and that was such an incredible feeling.
The trail running also helped build fitness for my mountaineering goals. Two weeks before the Squamish 50, I summitted Mt. Rainier (4,392 m) in Washington state.
I had achieved two goals I'd worked toward for over two years.
The payoff
For me, and I believe for many people, achieving a goal is not about checking something off a list or telling others about it. I set goals that I know will require me to grow, expand and push myself to be a better, healthier and more competent person (see sidebar).
The beauty of this wellness journey is that my predictions around health and fitness were spot on. Being in the best physical shape of my life has had so many benefits. With better overall health, the symptoms of my mental illness decreased—my thoughts became more positive and daily challenges of life became so much easier to handle. Not only has my mental health improved, but also my relationships, sleep, productivity, energy, mood and enjoyment of life.
*Rich Roll (www.richroll.com); Ray Zehab (www.impossible2possible.com)
About the author
Brent runs Seal Wellness, a social enterprise that helps students, entrepreneurs and young professionals overcome challenges and become high performers. Diagnosed with schizophrenia in 2007, he has since been valedictorian of his SFU graduating class, shared his story across Canada and completed a number of ultramarathon and mountaineering adventures