A mindfulness journey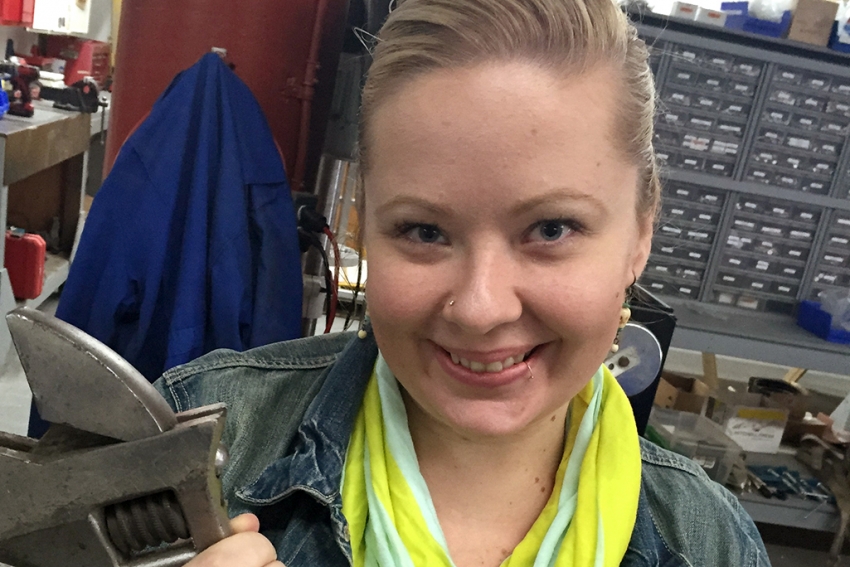 When I was 33 years old, I lost my job. I didn't see it coming and I was devastated. I struggled with feelings of loss and abandonment. After six months of running on empty, I crashed. I was admitted to the hospital, where I was diagnosed with bipolar disorder 2 and borderline personality disorder.
After I was discharged, I became a hermit. I had never been a hermit before. I was the life of the party, the glue that held the family together, the friend who always returned a call or text, the little engine that could. But that changed after I left the hospital. I started to purposely cut myself, I stayed in bed for 18 hours each day, and I was bombarded with suicidal thoughts. The doctor who discharged me prescribed a course of medication and recommended talk therapy. But I was frustrated that the medication wasn't working fast enough. My thoughts continued to race and my emotions were all over the place. I was desperate to find something that would help—anything that would calm my mind and, well, fix me.
When I was booking a follow-up appointment with my psychiatrist, I stumbled upon a poster for a course on mindfulness-based cognitive therapy, offered by the Mood Disorders Association of BC. I asked my psychiatrist if it might help, even simply as an addition to my daily pill-popping regime. He thought the course could alleviate some of my rushing thoughts, help me learn how to categorize these thoughts as simply thoughts and then move past them.
I was skeptical. To me it just sounded like a bunch of bulls**t meditation—something I have never been able to do because I have never been calm. But I was seeking a support group: I wanted to find someone—anyone—like me, who wasn't a member of some online depression forum. I was also trying to build a routine, to get myself out from under the covers of my bed. I decided I had nothing to lose.
Upon entering the classroom, I saw that every other participant looked as skeptical as I felt. I also saw expressions of sadness, anxiety, pain—feelings I recognized. When the instructor had us begin meditating, I heard myself breathing with the same hurried breaths as everyone around me—I instinctively felt a sense of kinship with the other class members.
Within minutes, my preconceived ideas about the nature of mindfulness began to change. Mindfulness is not just meditating, it isn't religious, and it doesn't have to include yoga. Mindfulness enables us to recognize our own thoughts and feelings; it helps us to avoid getting stuck on autopilot, always having the same responses to events that typically trigger certain behaviours.
The word "autopilot" really spoke to me. One of the fears I had about my new medication was that it would turn me into a self-driving car—never getting into an accident, never getting lost. I had been feeling detached from reality, often to the point where I felt I was living in a dream. On one hand, the thought of living in a dream world was comforting; on the other hand, I was worried that by taking the medication I would lose something of myself.
After the first class, after we had breathed into each muscle and into each limb, I felt calm, like I'd just taken a "happy pill." But I didn't feel numb. Instead, I felt at ease.
How did that happen? How did simply breathing into my body alleviate the feeling of a seatbelt restraint collapsing my lungs?
With the first guided meditation, I was able to tune in to my body with just my breath, rather than obsessing about my emotional and physical roadblocks. I entered a state of awareness—something I'd never experienced before. I was shocked I could do it—just by learning about the practice, then following a guided meditation.
Our homework after that first class was to bring that sense of awareness to routine activities: walking the dog, unloading the dishwasher, doing a load of laundry, eating a snack. All of these activities can be done mindfully—focusing completely on the task at hand. To do that, we must become aware of where our attention lies and then refocus on the actions we are performing. Let go of the distracting thoughts and focus our awareness on the present moment.
I was amazed. By practising mindfulness every night as the course instructor suggested, I began to wake up—to enjoy the simple life experiences I had previously thought were cumbersome. I began to walk my dogs mindfully. I began to enjoy food in a new way, and tending my garden. I felt I was refuelling myself and living more in the present moment.
Over the next few weeks of the course, I learned to appreciate sounds and sights all over again, as if they were new to me. I was no longer driving through life automatically. I was breathing into my body and exhaling out into the world. I let go of judgement, expectations. It was therapeutic: exactly what I needed to begin revving up my engine.
The best part of the course was that I wasn't learning mindfulness techniques on my own. I was a member of a small group, each one of us facing our own challenges. Some were able to grasp the meditation portion of the first few weeks and build on that; some got caught in their internal traffic; others kept breaking down. But we were in it together, driving towards something bigger than our illness.
Even when we practise mindfulness, there are times when we become stuck, when it feels like we've crashed, and pain is unavoidable. Mindfulness won't diminish the pain, but it gives us the tools to decrease our suffering. By developing a certain amount of flexibility, mindfully choosing where to place our attention and breath, we can experience pain without getting caught up in additional suffering, without becoming imprisoned in its wreckage. When we drive a car, we watch the traffic, read the billboard signs, notice the hitchhiker on the side of the road—but these things do not (or should not!) distract us from the task of driving. In the same way, painful life events should not distract us from practising mindfulness.
Having the support of like-minded people helps immensely, especially when they share experiences of their own that trigger uncomfortable or unpleasant feelings in you. This gives you an opportunity to practise mindfulness techniques within a group setting, and it can enable you to recognize triggers that you might not have recognized if you were on your own. When you recognize those feelings, thoughts and emotions, try to become aware of any physical discomfort. We can send our awareness to any part of our body by breathing into it on the in-breath and breathing out from it on the out-breath.
I learned from the course that I could practise mindfulness whenever I like, just by tuning in to my breath. I no longer need guided mindfulness meditations. I can do them on my own, at any time. I can sip my coffee mindfully and enjoy it again. My taste buds are back. My scenery is full of colour. What were once roadblocks for me have turned into speed bumps—and sometimes there aren't any speed bumps at all and I'm just looking down an open road.
Three months after the course, my doctors said my mood disorder had taken a back seat. I no longer have suicidal thoughts. My brain has been re-wired to let those thoughts go. When thoughts of self-harm come, I breathe them out. Or, I sit with them: let them come—then wave them goodbye.
If you are preoccupied with your own thoughts and can't seem to let them go, I recommend taking this course or one like it. It won't fix you, but it will give you the tools you need to get you up and running again.
Related resource
Visit www.mdabc.net to learn more about the Mood Disorders Association of BC's therapy programs, including mindfulness-based cognitive therapy.
About the author
Alexandra is looking for adventure and whatever comes her way. She is a bipolar 2, borderline-personality research junkie. She thanks the Mood Disorders Association of BC for its support. She hates talking about herself in the third person but will do so for more writing gigs. She can be contacted at [email protected]
Footnotes:
Steppenwolf. (1969). "Born to Be Wild." Soundtrack for Easy Rider.