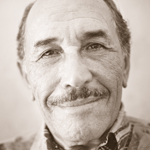 Long before the words date rape were even invented. When having a child out of so-called wedlock was worse than catching the bubonic plague. Mother and child bore and wore discrimination as their yoke and cloak, while the father left town the week I was born.
The only thing worse than poverty and being illegitimate was having a mental illness and being gay. Who would have known that curses can become one's blessings!
Mom and I had no choice but to live with my grandfather, a chronic alcoholic, and my grandmother, a hypochondriac. They fought verbally from the time they opened their eyes in the morning until closing them at night. Starting school was no reprieve—I was the fat, gay, punching-bag kid. High school wasn't any better—a broken tailbone, my front tooth knocked out, and pushed down a flight of stairs. But what hurt me most wasn't the physical abuse; it was the mental cruelty of the other kids.
After grade eight, I left school for a couple of years. The stepfather who was on the scene by then all too eagerly gave me a one-way ticket to relatives in Ontario. When I returned to my hometown school as an older student, things were no better.
In 1969, the summer after grade 10 when I decided I'd had enough of high school, my body and mind gave out. I lost all sense of reality and started hearing voices. I attempted suicide, and after having my stomach pumped in the ER, I ended up in a psychiatric hospital 175 miles from my small-town home. I spent my 21st birthday there.
I was diagnosed with manic depression (what is now called bipolar disorder). With heavy doses of medications, plus 21 electric convulsive therapies (ECT) sessions, I started responding. It was seven long months before I got out of hospital.
Don't ever accept 'never'
"Recovery" wasn't a word I heard back then. And there certainly wasn't much support for my dreams.
Ironically, this was the same hospital I'd been accepted at to start nursing school in the fall. A neighbour woman—my main support—had helped me apply for the practical nursing training. But now this hospital wouldn't honour the letters of confirmation they had sent me. I was super sad and cried uncontrollably.
Doctors and nurses and social workers asked me repeatedly: "What do you want do once you're released from hospital?" I kept telling them I wanted to work with people in health care, but it was like they didn't hear what I was saying at all. Their replies were always the same: "no way" and "impossible for you to do that now that you've gotten ill" and "you won't be able to stand the pressures and stress of working in health care."
But this only gave me more determination. I had a dream of being able to help others. Finally, I told them: "Got three words for you—watch me go! I will find the way to do just that." It took me a year and half to land a job working with mentally challenged children, back when jobs were a dime a dozen. Stigma! I always answered the employers' questions about what I'd done over last year honestly, because I knew my stay in the psych hospital would eventually be found out.
Finally I was accepted for a child care worker job in a residental facility, on the condition that I give the administrator a signed letter releasing my hospital file to her. (Today, this would clearly be a violation of my human and privacy rights.) As soon as this administrator read my file and saw I was gay,* I found myself on steady graveyard shifts. I tolerated this punishment for two years, then quit.
I moved to Ontario and landed a job as an orderly (male attendant) and counsellor with mentally challenged adults in an institution. Three years later I was working in residential group homes, also with adults with mental challenges.
Levelling the 'yo-yo effect'
In Ontario and on the east coast, the drug therapies weren't continued long enough after being released from hospital, so I was seeing GPs who put me on tranquillizers. I kept telling them this wasn't working, and they'd just increase one drug, delete another and/or add something new. I lived a "yo-yo effect"—hypermania, fidgeting, endless restlessness medicated down so I could sleep at night; then meds to get me up for the day.
When I moved out to the west coast in 1976, at age 27, I was determined to find a doctor who would listen—and hopefully know how to deal with my condition.
I found an excellent doctor in psychiatry at Vancouver General Hospital, after a couple of referrals by my new GP. I'll always remember the day that this doctor not only confirmed my diagnosis, but prescribed lithium and told me to get rid of all the tranquillizers. (I found out in the medical library that tranquillizers are useless for treating a bipolar condition.) I skipped down the street like a kid—people looked at me as if I'd lost my senses, but I didn't care. Deep down, somehow I knew I was finally on the right pathway.
In just three to four weeks my highs-to-lows mood swings levelled off for the very first time. Before that, I was almost resigned to feeling forever out of control. I had spent six years properly diagnosed, but hadn't been on the right medication!
Blessings
I have now worked in health care for well over 30 years. I've worked in emergency, psych and extended care, and with clients in sheltered workshops, group homes, palliative care and detox. My experience earned me the equivalent of a licenced practical nurse (LPN).
Meeting patients and clients and their families has always been a blessing. Most patients and clients aren't out to judge or discriminate; they just see me as person who shows kindness and who's willing to go the extra mile. Most people don't care if staff are gay or straight or polka-dotted in their private life.
I love people of all walks in life. By sharing, we all learn what's most important. I talk with people at malls and bus stops or grocery stores. When I'm not working, I visit seniors and volunteer—I did bell ringing to help the Salvation Army raise funds at Christmastime, for instance.
I believe we receive our blessings in life from what we're willing to give to others. Over the years, I have received so much more than I could ever have given. Good comes back to us tenfold.
The best teacher of compassion and empathy, and of understanding for self and others, has been my own struggles with mental and emotional illness, having come from that locked ward as a patient, to being a competent staff member and team worker. The curse that has become a blessing!
Fortunately, I've also had family and friends who believed in me—even when I wasn't able to believe in myself. Over the last 29 years, I've shared my life with my soulmate, who accepts me as I am and encourages my hopes and dreams.
Wellness and recovery, to me, means focusing on what I can improve on, rather than just focusing on what I can't do. This can include diet, exercise, setting personal goals and cultivating hope.
In January I finished taking the peer support worker courses with Vancouver Coastal Health, and I'm about to start my practicum. I've been out of the workforce for the last four years and want to get back. I'm 63 (age is only a number), but still want to work with people and help others with their journeys toward wellness.
I wish this peer support program had been available during my roughest years—not just as a training possibility, but it would have been wonderful to have had support from a peer.
Recently, someone at school asked me what I thought was the most important aspect of working with people. I must say it's being able to look at the total person and not just their labels or diagnoses or challenges, because we are all much more than our diagnoses.
We are not defined by our income or where we live, our jobs, our diagnoses, or our sexual-preference identity. Other people will always try to define us, but it's our own inner self that defines what kind of person we want to be. If I'd listened to the professionals, I'd have accepted an $80 monthly pension at 21 years of age and been hospitalized for the rest of my days.
I have bipolar disorder—but bipolar doesn't have me! I can choose to be a victim—but I choose to be a survivor.
*Homosexuality was listed in the American Psychiatric Association's Diagnostic and Statistical Manual of Mental Disorders until 1973.
About the author
Barry has worked as a health care provider for over 30 years, earning Licensed Practical Nurse equivalency. He loves people and loves his work, and recently completed the coursework for the Vancouver Coastal Health peer support worker training. Barry lives in Richmond with his life partner of 29 years