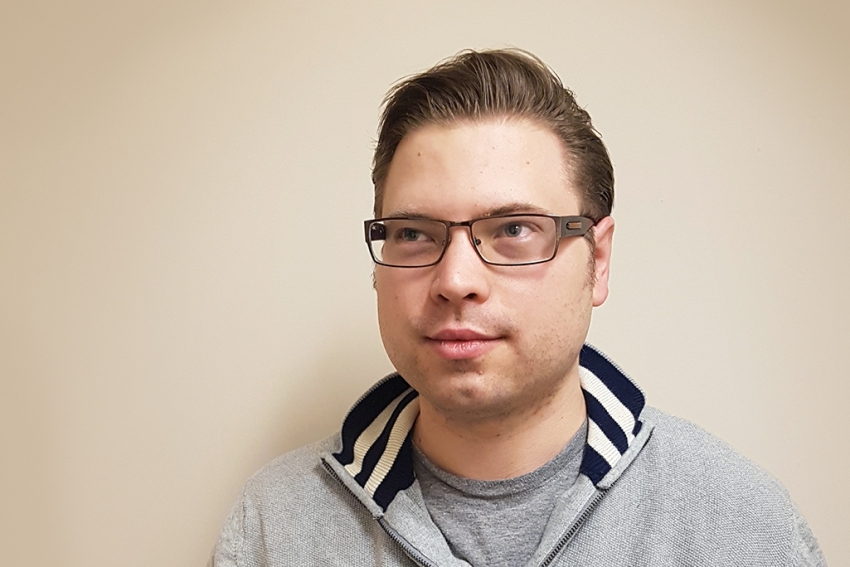 The apartment looked dirty. The laminate floorboards were warped, there were no blinds or curtains over the windows, the closet door wouldn't open, the shower curtain had been torn in half, the kitchen sink took forever to drain, and every time I flushed the toilet, the tub gurgled.
"Four hundred square feet," announced the landlord proudly, as if he were a real-estate agent presenting a mansion to affluent buyers.
"Do you want it, Andrew?" asked my social worker. "This could be your new home."
"Sure," I replied hesitantly. "After all, home is where the heart is, right?"
The postage-stamp-sized suite was a Supported Independent Living (SIL) unit. The SIL program is part of a provincially funded housing initiative, developed to house those who live with mental health disabilities and addictions. SILs are typically reserved for more severely ill and debilitated clients who are prepared to live on their own.
Living with schizoaffective disorder and OCD isn't easy. I was diagnosed shortly after my seventeenth birthday. In my early twenties, after several years of "self-medicating" with drugs and alcohol, I was labelled a concurrent disorders patient: my drug and alcohol use exacerbated my illness. At the age of 23, out of desperation, I attempted suicide. Two more suicide attempts (and an overdose) would follow.
All in all, between the ages of 17 and 27, I was admitted to hospital so many times that the nurses began calling me a frequent flyer. I wasn't alone; many of my fellow patients had also fallen through the mental health care cracks, unable to break the cycle of repeat hospitalization.
After I was discharged from my last hospital stay, I went back to my parents' home. But now I was 27 years old and living with my parents. Being 27 and living with your parents is a drag. I felt ashamed. I watched as my friends and my sister settled down, built successful careers and became mature, tax-paying, law-abiding citizens. Meanwhile, my illness had left me semi-debilitated. I was jobless, single (not by choice) and sleeping in my parents' basement.
I needed my own place and I couldn't afford to rent one on my own. The provincial disability assistance program pays a measly $900 dollars a month—certainly not enough to cover living expenses in Vancouver. Surviving on this amount each month is a challenge. Many on disability benefits struggle to make ends meet.
Following my last hospital stay, I was set up with an Assertive Community Treatment (ACT) team. Typically, ACT teams are assigned to the severely ill, usually following a hospitalization. These multidisciplinary teams include mental health workers, occupational and vocational therapists, concurrent disorders counsellors, nurses, doctors and social workers. Every ACT team is allotted a certain number of supported housing units to offer its clients, and the teams' social workers manage these placements. ACT advocated for supported housing on my behalf.
Before being accepted as a SIL candidate, however, I needed to prove I was ready to live on my own—capable of cooking, cleaning, paying bills, managing my money and staying safe without my parents' oversight. The team had me meet regularly with an occupational therapist in preparation for my big move.
I signed the papers with my social worker and took up residence in the tiny bachelor suite in the summer of 2013. My family helped me with the move. Together, we cleaned the suite and carted my belongings from my parents' house to my new place. My ACT team had furnished the suite with a cheap leather couch, a dining table, two stiff-backed wooden chairs and a single-sized mattress with a flimsy metal frame.
There's a stigma attached to supported and social housing—a form of NIMBYism (Not In My Backyard). People aren't usually willing to fork out hundreds of thousands of dollars for a condo next to a social housing unit. Often, homeowners protest the construction of social housing in their neighbourhood. It doesn't help that older social housing units are frequently in a state of disrepair and typically can be a bit of an eyesore.
NIMBY attitudes about social housing are usually based on the misperception that those who live in supported housing units are degenerate trouble-makers. While the mental health movement has gained a lot of positive attention and increased government funding and support in recent years, many members of the general public still look down on those who live with severe mental illness and addiction.
I'm 30 now, and my last hospitalization was 3 years ago—this is the longest stretch I've ever gone without an admission since my diagnosis. I've emerged from the throes of severe mental illness and addiction. I've come a long way, and I'm proud of the progress I've made. I know that I'm lucky, but I also know I've worked hard to get here.
Ultimately, I can see now that moving into a SIL was one of the best decisions I ever made. Supported housing offered me exactly what I had been craving. I was free to make my own decisions with the supportive guidance of my ACT team (which made frequent visits and check-ins by phone).
My new-found autonomy became a reason for me to stay well: I suddenly had an incentive to comply with my treatment regimen of medication, exercise and weekly therapy with a concurrent disorders therapist. My mental health gradually improved as I grew accustomed to my new living arrangements. ACT provided guidance and oversight, ensuring I attended appointments, picked up my meds and remained well. Not long after moving out of my parents' house, I was thriving. I had found the missing piece to my recovery: independence.
I lived in my bachelor suite for two years before moving on. During this period, I returned to university, volunteered with a mental health organization and expanded my social network. As a high-functioning individual living with mental health challenges, having a place of my own has allowed me to live the kind of life I once thought unattainable.
Today in British Columbia there is very little government-funded housing; among those who live with mental health challenges, homelessness is all too common. Ultimately, my story illustrates just how important supported housing is for the health of many individuals who struggle with mental illness and addiction. Housing is critical to mental wellness. Without stable housing, individuals are less likely to comply with their treatment regimens, and they may be less likely to take full advantage of accessible mental health programs and services. Funding for supported housing reduces the costs of mental illness and addiction (such as the costs of hospital admissions and in-patient substance abuse rehabilitation). Investing in supported housing makes social and economic sense.
Now, I have a new place to call home. I have graduated from the ACT program. But I'm forever grateful to my former ACT team for its guidance as I made that first transition to supported, independent living.
They say that home is where the heart is. Who would have thought that my heart could be happy in 400 square feet? Who would have thought that 400 square feet could save a life? But it saved my life. And it was home.
Related resource
There are 20 active ACT teams across BC. To learn more about Assertive Community Treatment teams, visit www.act-bc.com. The government site describes how ACT works and why—including how it helps people find and keep housing—and lists resources, videos and a directory of teams.
About the author
Andrew volunteers with the Canadian Mental Health Association and CREST.BD and blogs for Healthy Minds Canada. Andrew frequently blogs about his lived experience with schizoaffective disorder, OCD and substance abuse. While his education is in economics and business, Andrew's passion is writing, and he is pursuing a career in communications