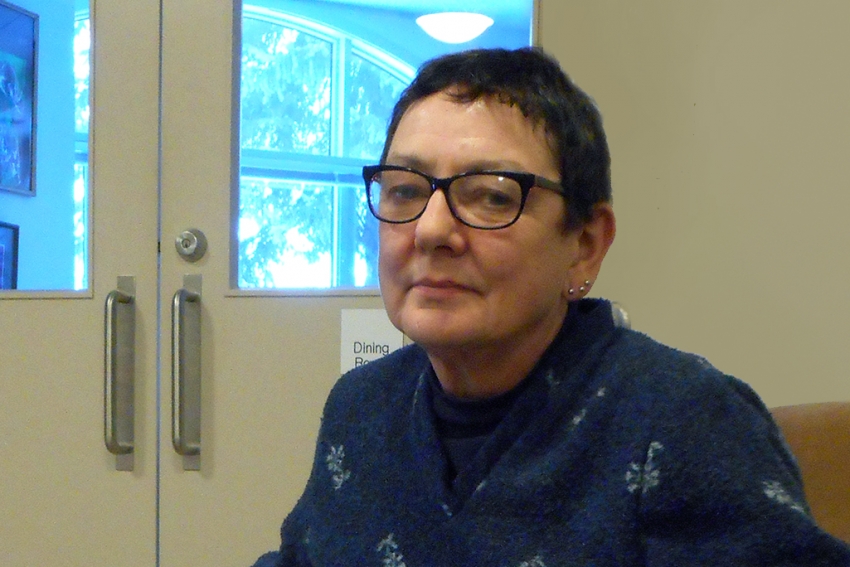 This is the story of how I landed on my feet and found supported housing in Nelson, British Columbia. Anderson Gardens, a Canadian Mental Health Association Kootenays/BC housing building, is geared towards independent living, but it also provides support to its residents in various ways. Rent is subsidized, and housing staff maintains the gardens and communal areas, provides a range of optional social programming and offers residents a daily lunch in the dining hall. Each of the building's 33 units has a combined kitchen and living room, a bedroom, a bathroom and a storage closet.
Ever since I was 14, I have lived on and off with the challenges of mental illness. There were periods of time that I was well: I was able to pursue a career in art and psychiatric nursing in England, where I grew up, marry and have three lovely daughters. Recently I was blessed with my first grandchild, who is now three years old.
But in 1987, when my husband and I immigrated to Canada from Yorkshire with our three young daughters, the stress of the move to a new country and the challenges of fitting in to a new culture and finding suitable housing caused my mental health to decline. My husband and I divorced after two years in Canada, due primarily to financial stress. I raised the children on my own for five years while living on basic welfare until I was able to claim disability. Luckily, the girls and I had become Canadian citizens by then, which enabled me to claim disability benefits.
Over time, however, my health continued to decline. Finally, the health authority's mental health team convened a meeting with my ex-husband, our three daughters, my psychiatrist, my case manager and me. It was rapidly decided that I should move out of the family home and that my ex-husband should move back in to care for our children. I can't remember having much say in the matter. My youngest daughter was only 11 years old: she didn't really know what was going on and was upset for a long time after I moved out.
After I left the family home, I faced several challenging years. I struggled to find affordable housing and moved frequently. I experienced a disastrous re-marriage and break-up. I found myself homeless for a brief three-month period, during which time I relied on the generosity of friends for a place to sleep.
At this point, I finally found rental accommodation that I considered to be livable—but it was far from satisfactory. It was freezing in the winter and had no bedroom. The kitchenette had only a hot plate and a microwave, and only the tiniest of sinks. No soups or roast chicken for me! I stored my soup pot and my roasting pan away. Despite these shortcomings, however, I liked my little place well enough to stay for 11 years, until the landlord decided to sell the building. During this period of stability, my health improved so much that my doctor and I agreed that all I needed was follow-up with a general physician. The support of a case manager and an outreach worker was there if and when I wanted it.
Once my landlord told me he was selling, however, I had to search for another place to live. I read in our local newspaper that there was a new apartment block undergoing construction, designed especially for independent seniors and people with disabilities. The building was to be operated by the Canadian Mental Health Association, not the local health authority, which is perhaps why my case manager wasn't aware of it. While the local health authority does have some subsidized housing in town, most options are not very appealing. The Anderson Gardens project looked and felt completely different. When I came for my preliminary candidacy interviews, the building looked strong, secure and modern. I was impressed (and still am).
The application process was not simple or easy. Residents are assessed and accepted on various criteria, so there was a lot of paperwork and I attended numerous interviews. I had help from my employment counsellor and my case manager. Eventually, I was accepted as an independent senior with mental health disabilities. I was relieved and elated.
Because the building was new, and only four or five other tenants had been approved at that point, I got to choose the unit I wanted. I chose the first one I was shown; I knew immediately that it was the right one for me. I liked the sunny location at the back of the building, away from the traffic noise and with a view of the back patio and a grassy, treed slope. The unit was at the end of a long, quiet corridor, with the lounge and the stairwell close by.
Generally, I am someone who likes to keep to myself and be as independent as possible. It took a while to get used to being around neighbours on a daily basis as the building filled up. But while I do not like to ask for help, I like to know I have support when I need it. At Anderson Gardens, I have that support. And I am enjoying being around other people. After four years here, I have become more social, less self-absorbed: I have the opportunity to hear about other people's day-to-day experiences and listen to their stories.
The building has communal lounges and there is a garden area on the building's back patio. There is also a communal dining hall in which lunch is served on a daily basis for those who like to socialize over meals. For a nominal fee, we can even invite guests to eat with us. To know there is a hot meal available every day gives me a feeling of security.
Our building manager is firm but fair, and always ready to listen and to address maintenance issues. The kitchen and janitorial staff work hard to maintain a clean, pleasant environment. Our tenant support manager, Shonna, is an energetic multi-tasker, always offering us opportunities to try new programs, providing the sort of personal contact that is so important in a supported housing environment. Recently she established funding for an art program. She has even set up two computers in our downstairs lounge so that people can edit their artwork on-screen. And each week during term, two students from the Kootenay Art Therapy Institute come to Anderson Gardens to do therapy classes. There is a weekly music jam, and Shonna has put a piano in the downstairs lounge. In the fall and winter months, she hosts Qigong. Residents also have the opportunity to work in (and spend time enjoying!) the building's community garden.
Of course, one can't expect to get along with everybody in a 33-unit building. But apart from the occasional feud between tenants (something I try to stay out of), the main bone of contention in the building seems to be the use of the laundry facilities. Sometimes people don't follow the schedule and the odd item goes missing—all of which is a source of poetic inspiration:
Laundry Wars
Where are my panties?
Where's my bra?
Now you've really gone too far.
I know I put them in the dryer,
Are you calling me a liar?
Are you wearing them?
Let me see,
Well...
I think that they
Look better on me.
Irritations aside, the problems are minor. Overall I feel that my social life and my mental health have improved in the years that I have lived at Anderson Gardens. My GP agrees. I feel very lucky to be here and I do not plan to move again.
If you are hoping to find supported housing, get on as many wait lists as you can and hang in there. Everybody needs and deserves a home.
About the author
Catherine is a senior from Nelson, BC. She does volunteer work at the local food cupboard once each week. Since childhood, she has been fascinated by reading, writing and artwork. To this day, these three things keep her going, along with family, socializing and cooking