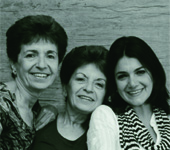 When I was five years old, I was taken away from everything familiar to me: my home, my roots, my language and my culture. I immigrated to Canada from Chile, as a young girl with my family. This was in the mid-seventies, during the Pinochet military regime. The lives of my family members were forever transformed because of violence and discrimination—as are the lives of thousands of other immigrants and refugees who come to Canada every year. My family was among the fortunate ones. We were welcomed into a country that promoted "multiculturalism," universal health care and public education.
Both my parents, however, experienced an incredible amount of stress with their arrival in this new country. They had to deal with language barriers, lack of employment opportunities, problems with foreign educational credentials, unfamiliarity with the health and education systems, lack of social support and more. They both developed mental health issues and, until this day, live in recovery. Yet they have also both led fulfilled, happy and productive lives.
My parents were the inspiration for my vision that we can all aspire to achieve mental health and well-being, regardless of what we are dealing with, as long as we have the right supports in place. Those supports may look very different depending on each individual, or the context.
My mother was able to find employment in the social service sector because she spoke English fluently. This led her to becoming a prominent advocate for new immigrant women in Toronto. Much of her support came from finding meaningful work opportunities and social support through her friends and colleagues. For others, it may mean finding the right health professional, or the right school.
My dad found support through the local community centre. At the time, the centre offered ESL classes and the possibility of playing in a local soccer league, which my dad really enjoyed; it kept him active and healthy. Others may get support from their own community by tapping into indigenous knowledge or by seeking alternative healing practices to promote their health and well-being.
Like many others, I have also lived with mental health and substance use issues as a spouse, a mother, a friend, a colleague and as a young woman who had postpartum depression 19 years ago. In my case, focusing on my spiritual growth and yoga practice has been key in my personal journey toward mental well-being.
Throughout the last decade of my career, I've had the privilege of working with a wide range of people: community members, policy makers, researchers and advocates. All of them have taught me that we must deal with the broader social determinants of mental health—that is, the social conditions that are, ultimately, at the root cause of our mental health issues. These include social inclusion, access to economic resources, and freedom from stigma, violence and discrimination.
The people I've worked with have also taught me that the time for us, as a society, to act is now.
Taking Action
We all know that mental health issues take an enormous toll on the world's population, not only in terms of health and economic costs, but in terms of our ability to create safe, healthy and vibrant communities. Promoting resilience, coping skills and supportive environments that result in mental well-being is vital, particularly given the global issues we face, such as the current economic crisis and climate change.
What has become increasingly clear to me through my own challenging experiences is that mental health and substance use issues are both a cause, and a consequence, of health and social inequities. For instance, if you live in poverty you are more likely to experience housing issues. The hopelessness and despair experienced by that life circumstance can lead to major depression. However, in the reverse, you may have a great paying job and comfortable home and experience hopelessness and despair due to lack of social support and relationship problems. This can also lead to a major depression, which may cost you your job and lead you to a situation of poverty and, ultimately, homelessness.
I think that the key to future action is to shift the conversation so that together, as a society, we can increase the demand for mental health and well-being. Why? Because mental health and well-being are an asset. They can help us achieve safer and more inclusive communities, more productive and healthier populations, thriving families, and happy and fulfilled citizens who all have something to contribute.
I will give you an example of a shift in conversation. If I picked five words or terms to describe mental illness in my family, they would be: bipolar disorder, obsessive-compulsive disorder, depression, anxiety disorder and attention-deficit/hyperactivity disorder. What if, instead, I picked five words to describe mental well-being in my family? I would choose: resilience, hope, empowerment, compassion and belonging.
This shift toward focusing on mental well-being requires us to demonstrate the benefits of promoting mental health. Fortunately, we have the research to support this notion.1-3 Now it is time to come together to find compelling ways of bringing these ideas to the public.
Let's create healthy schools, healthy workplaces, healthy communities and healthy policies. Let's empower individuals and communities to tap into their own wisdom and build their own capacities. Let's ensure we are providing the resources necessary for people to not only cope, but to flourish. Let's create a society built on compassion, not shame, where every child has a chance to thrive, no matter where their parents were born, or what colour their skin is, or what mental health issue they are facing.
I will end with a question. What is your role in shifting the conversation, so that together we can create mental health and well-being for all?
About the author
Paola leads and participates in provincial and national collaborative efforts, applying health promotion principles to research, policy and practice in mental health promotion. She lives in Vancouver with her two wonderful children and loving partner, practices yoga, salsa dances and commutes to work on her bike, rain or shine
This article was inspired by Paola's acceptance speech after receiving the Dr. Nancy Hall Public Policy Leadership award of distinction for her work in mental health promotion. The award was presented at the 2012 annual general meeting of the Canadian Mental Health Association's BC Division