From self-harm to self-care through peer-led support
Reprinted from "Young People: Self-Injury" issue of Visions Journal, 2017, 13 (2), p. 29
The first time I self-harmed, I don't remember exactly what led up to it. Maybe it was homework that I couldn't finish, maybe my brother had just called me a dumbass—I just remember that afterwards, I somehow felt better.
At the time, I was 13. Self-injury would become my double-edged companion for the next eight years. What began as a small, intentional bruise led to intentional scratching and then, eventually, cutting. I seemed suddenly to have found a way to function. I could think more clearly, focus more, feel okay. Self-harm grounded me in the present.
Starting to SHARE
My self-harm wasn't frequent in my early teens, but due to a variety of factors, I experienced an extended period of increased use and dependency during my first few years of study at the University of British Columbia.
It was always a struggle to find proper support, especially in the beginning stages of my recovery. I sought help from mental health professionals, but at the time, their understanding of self-harm was inadequate. For example, when I disclosed that I had self-harmed prior to our appointment, one psychiatrist asked me, "Can't you just stop?" I thought to myself, If I could have stopped, I would have stopped, and I wouldn't be seeing you.
Though there was some online peer support, in-person peer support for self-harm was non-existent in Vancouver at the time. While there were groups like Alcoholics Anonymous and Narcotics Anonymous—even Sex Addicts Anonymous—there was no similar group for people who self-harm. I felt dejected and had no one to relate to.
One sleepless night in March 2013, particularly fed up with the lack of in-person peer support, I decided it was time to do something about it. Soon after, I started to share my experiences with those around me. As I did so, I realized that I was not the only one who self-harmed and not the only one who noticed the lack of support.
And so, one rainy afternoon, my friend Natasha and I tucked ourselves into a corner booth at Prado Café on Commercial Drive and began our first planning meeting to establish SHARE, a support group for people who self-harm. Natasha, whom I had met in a third-year psychology class, also struggled with self-harm and shared many of my frustrations. Accompanied by the intoxicating aroma of roast coffee and the low chatter of the other customers in the background, we delved into passionate discussion.
The idea of SHARE, or Self-Harm Anonymous Recovery and Education, was born out of the need to create a space for people to share their experiences and knowledge so that others who are struggling can find the support that we couldn't find when we needed it. In addition to providing support, SHARE aims to educate the wider community about self-harm, promote the importance of self-care and prevent people from turning to self-harm in the first place.
Defining and preventing self-harm
At SHARE, we employ a broad definition of self-harm. Instead of restricting the definition to self-inflicted body tissue injury, we include behaviours such as substance use, binge eating, risky sex, risky driving and other activities.
Having struggled with self-harm and its consequences (in my case, habitual dependency on self-injury and the secondary problem of visible scars), I don't want anyone to have to walk the same road. If I could have prevented harming myself in the first place, if I had other tools at my disposal, I would have chosen another option.
While we can't change the past, we can change the future. With our support group meetings, SHARE aims to help whoever comes to us for support and to prevent people from further harming themselves. We hope to expand our education component to reach more teens and young adults and to teach productive coping and stress management skills in order to minimize the risk of an individual turning to self-harm.
Why SHARE with peers?
There are many benefits to peer support. Since SHARE uses a lot of the same training as The Kaleidoscope, a peer-led mental health support group, members of both groups got together and brainstormed some of the benefits we see from participating in a support group, both as attendees and as facilitators.
One of the key features of a peer-led support group is that it's not top-down care. Rather than receiving support and care from an "expert," we receive and share support with one another as equals. In this setting, there are fewer power dynamics at play. Some peers take on a facilitator role, but their task is to keep the group focused (in terms of time spent on a topic and the content of discussions, for example) and create a safe space for all—not to act as an authority or professional figure.
Many peer support groups encourage people to speak from their own experiences and leave out any advice-giving. This helps to ensure that people who seek peer support feel heard and do not feel intimidated. We have found that people are more likely to listen to a peer than to an authority figure who doesn't have similar experiences. Peer support can help instill a sense of confidence and empowerment, and can reduce self-stigma for all those involved.1
Community awareness and self-care
SHARE is promoted through social media channels, through UBC's wellness resources and services and by word of mouth. We also host information booths at university events. At the end of our group meetings, which welcome anyone who self-harms as well as friends and family of those who self-harm, SHARE always tries to wrap up with an educational component, which usually depends on what has been discussed during check-in. For example, we've brainstormed self-care activities, discussed how to incorporate harm reduction in our lives, come up with a list of distraction techniques and devised individualized coping strategies.
Throughout the school year, we host two to four workshops about self-harm for the UBC community. Our intention is to increase awareness and understanding and to promote the importance of self-care. Self-care doesn't have to be something big or effortful; the little things that we do for ourselves, often even without our full awareness of them, are great examples of self-care. We don't always have to make a point of going to the gym or eating a healthy salad or practising progressive muscle relaxation. Simply shutting our eyes and resting for a few seconds or reading something we enjoy or taking in the trees and the sounds of nature as we walk to work are all great examples of self-care.
The importance of the self-hug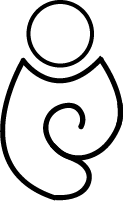 The SHARE logo is a visual representation of many of the key principles of the group. The image (left) is a stylized representation of an individual hugging themselves. The entwined arms form an "S" at the centre of the logo, symbolic of self-compassion, self-care, strength and SHARE. The idea behind the logo is that an act of self-compassion—the self-hug—serves to counter an act of self-harm. Turn the logo upside down and you will see the image of a fist, symbolizing the strength that we all have inside of ourselves but which is often unacknowledged and which we have to take that extra step to see.
A SHARE in our future
Self-harm no longer controls my day-to-day life. I've learned healthier coping skills, and I've learned to prioritize self-care. This doesn't mean I don't have days when self-harm urges re-emerge, and sometimes I have lapses, but I have a better understanding of how to use stress reduction and self-soothing techniques before it gets to that point.
It was a lonely road to face by myself. Today, people who self-harm have more supports. If you are in the Vancouver area, contact SHARE and drop in to one of our peer-led support meetings. If you aren't in the Vancouver area, you can still check out our website for helpful information and resources.
If you aren't ready for in-person support, or don't have access to it, there are many other resources available, including the Kids Help Phone (their website, phone line and online chat), YouthinBC and YouthSpace. Facebook groups can be helpful, as long as they have a solid community agreement and a set of group guidelines that you feel comfortable with. The website of the non-profit Self-injury Outreach & Support has a lot of information as well, including tips on how to cope with urges, guides for loved ones, school staff and health care professionals, and personal narratives about self-injury.
We hope that SHARE continues to be a leader in self-harm peer support. For more information, go to the SHARE website at www.vivreshare.org, or email us at [email protected].
About the author
Anne is studying human biology and psychology at UBC. She is a co-founder of SHARE, and a facilitator with The Kaleidoscope (a peer-led mental health support group). In her free time she enjoys connecting with nature and playing with cats