Youth's thoughts on mental health and substance use services in BC
Reprinted from the "Young People" issue of Visions Journal, 2013, 9 (2), pp. 24-26
The McCreary Centre Society* recently published two reports. One looked at young people's experiences with the mental health system and the other looked at their experiences with BC's substance use services (see related resources). Each project looked at different health challenges, services, supports and systems, but many of the findings and youth's observations were similar across both projects.
Nearly 150 youth from across BC took part in the two projects, with 74 taking part in the discussions about mental health services and the rest in discussion about substance use services. The youth were diverse in terms of gender, age, ethnicity, geography and sexual orientation. However, they shared many similar experiences, such as homelessness, a history of government care, problems at school and challenges with their mental health and substance use.
Barriers to service
Young people talked about not approaching services they needed because they were frightened about what would happen to them. They also didn't know where to go or how to ask for help. Many, especially those from small communities, were afraid they might be taken into hospital and lose their home and friends.
Youth who had accessed services felt they were often not given the health information they needed to manage their symptoms, or weren't given the most appropriate help for their specific needs. They were often confused by the different information they were given from different professionals. They were also upset when they had to repeatedly retell their story to new professionals in different services, or when a single service had a change in staff support. For these reasons, a number of youth stopped accessing services.
First impressions were very important to these young people. Many didn't go back to a service if their first contact was negative. This included not only meeting an unfriendly or unhelpful staff member, but also arriving to find the service was closed, or getting an answering machine when calling.
Youth identified the services that made them feel safe and welcome. These were places they wanted to go back to and that were most helpful to them. They included services that advertised clearly what they offered and how to access them. They were also services that were easy to access (e.g., were close to transportation and were located in places youth already accessed), were separated from adult services, and were open evenings and weekends.
They also liked services where they could get one-on-one support, that were welcoming for all youth, were located in safe neighbourhoods, and that they knew would be around for a while. Services that also offered physical and leisure activities were very helpful in improving mental health and motivation to be substance free.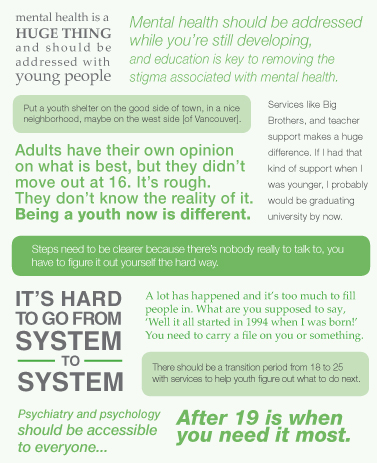 (Click to enlarge)
Some quotes from the McCreary Centre Society reports.
Youth recommendations
Youth had many ideas about how mental health and substance use services could more successfully reach young people before they hit a crisis point. These included greater use of social media and advertising in schools.
They felt that there were many lost opportunities to help younger youth who are starting to struggle with their mental health or substance use. For example, they suggested reaching out to students in elementary school and giving them tools and resources to help them cope with what they're experiencing. If families and schools talked about these topics from an early age, it would be easier for youth to recognize they were having problems and to know how to seek help.
Another idea was to create a "one-stop-shop" youth centre in each community. The space would offer mental health and substance use supports as well as welfare benefits advice, job training and life skills supports. This would allow young people to access all the help they needed in one place and stop them from having to retell their story to different people.
This community youth centre would also be open to young people who didn't need any support. This way, youth could make friends with different types of young people. It might also reduce the shame young people feel when accessing services, because it wouldn't be obvious why they were there.
Related Resources
Cox, K., Smith, A., Peled, M. & McCreary Centre Society. (2013). Becoming whole: Youth voices informing substance use system planning. Vancouver, BC: McCreary Centre Society. www.mcs.bc.ca/pdf/becoming_whole.pdf.
Cox, K., Smith, A., Poon, C., Peled, M. & McCreary Centre Society. (2013). Take me by the hand: Youth's experiences with mental health services in BC. Vancouver, BC: McCreary Centre Society. www.mcs.bc.ca/pdf/take_me_by_the_hand.pdf.
In both projects, youth spoke about their ideal support workers. These included staff who treated each youth as an individual, were a good role model, were honest, didn't judge and were trained and skilled at their job. These were also staff who took the time to develop a relationship with each youth and were friendly but, as one youth said, "don't try to be your best friend."
Youth in both projects suggested that young people who asked for any sort of help (including in the ER) should be given a trained worker who would help them to navigate community and hospital systems. This worker would also stay involved with them as they transitioned to adult services.
Youth also wanted trained and well-supported peer mentors to talk to. They felt that having someone their age who "had been there, done that and come out the other side" would be really helpful. They thought it would also help give them hope for the future.
Finally, young people spoke about how mental health and substance use services could include youth more in the program or policy decisions that affect them. For example, they wanted to help develop new programs, be part of a program's youth advisory group, and help to train psychiatrists to better understand youth issues.
*McCreary Centre Society
The McCreary Centre Society is a non-governmental, not-for-profit agency committed to improving the health of BC youth through research and community-based and youth-engagement projects. Founded in 1977, the society sponsors and promotes a wide range of activities and research to identify and address the health needs of young people in the province. For more information, visit www.mcs.bc.ca.
If opportunities to be more involved came up in service planning and delivery, or in policy development, youth asked that they get support to attend a first meeting and information about what their roles would be. Support could include being allowed to bring a friend along, getting a ride to the meeting, or having an adult support worker they were familiar with waiting outside the room. They also felt that meetings should be held in comfortable, safe spaces, scheduled at times and places that make it easier for youth to attend. Food and hot drinks should be offered because, as one youth said, "It is hard to concentrate when you are hungry."
In summary, young people who took part in both projects identified key areas where mental health and substance use services could be strengthened, and where youth's needs could be better supported. They were also keen to be more involved in the decisions that affect them and had many ideas for how we can better engage young people.
About the author
Annie has been the Executive Director of the McCreary Centre Society since 2006. She began her career as a psychiatric nurse in England before working with homeless and inadequately housed youth. Annie directed programs for people with developmental disabilities and mental health needs in Boston, Massachussetts, before coming to Canada