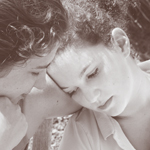 Kassy was born on Christmas Eve, 1994—she was our angel. Everything was great until about one month before her 11th birthday in 2005. Almost overnight, obsessive-compulsive disorder (OCD) became the ruler of Kassy's every waking minute. She went from being the smart, funny, fun-loving, most popular kid in elementary school, to living a kind of torture on a daily basis.
On March 11 of this year, my beautiful daughter took her life. She didn't see a way out of the tornado she'd been living in for almost eight years.
Kassy's story
We were a typical 'average family.' My husband and I had two children, a son, and 14 months later, a daughter. We took family holidays, camped every summer, and both kids were active in sports, happy, healthy and outgoing.
Before her 11th birthday, Kassy had the lead role in every school Christmas play, at age nine had saved money from a paper route to buy a motor bike, and had swum with sharks in Hawaii. Suddenly, come November 2005, she was cancelling sleepovers, wouldn't wear her coat (in our Rocky Mountain winter) and couldn't open Christmas presents if they'd been under the tree. By January, doing one load of laundry could take her six hours in order to satisfy the rituals demanded by
the OCD.
So began her nightmare ride through a world where 'contamination' from bugs and fungus and dogs—and even hugging me—was unfathomably frightening. Things escalated so that
by the time Kassy was 16, she also
had anorexia.
Over the years, in addition to weekly appointments with her local counsellor (in Cranbrook), Kassy had weekly appointments with a psychologist at the Alberta Children's Hospital in Calgary, where she was later admitted for respite care. She was also an outpatient at BC Children's Hospital in Vancouver, and at 16 was admitted to the provincial eating disorders inpatient program at BC Children's. From there Kassy was bounced to Kelowna's adolescent psychiatric ward and the Cranbrook adult psychiatric ward.
From the age of 16, Kassy attempted suicide approximately six times, and was involuntarily admitted to hospitals under the Mental Health Act about five times.
And in spite of all this—and prolonged school absences and detours to alternate programs—Kassy graduated from mainstream high school with the Governor General's Academic Medal for the highest average (99.3%) in her graduating class. (I later learned she had to, in her mind, stay above 99% in all subjects or she felt her core fear was coming true.)
In November 2011, Kassy was admitted to Rogers Memorial Hospital, a world-renowned facility in Wisconsin with an inpatient OCD program for children and adolescents. The length of stay was determined by the patient; Kassy was there five weeks. Staff built a trusting relationship with Kassy and let her take the lead. They asked: What do you need? Ready to join in? Not yet? Well, when you're ready. And when Kassy was ready, she confronted her "core fear" and much more.
We learned that her core fear centred on catching mental illnesses and disabilities from other people. Since I was exposed to and touched people with mental illness and disability through my work and personal relationships, I was a big source of contamination.
For the first time, Kassy felt free of the OCD. Before being discharged, Kassy wrote: "This was the catalyst that finally defeated the tyrant of my disorder." She hugged me when she got home and hugged me every day after that...priceless!
But about seven months after being discharged, OCD and anorexia consumed her life again. Maybe it was the demands of the transition to post-secondary life. A period of independent living was undermined because she could not spend money, and a start at university in Kelowna had to be aborted, though she did attend community college in Cranbrook. Perhaps it was due to the pressure she put on herself to succeed. But it most definitely was due to the power OCD had over her.
At age 18, Kassy ended her fight. In her suicide note she wrote: "My anxiety and distress seem to be spiralling out of control again...I've experienced this roller-coaster far too often...periods of happiness may be lovely...but they by no means make up for the misery that comes from watching my life deteriorate around me or the panic that comes from being unable even to sleep or function as my obsessions become more powerful."
The strain of it all
Resources for children and adolescents with mental illnesses are very limited where we live—Cranbrook, in southeastern BC. Because of this, we spent a lot of time, money and energy travelling to larger cities for help. The weekly return trip to Calgary, which we usually did in one day, entailed eight hours of just driving.
The financial burden is huge. We spent over $25,000 in just the first year of Kassy's illness: staying in hotels, buying meals and gas, and both my husband and myself taking time off work. Luckily, in 2011, a psychiatrist at BC Children's advocated for Kassy's treatment at Rogers Memorial, so BC Medical covered the program costs. But over the years, I can safely say we've spent more than $60,000 trying to help Kassy get well.
There are the questions one asks oneself: Why is this happening? Why can't the doctors and psychiatrists do anything? Why can't she just go back to being 'normal'?
Getting a diagnosis is tricky, and there is no cut-and-dried approach to treating an illness. Over the years Kassy had various diagnoses: borderline personality disorder, secondary gain (indirectly gaining interpersonal or social advantage from illness) and mother-daughter issues were proposed, as well as OCD and anorexia. This made it very difficult to know how to best help Kassy.
And then there are the people, including close family members, who said Kassy wasn't really sick, that there were too many discrepancies in things she did or didn't do. For example, she couldn't go into her dad's house because someone had stepped on a mushroom (fungus) and gone into the house, but she could come into my house even though I always had mushrooms in the fridge. In the face of what Kassy was going through, this dismissal was very hard to take.
The situation magnified already existing 'good cop bad cop' parenting differences between my husband and me—I was the 'tough love' parent. Just a year in, during the family counselling session when the psychiatrist suggested a mother-daughter problem, I knew from the look of disgust and blame on my husband's face that my marriage was over.
OCD and anorexia are difficult illnesses to comprehend. Sometimes I felt so helpless. One time, Kassy couldn't open the fridge door, and I yelled at her to stop acting like that and open the darn door. Kassy did tell me earlier this year that she forgave me for the way I behaved toward her years ago. She knew I didn't understand then that it wasn't her, that it was the OCD. I am so thankful Kassy forgave me.
And guilt—I've come to realize, through Kassy's illness and paying more attention to my own behaviour, that I may have mild OCD. It doesn't cripple me, but I probably spend an hour a day habitually doing things like checking and rechecking that I've locked the doors. I count things like ceiling tiles and they need to add up to an even number or it doesn't feel right. So I can't help but wonder if I gave OCD to my daughter. Is it my fault that her life is so locked down and turbulent?
And there's the guilt I feel for not having paid as much attention to my son as he deserved. He wasn't the kid on fire so he got pushed to the back burner. (My son is now 20 years old. He and his girlfriend have a beautiful one-year-old daughter. I am extremely proud of him.)
Then there is the idea that one shouldn't talk about the OCD to people outside the family. Stigma, pride, protecting Kassy, protecting her brother—'she was going to be over it soon anyway, so why mention it'? It was very emotionally draining to always be skirting around the issue.  
As Kassy became more and more isolated, she lost friends, and I too lost friends. Near as I can tell, it was just too hard for people to maintain a friendship with either of us. We were fighting for Kassy's life...the life she once had...the safe, calm, worry-free life full of laughter and friends.
And then there was the day this past spring when my neighbour came to get me from work. It was every parent's worst nightmare.
Kassy's suicide, although heartbreaking for me, wasn't surprising. She was in so much turmoil for so long. I miss her dearly and would give anything to have her back, but I'm not mad at her. She was tired and felt alone in her fight.
In the aftermath...a need to shed light
For eight years my purpose in life was to help Kassy get better. After she died I didn't know what I'd do. Then I read a paper Kassy had written for her college psychology class in which she wrote, "Further education aimed at increasing public awareness about OCD is essential in promoting more positive prognoses among people with OCD."
My daughter has inspired me to reach out to people and professionals in our community and educate them more on OCD. My dream now is to:
bring awareness to the need for more supports for adolescents in our southeastern corner of the province
advocate for a full-time child and youth psychiatrist in Cranbrook
bring an OCD specialist to our area to lead a seminar for both the public and East Kootenay professionals
There has to be better access to good treatment, education and support. At present, a child psychiatrist visits Cranbrook for just over a day, about once every six weeks—to serve all the communities in the East Kootenay region.
My hope is that in the near future our adolescents and their families will have a much smoother path to travel. In the meantime, keep talking things out, keep reaching out to friends and family, keep searching for professionals who 'get it'...keep on fighting.
About the author
Michelle lives with her family in Cranbrook, BC. She wrote this article in honour and memory of her daughter, Kassy Margaret May Evans. Michelle recently told her family's story at the Child and Youth Mental Health and Substance Use Collaborative meeting. See the video Kassy's Struggle with OCD on YouTube