Escaping a Bad Dream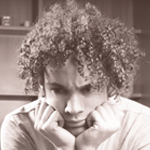 I am sitting in a university dorm room. It's 2011. I'm surrounded by whirring machines, computers that are my portal to life outside this room. I can no longer physically leave this space; I'm trapped in a self-imposed isolation.
I have been very busy attempting to control the things I cannot change—and failing to stop this three-year-long panic attack that is my every indecision. Even though at age 22 I should be in the prime of my life, I wake up every morning in this dorm room with one glaringly obvious flaw: I am utterly alone. I push this thought out of my head as quickly as I might push through a crowded train station desperately seeking a train to take me anywhere but here.
I am emotionally absent in this moment. My thoughts begin to blur and intertwine into a dream that I hope is only a dream...I am the epitome of a few bad decisions turned inside out and hung on a wall as if Picasso painted an alcoholic for the world to witness and judge.
Deep breath and a flashback to the beginning, shall we?
The panic that arrived
I am 14 years old and watching television, alone, on a Wednesday evening during a school week. Suddenly, I am dying. The world is ending and there is nothing I can do about it. I am sweating iceberg runoff and my heart is no longer beating, it's vibrating. My living room becomes a crypt, the walls turning from white to black.
That was my first anxiety attack, and I didn't understand what was happening at the time. My mother, who was a nurse in mental health, recommended a psychiatrist and counsellor help. I was pretty freaked out, but about six months after that first attack I did see a psychiatrist a few times. He diagnosed generalized anxiety disorder, prescribed medication and taught me a breathing technique that helped when an attack threatened.
But I still had anxiety strike about once every two days. There was no direct trigger or root. Alone in the outside world, I felt the most fear—there were other people, with closed minds, who didn't understand. Home alone, however, I revelled in feeling safe.
My parents supported me in doing whatever I felt would keep me safe. So I missed a lot of school and wasn't able to have a job. I had friends, but I missed out on a lot of social exploration experiences that would have made us grow closer.
From terror to the catatonia of addiction
The anxiety attacks plagued me until I turned 18. Then things changed. I graduated from high school. I started cognitive-behavioural therapy (CBT) with a mental health counsellor, so acquired new skills for dealing with my stress and fear. I worked a couple of jobs and did a year at a small university college in Calgary.
However, I felt I needed to play catch-up on what I'd missed in high school. The legal drinking age in Alberta is 18—and I discovered that alcohol was the most therapeutic thing I could consume to relieve my racing thoughts.
I also began abusing pills to curb my anxiety. After starting CBT, I tapered off my meds without medical supervision, so was still filling my prescriptions. I only used the pills when I felt I needed to. And when I felt I 'needed to,' I'd take them recreationally, often along with alcohol. On my 19th birthday I experienced my first blackout from mixing booze and pharmaceuticals.
This spiralled into my return to post-secondary education in 2009, at a university in BC near where my parents had moved; where I knew no one. While I did achieve good marks, I still drank, during good times and increasing bad times. And the depression that walks hand-in-hand with generalized anxiety disorder escalated.
I fell deeper into my head—that seeming 'Wonderland' that drugs and alcohol lured me into. I was chasing a dream state I wanted to feel all the time...but there was no rabbit with a pocketwatch waiting for me down the rabbit hole. There was simply the next bar, the next pill, and eventually I sank so low I was stealing from my loving family.
My substance use affected my ability to cope with the daily demands of student life, and after five semesters I had to leave school. It turned my personal relationships with self and others into a constant meltdown of emotions. I've struggled with suicidal ideations and many trips to hospitals because of overdoses and suicide attempts because of my substance use. And I wasn't honest with the doctors when I denied using alcohol in combination with my prescribed medication.
Addiction transforms you from a fully alive human being, to one in a catatonic state. I switched on to autopilot for five years. But the choice to recover is always available to the addict who still suffers.
Steps in the right direction
I knew I needed a new way of living. I was tired of my unhealthy, out-of-control life, and always being sick from binge drinking. In June of this year I found help at a residential treatment centre here in BC that a family member had recommended.
When I entered the treatment centre, I didn't know what to expect, although I had some terribly false assumptions. I thought it would change the person I was and had always been, which at core was not such a terrible person. I figured it would be a solitary confinement, sacrificing pleasures of life for something I hadn't fully bought into yet.
I've now been in the program for four months—three to six months is recommended. The centre provides structure that I'd otherwise be without. Living in addiction is a daily struggle of impulsiveness and terrible consequences, but here I wake up at a set time each day and have regular chores to do. This is helping me develop a habit of routine responsibility.
The "Twelve Steps" of Narcotics Anonymous (NA)—and living them while having fun—are the most important aspects of program life. While NA is not affiliated with my treatment centre, the Twelve Steps are stressed heavily because the program consistently works for those who commit to it.
I'm currently more than halfway finished the Steps. Through written work and answering questions with sponsors, we slow down and analyze our ways of thinking and our defective behaviours and attitudes. This work is helping me build a solid foundation of morals and values to replace the ones I erased or compromised in my addiction.
I attend group each day, bringing an attitude of being teachable. I'm beginning to find freedom and, dare I say it, enjoyment in being me again. This freedom stems from the ability to choose a more fulfilling way of treating yourself and people around you. This comes when you admit you're powerlessness in situations, take responsibility for your actions, and open yourself to helping others do the same.
It takes objective perspective and input from others to initially help one recognize many of the leaps you make in early recovery. This is because any newcomer enters the program wildly aware of everyone but themselves. As long as your willingness to change grows and you take suggestions that you can put into action, recovery is entirely possible.
In both treatment and the NA program, friendship and trust are rebuilt into our lives in healthy, productive ways. All your actions and important decisions are considered "up for review," and you're encouraged to be open to suggestions and objective input from your peers. We also work together to complete tasks such as making meals, walking to meetings, and making a newcomer feel at home. The concept of making this place your home instills a sense of belonging.
The idea of having fun is stressed on a regular basis. Without taking time to make friends, go out for coffee and a conversation, or do real-life activities (yes this is real life and not jail!), we can miss some important aspects of recovery that are crucial to staying clean the rest of our lives. Nobody can do this process alone.
When people finish their Steps and practise spiritual principles such as honesty, respect and kindness in their lives, they are welcomed back as alumni. These alumni come to give back and to show their gratitude for the care that was once shown them. They prove to the newcomer that anything is possible when you remain focused on the important things in life.
Today, I have spiritual and mental growth in my life again. Returning to university to finish what I started is in the cards for me. I see the relationships in my life with more clarity, and taking responsibility is a concept that I'm finally admitting works for me. Simply put, I'm no longer panicking.
Recovery is never just about abstinence; it's also about adopting a new way of thinking. Your individuality remains, while the damage you caused to yourself and others ceases. I know now that I'm not defined by what I've done in the past, but rather by what I'm changing about myself today. Although I still have fears and doubts about the future, I accept this as part of the process of reconstructing my life. And I'm looking forward to helping others stop chasing shadows of themselves down the rabbit hole into Wonderland.
About the author
Jarrod, 24, lives in New Westminster. He is focused on a publishing or writing career after he finishes his degree. Currently four months clean, Jarrod works as a freelance creative writer and photographer in his spare time . . . when he's not bringing the message to Narcotics Anonymous newcomers