Grappling with Its Simplicity and Complexity
Reprinted from the "Wellness" issue of Visions Journal, 2013, 7 (1), pp. 5-6
The concept of "wellness" is difficult for many of us to put into words. Yet most of us know what wellness means to us individually and how we, and others, benefit from it. It's also likely that we would offer different ideas around how we achieve and maintain wellness.
There are many reasons for this. One of them is how science has considered wellness—or, at times, how science hasn't considered wellness.
Western medicine traditionally concerns itself with diseases, illnesses or health issues that can reduce our quality of life or life expectancy.  In a similar way, many of us are more comfortable talking about the science-based topics of illness and disease than we are talking about the concept of wellness, a topic that seems less concrete and somehow less valid.
While scientific advances in identifying and treating illness and disease are undoubtedly some of humankind's greatest achievements, there is growing interest in learning more about the things that keep us healthy in the first place. While this area of study is still fairly new, we now have a more solid understanding of what improves our health and well-being.
We also have increasing awareness that wellness not only benefits us as individuals, but it also assists us to better support our families, workplaces and communities. In many ways, this isn't new. It supports long-standing beliefs held by many cultures around the world that are more focused on wellness than illness. In North America, for example, there is much we can learn from Aboriginal communities about holistic wellness.
However, most of us continue to struggle with an understanding of mental wellness that feels more solid than just the absence of a problem or illness. This is where science is starting to have something to offer. More and more researchers are exploring this topic, and some have developed models to help us better understand wellness as it relates to mental health and substance use.
A Mental Wellness−A helpful definition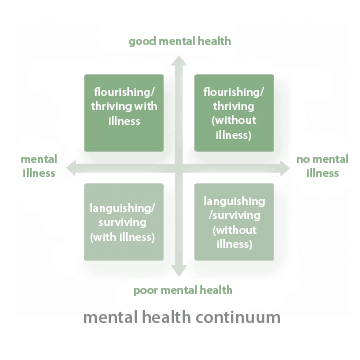 One model of mental wellness is a tool called the Mental Health Continuum, developed by Dr. Corey Keyes. Keyes is an American sociologist and psychologist who suggests that wellness related to mental health and substance use can be understood as "positive mental health" or mental well-being. He says that each of emotional, psychological and social health are distinct and important parts of overall mental well-being.1
For Keyes, emotional health includes feelings of satisfaction and happiness, along with positive feelings about life in general. He describes psychological health as good self-esteem, warm and trusting relationships with others, and a desire to develop and grow as person. He suggests that a sense of purpose or direction in life, being able to influence your environment to satisfy your needs, and being able to make decisions for yourself are important to our psychological health. Finally, he explains that social health involves a sense of belonging and acceptance in our communities, and of being a contributing member of society.2
These components of overall mental well-being provide us with some structure to support a better understanding of wellness related to mental heath and substance use. This structure can be used to help measure well-being at an individual, family, group or whole-population level. It could also be used as a tool in clinical practice.
Keyes asks us to think about mental well-being as something we can plot along a vertical line, or as he describes it, a continuum. This line would reflect the whole range of experiences related to mental well-being. The top of the line is the point where we find ourselves experiencing the best possible mental well-being. Keyes calls this flourishing. Here is BC, we are more likely to describe it as thriving.
Not all of us are thriving all the time. In some cases our experiences might be plotted somewhere further down the line, suggesting that we are not necessarily thriving in all of the ways noted earlier. In fact, some of our experiences may be so far from what we consider thriving that we would find ourselves at the bottom end of the line. This is when we may experience a sense of emptiness, loneliness and lack of vitality. Keyes calls this state languishing. We can also refer to this state of non-thriving as, simply, surviving.
Good News
The experience of a mental health or substance use problem doesn't necessarily dictate a state of thriving or surviving. What's important to know is that our experience of mental well-being can be measured along this vertical line of the Keyes' continuum without knowing about existing mental health and/or substance use problems. In the diagram, you can see that the experience of these problems ("mental illness") is reflected on a separate horizontal line. This means that although mental well-being and the experience of a mental health or substance use problem are connected, they are also quite distinct.
The four conceptual spaces in the diagram, created by the two crossed lines—thriving (with mental illness), thriving (without mental illness), surviving (without mental illness), surviving (with mental illness)—open the door to many possibilities. For example, service providers could think about new approaches to promoting the mental well-being of children, youth, adults, and families—so that they flourish, despite experiencing mental illness or substance use problems.
Policy-makers could use this model (or these ideas) to develop new policies and programs or plan services that improve the mental well-being of large groups of people. When we are thriving, we're not only healthier, but we're more productive and better prepared to deal with life's challenges. We feel strongly connected with our families and communities. This is good for all of us.
BC's recent 10-year plan to address mental health and substance use, Healthy Minds, Healthy People, 3 recognizes the benefits of mental well-being for both individuals and society. It presents cross-government and cross-sector actions and strategies to help British Columbians thrive.
The articles in this issue of Visions present people's thoughts on how to achieve and maintain wellness. While not every writer uses a model like the Mental Health Continuum, they all in some way suggest that mental well-being has, at it its centre, some mixture of emotional, psychological and/or social health. While it's clear that we're still looking for a common way to accurately describe all of the pieces that we refer to as wellness, we all share a growing appreciation of its value.
About the authors
Stephen is Director of Mental Health Promotion and Prevention of Mental Disorders with the BC Ministry of Health. His work focuses on building individual and community capacities and reducing vulnerability to mental disorders. Stephen received the 2012 Nancy Hall Public Policy Leadership Award for his work with Healthy Minds, Healthy People

Deborah is Director of Child and Youth Mental Health Policy with the BC Ministry of Children and Family Development. She works on strategic policy and develops clinical policy related to infants, children, youth and their families, to promote their mental health and prevent and treat mental health problems
Footnotes:
Westerhof, G.J. & Keyes, C.L.M. (2010, June). Mental illness and mental health: The two continua model across the lifespan. Journal of Adult Development, 7(2), 110-119.


Keyes, C.L.M. (2002, June). The Mental Health Continuum: From languishing to flourishing in life. Journal of Health and Social Behavior, 43(2), 207-222.


Government of British Columbia, Ministry of Health Services, & Ministry of Children and Family Development. (2010). Healthy minds, healthy people: A ten-year plan to address mental health and substance use in British Columbia. www.health.gov.bc.ca/library/publications/year/2010/health_minds_healthy_people.pdf