Reach out for help, stay positive and find what works for you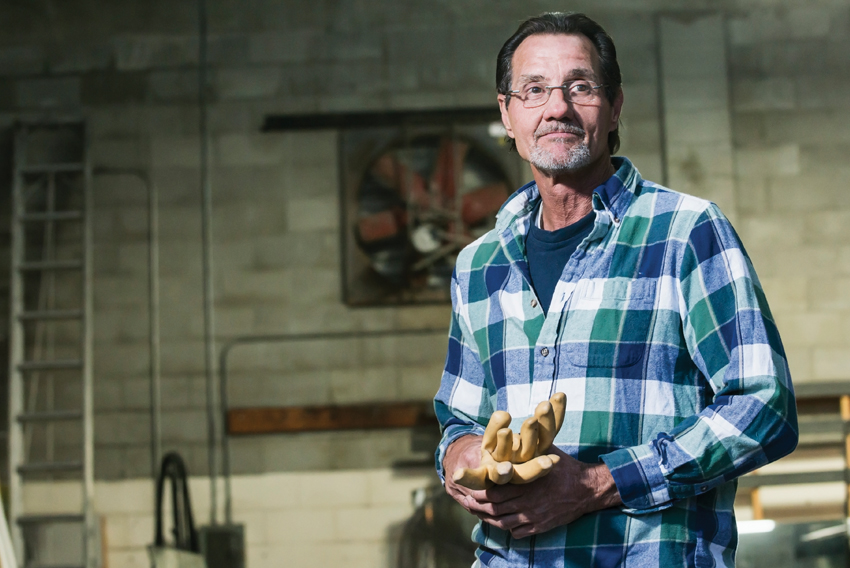 The main reason for addiction in my life was to [help me] cope with the trauma of sexual abuse, though [the connection] wasn't blatantly obvious for me at the time. It was more of a subconscious thing. I started drinking heavily at around age 15, and soon after, when that wasn't enough, I turned to other drugs, many drugs, which became a severe problem later into my 20s. I used these drugs to cope with my feelings regarding the trauma I experienced in my life.
I started having antisocial issues. Basically, I got in trouble when I was a kid, siphoning gas and stuff like that, committing crimes of opportunity. I never planned anything, but if something was there, I would just steal it. It was a hard go. I was in and out of jail for most of my adult life, from 15 all the way up until I was about 40 years old. It didn't just impact me. I have a wife and kids [and] I was away from [them]. My wife stuck by me, and my kids were always there so I had family around me, but it was tough on them. It was tough for my wife to survive for, like, a year while I was in jail. My career and plumbing business suffered, too—a lot of things suffered along the way. And if you're not working, you're not going to have a place to live, either. I have personal experience with homelessness because of this.
I've never been diagnosed, but depression is one of the issues I face. And that's been pretty much for my entire life. For me, depression meant a focus on negativity. Negative thoughts overwhelmed my life. I would find the smallest negative thought and dwell on it all the time. I was extremely emotional and lost motivation in life. I had no drive to do anything. I felt my life had no meaning or purpose. My negativity affected everyone around me. I suffered, as did my family and friends. My negativity affected my social life, my housing and my income. It eventually led to the breakdown in my marriage and the breakdown in my housing and my estrangement from my children. I was my own worst enemy. At times I focused on negativity so much that everything else was shut out.
Reaching out to professionals—in my case, outreach workers at Al Mitchell Place and residential substance abuse treatment at Phoenix Society—greatly helped. I was at Phoenix for four months and I felt that my time there was useful. I just got sober and started going through the paces of living a sober life instead of a drug-addicted life. Having safe, predictable and affordable housing in the last six months is the best part. That's definitely been a big help.
For the last couple of months, I've also been attending counselling at Mood Disorders Association of BC and at BC Society for Male Survivors of Sexual Abuse. My probation officer, back when I still had one, recommended [the program] and gave me the numbers to call. I go once a week. I'm just at the start of it, so it should be good being able to talk about [the past] and deal with the feelings that go along with it.
Wellness has many facets. Wellness to me is having a purpose and meaning in my life. I needed to find that again. Still, working towards my recovery is foremost in my life. What I had to do was be honest with myself, look inside and discover positive things that bring me peace and happiness. It was important to me to find my higher power (whatever or whoever that is), a connection to a deeper spirit. Basically, it's a part of my daily life now.
But things go up and down. Drug addiction has been the biggest factor in my life. Just last fall, I was struggling to survive to keep my drug habits going. You know, I was stealing stuff from work, going into work just for a couple hours and then quitting a job so I could get paid the next day. And just stuff like that, basically. The last rock bottom I hit, back in the fall, I started using heroin. Or fentanyl, rather. Now, I've been drug-free for the past seven months.
When I experience problems again, [I've learned that] what helps is to talk to people or go to a meeting, find something positive to do. [I've learned that when I get into a place] where I don't feel comfortable, I pretty much just take myself away from that.
I have also learned not to take things so seriously but to realize some setbacks are only temporary. I have had to focus on not getting stuck in the moment, never giving up and always moving toward better health. I remain active. I exercise as much as I can. I also reach out to my supportive network so I don't fall back into negativity. My network includes people that I work with, pretty much all the people that are in my life nowadays: my dad, my friends at work, the guys I live with. I feel healthiest when I'm at work, actually—when I'm helping other people, either in my business as a plumber or as a peer support worker with homeless people.
My advice to others? Drugs are a problem, so find a way to get sober or reach out to somebody and try to find a way to get out of it. And be honest with yourself about the whole situation. Honesty helps. When you find problems returning, keep close to what you know works for you.
About the author
Jason is a 46-year-old male living in Surrey, BC
Interviewed by Darryl Lucas, Mood Disorders Association of BC (a branch of Lookout Housing and Health Society), and Kristy Allen, Canadian Mental Health Association, BC Division