Mental health and substance use information you can trust.
Seven agencies came together for this project as the BC Partners, because we recognize that people need to have access to quality information on mental health, mental illness, and substance use problems.
Loneliness issue of Visions Journal

Join our diverse readers and diverse contributors and check out our recent magazine issue looking at loneliness and social connection. Like what you read? Remember Visions is free to anyone in BC. Learn more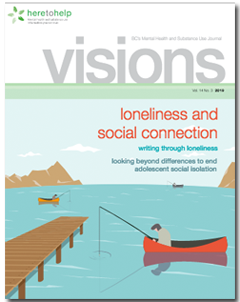 Q&A: What is the evidence on vaping?
CISUR answers your questions about vaping. Is it safe? Are there risks? How can I talk to a young person about vaping? Learn more
Welcome to our new website!
All the great content you love, but with a new look and navigation. Stay tuned for a web survey about the new site later this summer!