Mental health and substance use information you can trust.
Seven agencies came together for this project as the BC Partners, because we recognize that people need to have access to quality information on mental health, mental illness, and substance use problems.
Beyond the Blues: Education and Screening Days
More than 75 fun and friendly education events are happening across BC this fall and winter around stress, resilience, mood, anxiety and related issues. Find an upcoming event in your community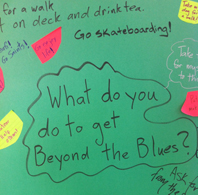 Q&A: What is the evidence on vaping?
CISUR answers your questions about vaping. Is it safe? Are there risks? How can I talk to a young person about vaping? Learn more
Supporting Adult Children resource
The latest issue of Visions Journal is on families supporting adult children through their mental health and substance use journeys. Read stories, discover resources. Learn more.