Mental health and substance use information you can trust.
Seven agencies came together for this project as the BC Partners, because we recognize that people need to have access to quality information on mental health, mental illness, and substance use problems.
Youth Facing Health Inequities issue of Visions Journal
Health inequities are differences in the way people access health care and support—differences that come from stigma and discrimination in systems and from people who are supposed to provide care. These inequities marginalize young people, excluding them from peers, health services, and their broader communities. Read more.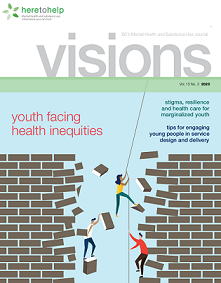 COVID-19 and Anxiety
Anxiety is a normal reaction to uncertainty and things that may harm us. While anxiety is a normal and expected reaction to the pandemic, too much anxiety can start to cause harm. Find tips to help you manage anxiety or worries around COVID-19 and find resources if you need extra help and support. Read COVID-19 and Anxiety