Note: Beyond the Blues education & screening days are held each fall/winter. See a list of upcoming events and check back for more events added daily. For help right now, take our screening self-tests to the right, or connect to someone for more support. If you just attended an event, please take a moment to complete our short post-event feedback survey.
Have you stopped feeling like yourself lately? Or maybe you're worried about someone you care about? Maybe you feel sad, empty and hopeless but don't know why you can't shake off the feelings? Maybe you're feeling stressed and want to feel like you're thriving again, not just surviving? Maybe you're anxious and distressed by troubling thoughts? Maybe you want to look at how your drinking of alcohol fits into the picture?....
Or maybe you're feeling okay but want to find out how to prevent mood or anxiety problems and feel mentally healthier?
Whatever brings you to Beyond the Blues, our events across BC can help you figure out the next step to feeling better and in control of your health. There is help and hope. If you're a community agency, find out how you can get free support to host an event.
What actually happens at an education and screening event?
At an education and screening site, you can take part in fun and engaging activities to learn more about mood and anxiety problems, effective treatments, supports and self-care. You can then fill out short self-tests on well-being, depression, anxiety and risky drinking, talk privately with a clinician about next steps, and find out about resources and supports in your community.
The events are free, anonymous, confidential and walk-in. Most sites also host presentations, videos or games, and/or health fairs. Anyone is welcome to attend—whether you want to fill out a self-test or not. If you do choose to a screening, they are completely free and totally anonymous.
After you've filled out the screening self-tests and you're waiting for your number to be called for a debrief interview, the event will offer you other ways to learn more: an educational video, a presentation, resource tables, games, and volunteers and staff willing to answer your questions.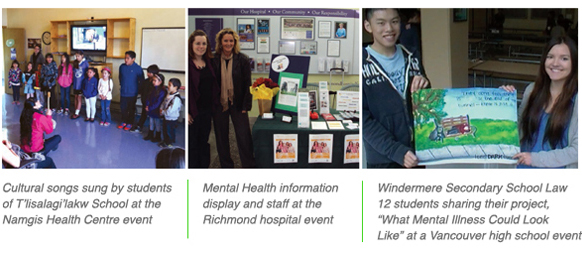 When your number is called, volunteers will direct you to a private area where you can meet with a clinician for 10-15 minutes to discuss the results of your self-tests and help you figure out next steps. We are confident you will leave armed with knowledge, and feeling hopeful, supported and empowered.
Beyond the Blues has helped over 102,000 people across BC since 1995.