A mother's insight into mental illness and renewal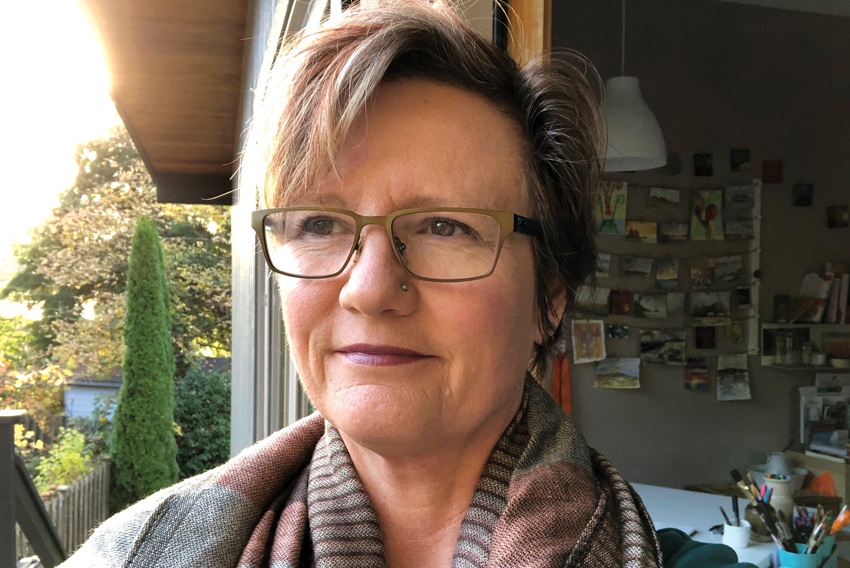 As we experience recovery alongside our daughter living with bipolar 1 disorder, what wellness looks like and feels like is becoming easier to recognize. We have learned that recovery is really a mindset and a series of lifestyle adjustments—not a single event. Choosing the recovery mindset is much like doing housework and laundry, in that it never gets done permanently. It's best to think of recovery as maintenance—and to think of a way to make that maintenance feel fun and rewarding.
Recovery is a commitment to one's well-being and to developing personally meaningful contributions to family and community. Together we've learned that this commitment also directly supports our daughter's growing self-confidence.
During a high-school camping trip in her Grade 10 year, after many years of intense and increasingly unpredictable mood swings, our daughter was hospitalized with a severely elevated mood (known as mania). We know now that she had dealt with high levels of anxiety since Grade 5, which led to many trips to the school nurse for stomach aches and headaches. For Grade 12, she switched from an academic school across town to a high school near home, where she could work part-time as a barista, continue her counselling, develop her music abilities and graduate early with the minimum number of credits. Here, she was able to renew her passions for art, music, sewing and coffee, building confidence away from the pressure of the university application treadmill.
Three years after her diagnosis, her wellness is now reflected in her engagement in music, art and performance and in her emerging mental health advocacy. At her own pace, she spreads hope to others by telling her story. She continues to work part-time in a café that runs as a social enterprise supporting those living with mental diagnoses.
What wellness looks like
For my daughter, wellness is having a firm footing—some confidence that when she applies herself, she will get results, something solid she can trust. Many times, she is surprised and heartbroken by the results of her efforts—like when she signed up for a class and, after attending the first one of the semester, realized the reading load wouldn't work for her. Reading is a tedious and difficult task, even on her best days. She dropped the course in the first week. It was hard at the time for her not to feel failure. And now she has come to see it as a good result because she realizes that coursework that requires a lot of reading just isn't for her.
She is learning that she can use these experiences to build more confidence, to help her step beyond the hamster wheel of her mind, her scared self, with its hallucinations and negative self-talk. Her recovery is energized by small and uncertain baby steps, when she is aware of being curious and takes time to explore her interests.
Wellness for her also feels like gratitude, taking pleasure in the small stuff: the lingering aroma of a delicious meal, an exclamation point on a text asking her to play a board game, having something to look forward to, and the loving pause from a friend when she shares with them her feelings of disappointment or pain. To remember to breathe, feel and relate … these things come like the first snowbells of spring, rising above the melting snow after a long, dark, stormy winter.
The language of experience
Sometimes I find it difficult to separate my own emotional experience from my daughter's; this can lead to me being less responsive and empathetic than I would like. At times, I feel ashamed because I feel like I have done something wrong to cause her distress. I have come to understand that this thinking blocks me from connecting with her and myself emotionally.
It is a natural part of my being to be uncertain about the origins of my emotions. Now that I am more aware of this personal trait, I can talk openly about it with my family. I have also discovered that the words I use have an impact on my ability to pick up on emotional cues. For example, if I think I am "disturbing her privacy," this belief can stop me from checking in with my daughter after her work or a date or a party. But if I think of it as offering her the opportunity to share her experiences with me, then I don't hesitate to reach out. If I frame my thoughts in language that focuses on connection and what I am feeling, rather than presuming how she is feeling or what she doesn't want, we are more likely to have a loving and meaningful interaction.
I have come to see my daughter's recovery journey as having patterns and stages—instead of ups and downs, it's more like "ins" and "outs." The ins are degrees of internal preoccupation—with her own emotions and with inner voices, hallucinations, delusions and impulses. In this stage, I've found that what works is to ask the hard questions, like "What are the voices saying?" If she is non-verbal, I sit close and help her to feel physically comforted, doing what I can to reduce her fear in the moment. She tells me that this helps her release her feelings, especially when I can just be with her and listen and say something like "Wow, that must be very difficult to deal with; thank you for telling me." Often, I feel unsure that my actions will help; I just know I have to show her she is not alone.
The outs are degrees of manipulation of objects, people and situations—like the many times she has experimented in the kitchen or left the house without telling me and found herself alone, at a bus stop far away. Once, she wanted to make spaghetti carbonara immediately and we didn't have the ingredients. There was no talking her out of it. After over an hour of feverishly concocting something that was ultimately inedible, she broke down and spent over an hour cleaning it all up, inconsolable, crying over all the ingredients she had wasted. Such emotional upheaval on a school night threw the whole family off-balance. The storm left behind damage to her self-esteem and an emotional debris field that we all had to clean up. At times it felt that we had barely recovered from the last storm before the next one hit. Having a diagnosis allows us to put these frequent upheavals in perspective and heal past wounds.
Supporting a child through the ins and outs of the recovery process
I am grateful to have been able to work part-time close to home so that I could be available for our daughter during the most difficult transition times of the day: mornings, after school and bedtime. In many ways, caring for our daughter was, in itself, a full-time job. Usually, the only way I could get her to fall asleep at night was to give her a bath after dinner, read her a story and lay in bed with her until she drifted off—a process that took at least two hours every night from the time she was in preschool until she was about 11. She needed 10 to 12 hours of sleep regularly all the way through high school. My experience with my daughter inspired me to adapt my career plans: I pursued mental health education, coaching and leadership so that I could be a healthy support for myself, family and others into the future.
I am also grateful to have found the Family-to-Family Education Program, a 10-week course developed by NAMI (National Alliance on Mental Illness) for families dealing with mental illness. Both my husband and I participated in the program seven months after our daughter was hospitalized. This course made all the difference for us in terms of being able to better understand the context of our daughter's mental state. It also provided us with tools to respond with empathy to each other and our daughter.
Our daughter is now 20 and our bond is strong, yet it often gets tested during times of change. Late last year, most of her closest friends moved away to attend university or to travel. Though she lives in our ground-floor suite, she still felt keenly the absence of her closest companions. She struggled with boredom, hallucinations and impulses to self-harm. All of this triggered a depressive cycle.
This time, she responded to her harmful downward swing by voluntarily checking in to a short-term mental health facility in a nearby neighbourhood. She stayed there for almost three weeks, with in-and-out privileges to help her adjust to changes in medications, get counselling and get her connected with other support services in our community.
This experience inspired a simple action—one she took immediately after coming home. She began leaving the door between our living areas open. It is a visual cue to check in with each other, to wander into each other's lives and make a physical connection.
Her recent experience also resulted in her taking up the ukulele, writing songs about living with bipolar disorder and depression—even setting up her own website as a way to market her music. Music has been a great healer for our daughter. At the same time, it has given us a window onto her inner experience. Her album My Bipolar Brain is available for sharing. Two songs—"Get Up" and "Magnolia Tree"—are specifically about her recovery experience.1
My daughter and I are also involved in promoting mental health education and telling our story to high-school students and service organizations. Our dream is to create an organization of "listening groups," promoting healthy active-listening skills in communities to increase awareness of mental health, empathy and the power of connection.
If you or someone you love lives with mental health challenges, or if you are facing significant change in your life, I invite you to think about the words you use to describe your feelings or your interactions with your loved ones. When we use words that focus on our natural need for human connection rather than our negative feelings about the challenge or the change, we have the opportunity to deepen meaningful and nourishing relationships. Leaving the door open for connection is the first step of the next recovery journey.
About the author
Heidi lives with her family in North Vancouver. She loves being a co-active coach, supporting her clients to embrace change and live their authentic selves. She also teaches in the NAMI Family-to-Family Education Program sponsored by Pathways Serious Mental Illness Society of West Vancouver. You can contact Heidi at [email protected]