And to Reduce the Harm from Substance Use
Reprinted from "Opioids" issue of Visions Journal, 2018, 13 (3), p. 17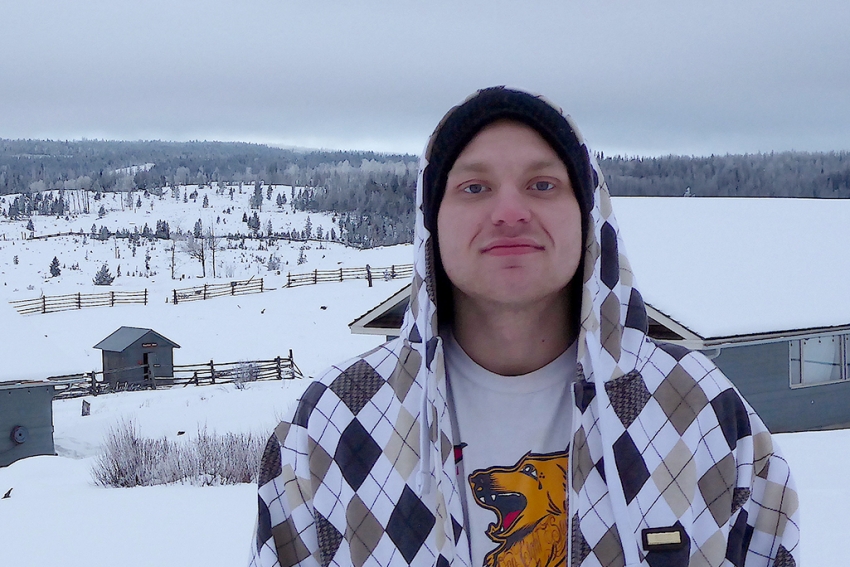 My son Tyler fatally overdosed on heroin laced with fentanyl in a friend's hotel room on January 27, 2016. He was 23 years old.
Like many parents who have lost a child to fentanyl overdose poisoning, I have searched for answers, and I struggle with feelings of remorse and guilt. There are so many "what ifs" to consider. I am sure that Tyler would have preferred to share his experiences from his own perspective rather than have his mother tell his story.
As a single mother on long-term disability—with some physical and mental health issues of my own—I felt powerless to be able to provide my son with the support he needed, especially when he began experiencing mental health challenges and became more aggressive as a young teen. It did not matter that I had always considered myself to be a competent and skilled parent; the highly charged emotions of a male teenager in a mature physical body, combined with the intense, drug-induced reactions that Tyler experienced once he began using substances, were too overwhelming for me to manage safely alone at home.
In Kamloops, as in many small communities in British Columbia, there were barriers to accessing the few mental health and support services available. The long wait for services prolonged the stress for our family. Matters went from being tolerable to requiring crisis intervention as Tyler's behaviour escalated once he entered puberty. By the early years of high school—after waiting more than a year and a half on a child and youth mental health waitlist—it was too late: there was no way Tyler would willingly enter an office to meet a counsellor.
By this time, after frequent use of ecstasy and LSD, Tyler had developed an addiction to crystal meth and heroin. His behaviour became aggressive when he was upset or angry and sometimes the police visited our home to mediate the tense situations.
There was a brief period in high school when things looked hopeful. Tyler met a male teacher whom he respected and felt connected to. He wanted to remain in that teacher's relatively small, specialized classroom, where his social anxiety was reduced and he felt especially connected to his peers. In such a huge high school, this teacher and this classroom made attending school tolerable.
But Tyler was soon expelled from school due to an incident of aggressive behaviour. This expulsion contributed to a downward spiral in which Tyler became even more disconnected from home and his school peers. He began to couch surf; he would live with friends until there was conflict and then return home.
I have a particularly painful memory of this period, one of the several times I had to call the police for assistance. Tyler was being held in the back of the police car, clearly in emotional distress. The officer told him, "Tyler, act like a man." Tyler retorted, "Show me, I don't know how."
On another occasion, Tyler was admitted to the hospital involuntarily because he was thought to be at risk for self-harming. It was a hopeful attempt, coached by a counsellor, to have Tyler assessed by a physician and connect him with services. But Tyler was released from the psychiatric facility 48 hours later. There was no face-to-face family meeting. I received a phone call that he had been released. I picked him up on the street outside the facility.
Tyler told me that the whole experience had been traumatizing. He'd been kept in seclusion and the psychiatric assessment had been brief. He had not been connected with any community supports. He'd been told that first he needed to address his addiction. It seemed as if Tyler had fallen through every crack in our fragmented and resource-lacking health services system.
During this time, I was told that Tyler would have to hit rock bottom before there would be a change, and that might even mean poor health, such as organ failure. No parent of a teen wants to wait for a decline rather than seeking prevention!
As the years went by, I realized that I was grieving the loss of time with my son, and the loss of opportunities for Tyler. His peers had graduated from high school. They had got their driver's licences and had secured jobs; they had the ability to travel. Tyler was unable to focus on tasks or hold down a job. He survived on a small disability income.
He tried attending a detox centre a couple times but would leave early due to his anxiety. There were even a few attempts at home to transition onto methadone and Suboxone, as well as a trial of medication for psychosis. But it was still not safe for me to have him at home; his intense and aggressive behaviours were now sometimes fueled by psychosis.
Without stable housing options or a treatment centre, Tyler's attempts at recovery would always fall apart. It is known that access to these supports needs to be available when the person is most motivated and willing.
In the months leading up to his death, Tyler had been struggling to fulfill his probation orders due to a shoplifting charge from earlier that year. The judge's ultimatum: either attend a recovery centre or return to jail.
Tyler booked into a nearby abstinence-based recovery centre on the last day of the deadline. Despite his optimistic plan to stay there for five months, he left the centre after only a two-week stay due to his anxiety and withdrawal symptoms.
In my opinion, an abstinence-based recovery model is unrealistic and medically dangerous. Withdrawal symptoms during the initial detox can be severe, and the individual who is dependent on opioids is very vulnerable at this time. Relapse happens frequently as people try to self-medicate to ease the physical and mental symptoms of withdrawal.
Had there been adequate support on site to provide medical and psychological assessment, monitoring and counselling, perhaps Tyler could have persevered with prescriptions and emotional support to manage the intense symptoms that accompany withdrawal from opioids. But Tyler left the centre and returned to Kamloops. He sent me a remorseful message that he was sorry and wanted to return.
Throughout Tyler's life, whenever we said good-bye to one another, no matter what else was going on, we always told each other that we loved each other. Those good-byes made life feel so precious. You see, Tyler knew that fentanyl was out on the streets and that his drug use was life-threatening.
In May 2016, a few months after Tyler died and while I was still overwhelmed by my grief, I came across a report for the Legislative Assembly of British Columbia: A Review of Youth Substance Use Services in B.C.1 The report was prepared by the Representative for Children and Youth, Mary Ellen Turpel-Lafond. She argued that yes, indeed, there were many cracks in our support systems for youth and families. The report validated my grief and frustration. No longer did I have to see Tyler's death as a personal failure or feel guilt and shame.
I have privately journaled for many years. But I found that after my son's death I did not feel satisfied to privately journal. I needed to channel my grief in a positive way. I did not want to be anonymous anymore.
I chose to go public on social media with my personal experiences. It has helped me to explore the grief that I went through before Tyler's death, and the grief that I continue to go through. I can channel that grief and feel empowered to make a difference, challenge stigma and hopefully prevent future fatal overdose poisonings. Although friends and followers say that my social media posts are heart-wrenching to read, they have helped them to better understand addictions and mental health concerns. My posts have made a difference. I would like to be an encouraging voice so that other families and individuals will practise courage and seek or advocate for supports as well.
Addiction is a health issue, not a moral issue. Community shame and stigma destroy human connections essential for health and wellness. As a community, we all need to listen to understand what it is like to live with an addiction and help build relationships that encourage the inclusion of all people. It is crucial that community frustrations are not projected onto struggling individuals and families, increasing shame and stigma, breaking down the desire to seek help. More young men die using opioids in seclusion instead of seeking supports to reduce the harm.2 What is needed in order to recover is a community connection. After all, at the root of the word "community" is "unity."
Connection happens through a dialogue of shared understanding. Dialogue can only happen when we practise listening empathically to each other, connecting to others as they are, not as how we want or expect them to be.
When we respond by acknowledging the person's feelings rather than being defensive, we create an atmosphere of compassion, and compassion builds connections. People with addiction need compassionate boundaries and social supports, not rejection. With a sense of belonging, our loved ones may be less likely to relapse and self-medicate with substances.
The opioid crisis is everywhere. We can't avoid it and there is no point expecting that it will just go away. Our communities need to become "recovery-ready" communities. A recovery-ready community can provide preventative and supportive services when the person is most motivated and ready to seek help. It takes courage to seek and ask for help. When a society places stigma on addiction and mental health issues, it drives people into isolation.
Tyler was a forthright communicator and did not like to be silenced. He was a quick-witted, opinionated and intelligent young person. But his voice is now silent and missing from our conversations and our community dialogues.
Disconnection and isolation increase the chances of opioid poisoning. Our communities need to reduce the harm and the stigma of substance use. When our communities are recovery-ready, we create a sense of belonging. A sense of belonging in community is what keeps us healthy.
About the author
As a single parent, Sherry navigated a confusing health care system to find supports for her son, who lived with substance use challenges as a teen and young adult and pervasive mental health issues for eight years of his all-too-short life. Sherry is a member of Moms Stop the Harm (www.momsstoptheharm.com)