What is art therapy and how can it help?
Reprinted from the "Responding to Feelings" issue of Visions Journal, 2021, 16 (4), pp. 18-19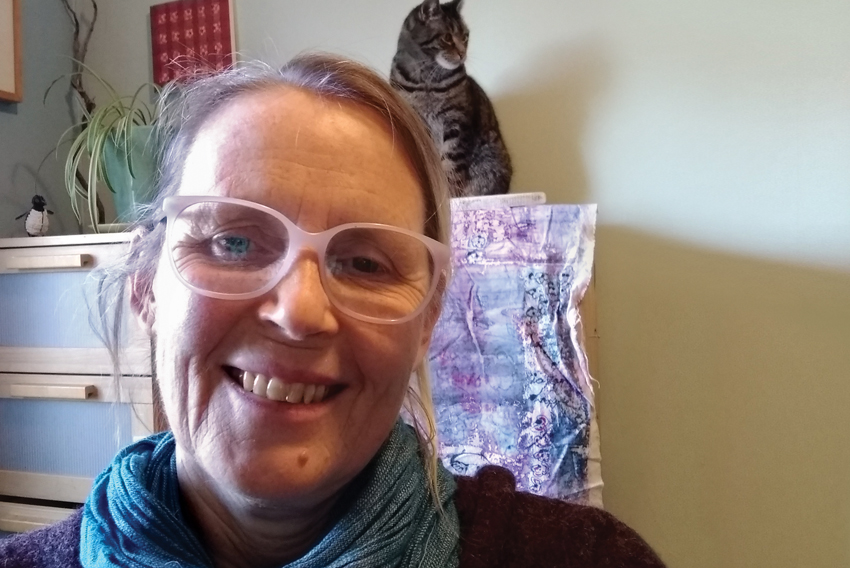 I am an art therapist. I chose this career because I love making art and making deep connections with people. I have worked with adults and youth whose life circumstances have led to struggles with mental health and addictions. I have also had times in my own life where things fell apart. A chronic illness leading to depression left me pretty much housebound and isolated, and art was one of the things that helped me put my life back together.
Art therapy can help release, explore, familiarize ourselves with and transform our feelings. It is not always easy to describe in words how we feel or even know exactly what we are feeling. Using art's colours, textures, marks, symbols, metaphors and images allows us to get in touch with and express our inner emotional states. When we make images of our feelings, especially alongside others, we bring them out of ourselves (externalize) to look at and share.
I find it very peaceful to make art with others. I feel joy in the sheer action of putting paint onto paper, seeing the colour, feeling the brush touch the page. At that moment, I do not have to be concerned about any social anxiety. My focus is on the art. Yet I also have that human connection of people doing a shared activity. It is community.
This is the basis for open studio, one form of art therapy. Open studio is a space designed or adapted specifically for art making and where a wide range of materials is available. Each participant chooses what they want to work on, and the art therapist is there to help move the work forward. We might start a session by tuning into our feelings. This could involve drawing, or using a metaphor based on a question like, "If you were a fire, what kind of fire would you be today?" I might give some examples, like a stove fire, or a forest fire.
I am also there to maintain whatever guidelines are in place to make open studio a safe environment for all participants. A person may finish a piece or keep working on it over time. After the session, the group might spend time looking at and sharing the art, and, as the art therapist, I can provide ways of looking at pieces. This sometimes leads to creative writing time to help the artists find more meaning in their work. I have run this kind of open studio at The Dr. Peter Centre for people living with HIV. I was always impressed and inspired by people's creativity. Participants made a vast range of work, from water bottle carriers to medicine bags, giant painted canvases and ceramic sculptures.
Individual and group art therapies are similar to counselling in that they provide a safe environment to help people work through difficult life experiences and emotions with the support of an empathetic, caring therapist. The difference with art therapy is that we do not rely solely on talking. We use art materials as the main vehicle for exploring issues. Even though we work through art mediums, there is absolutely no need to have any prior experience in art to benefit from art therapy. There is no right or wrong way to make art in art therapy.
My role as an art therapist is to accompany people on their journey and keep them from being overwhelmed by emotion. Art therapy can help us accept with compassion whatever comes up, and listen deeply to the meaning we find in our art. (By the way, it is a myth that art therapists interpret clients' work. In fact, we firmly believe in the client finding meaning in their own art.) This process can help us get to know our emotions, befriend them and listen when they tell us what they need.
If this sounds interesting or you want to get in touch with creativity, I encourage you to give it a try. The Canadian Art Therapy Association (CATA) has a directory of art therapists.1 You can read a bio of each therapist and learn about their approach and areas of expertise. Each province also has their own art therapy association and directory, including BC.2 Some social service agencies also offer art therapy or art classes. For example, in Vancouver, Lookout Housing and Health Society runs The Art Studios, and Coast Mental Health holds an open studio.3 Don't be afraid to ask your local agency if they offer this service.
About the author
Caro is an art therapist and artist who lives in Vancouver. She has mainly worked in mental health, addiction and HIV services. Caro is also a mother and a grandmother. Learn more about her private art therapy practice at milkthistle-arttherapy.com