Reprinted from the "Responding to Feelings" issue of Visions Journal, 2021, 16 (4), p. 31
Self-soothing Techniques
In dialectical behaviour therapy, self-soothing is a way to use your senses (sight, hearing, smell, taste, and touch) to show kindness to yourself and manage strong emotions. Pick an activity, then focus on the experience and how it makes you feel. Self-soothing is useful as a regular practice, such as committing to a few activities every week. This is also a good way to manage strong emotions that come up suddenly and feel overwhelming. Experiment to see what activities work best for you. Here are some ideas:
Sight
Turn off your lights and light a candle
Hike or go for a walk in nature
Watch your favourite show
Explore a neighbourhood or area you don't usually visit
Hearing
Listen to music that calms you
Find a new podcast
Go for a walk without headphones and pay attention to all of the sounds around you
Sing or try an instrument
Smell
Burn incense or use an essential oil diffuser
Open your windows to let in fresh air
Bake a treat and enjoy the aroma
Visit a local garden or park and enjoy the scent of flowers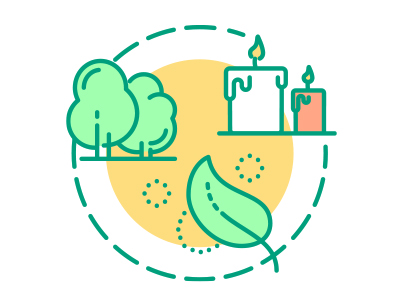 Taste
Eat your favourite food or a treat
Eat something that reminds you of your childhood
Chew gum or let a candy dissolve in your mouth
Enjoy a comforting drink, like herbal tea or hot chocolate
Touch
Take a bath or shower
Give yourself a massage
Try a weighted or heated blanket
Put on your favourite cozy clothing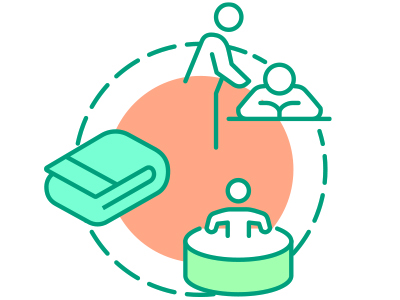 Books
The Language of Emotions: What Your Feelings Are Trying to Tell You
Karla McLaren, Sounds True, 2010
Learn how to recognize, understand, and engage with your emotions.
The Happiness Trap: How to Stop Struggling and Start Living: A Guide to ACT
Dr. Russ Harris, Trumpeter, 2008
Based on acceptance and commitment therapy (ACT), this book helps you examine and move through uncomfortable feelings without judgement and live more mindfully.
The Mindful Way Through Anxiety: Break Free from Chronic Worry and Reclaim Your Life
Dr. Lizabeth Roemer and Dr. Susan M. Orsillo, The Guilford Press, 2011
Avoiding anxiety, denying anxiety, and other unhelpful reactions to anxiety can make worries even worse. Learn how to look at your anxiety more realistically, embrace uncertainties, and live well even though anxiety will inevitably come up from time to time.
Programs
Kids in Control from the BC Schizophrenia Society
bcss.org/support/bcss-programs/kidsincontrol
Kids in Control teaches young people important skills when they feel overwhelmed.  Families are encouraged to watch videos together. Get started at youtube.com/c/bcssprov/videos! Kids in Control is also available as an online program for young people with a family member who has a mental illness.
Fact sheets, tools, and workbooks
A Guide for Spouses of Partners with Serious Mental Illness from the BC Schizophrenia Society
bcss.org/support/guide-spouses-partners-serious-mental-illness
Information and advice for partners of people who experience schizophrenia and other serious mental illnesses. Learn how to manage your own difficult feelings, communicate well, setting boundaries.
What to Expect From Me from FamilySmart
familysmart.ca/files/FS_Practice_Tools_YOUTH_web.pdf
A tool by youth for parents and caregivers. Youth share what they need when they're struggling with their mental health.
About Families: Some Ideas for Helping Conversations Go Better by Family Smart
familysmart.ca/program/familysmart-practice
A tool by families for families with tips for talking about mental health concerns respectfully so both parents or caregivers and young people feel heard and connected.
Podcasts
OurAnxietyStories from Anxiety Canada
anxietycanada.com/ouranxietystories
Our Anxiety Stories are conversations with Canadians about their experiences with anxiety disorders and how they take care of their mental health.
Open Hearts Honest Conversations from Family Services of the North Shore
familyservices.bc.ca/podcasts
Open Hearts Honest Conversations tackles issues we experience together. Episodes include parenting during a pandemic, food and body image during the pandemic, and managing anxiety.
Teenager Therapy
teenagertherapypodcast.com
A group of five teens talk about issues they face, including mental health, relationships, loneliness, grief, managing school, and more with the goal of helping others through difficult times.
Videos
Quick tools for educators from Edutopia
youtube.com/c/edutopia/videos
Edutopia shares simple and fast strategies educators can use in the moment to help young students who feel overwhelmed.
Self-Help Toons
youtube.com/c/SelfHelpToons
Learn strategies to manage emotions and build healthy thinking using skills from dialectical behaviour therapy, cognitive-behavioural therapy, acceptance and commitment therapy, and more.