How my home on wheels was stolen by the City of Vancouver
Visions Journal, 2019, 14 (4), pp. 16-18 and 22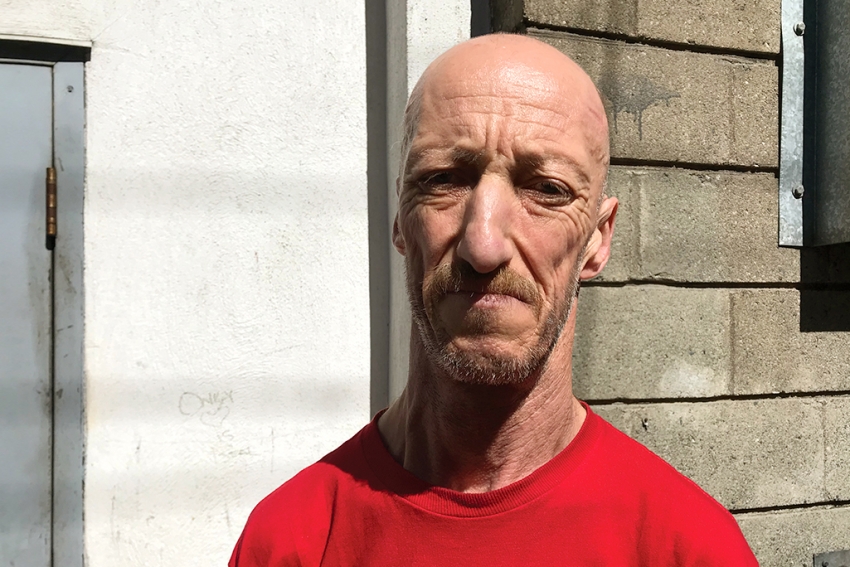 "I hope this article goes to a lot of city councillors. My vehicle was being ticketed but I was saying, 'I'm not making a mess and I'm not asking for help. Just leave me alone.' 'Oh, we'll help you with housing,' they said. But I didn't want help. I already had my housing.
"I came to Vancouver from Manitoba in 2010 or 2011. I lived in Calgary from 2005 to 2009, on the streets and in shelters. I left Calgary in 2009, went back to Manitoba for a bit, then I came out here. The first place I stayed [in Vancouver] was the First United Church.
"I wanted to give back to the community. That's what we're supposed to do, we're supposed to give back to some people that helped us. I was staying at a few of the shelters here: Union Gospel Mission, First United, Harbour Light, The Beacon, The Haven. I volunteered while I was staying at these places. I volunteered at First United for a year. Then I switched to Powell Street Getaway.
"I like the work here at Powell Street Getaway. I like working with people. I do general maintenance and janitorial, fix the toilet, the shower, take the garbage out. I've worked all my life. I lived off the farm—we had a section of land back in Manitoba.
"I have two sisters. We keep in touch by Facebook. We had a brother but he died [in a car accident]. The guy who was driving had been caught 13 times for impaired driving and on his fourteenth time, he killed my brother.
"My dad passed away in 2011 and my mom passed away in 2013. When the estate settled, I went straight to a dealership. I had already planned it out. I was going to buy a motorhome, that way I didn't have to rely on the city, I didn't have to rely on anyone other than services for food. I just thought why would I pay $600, $700, $800 a month when I could pay $1800 for a year [for car insurance] and have a home—and a car?
"Sometimes I hear, 'Oh, but you're not paying taxes.' Oh yes, I am. I pay taxes every time I insure my vehicle, so don't tell me that I don't pay taxes for my home. In my mind, the fact that my vehicle is my home makes what the city did to me worse, illegal.
"It was a big 28-foot motorhome, a 1994 model but in really good shape. It had a master bedroom in the back— that was full-size, not a flip down. It had a shower, a kitchen, sink, fridge, microwave, stove. I had my own generator that I bought. Just after I got the motorhome, I actually took it to Frank Slide for a trip—that's through the Crowsnest Pass, before Lethbridge [Alberta]. It was a good trip. I thought it was going to be really expensive driving it but it didn't actually cost me a whole lot.
"Throughout the whole first year I got up to 17 parking tickets, the first one pretty much right away. I didn't even park in the same spot. I kept moving. I've had people tell me I was targeted. I say that because I see motorhomes parked round here now and I don't see one of them being bothered—though that was since my experience.
"I was surprised to see the parking tickets, but I also didn't look at the city bylaws. I've been told since then that the bylaws haven't changed in a million years: you can't park anything over 21 feet on city streets. You used to be able to park in the Walmart parking lot, but that's changed, from what I've been told. You can't park overnight anymore, only three or four hours.
"In my opinion, the person or group that thought they could end homelessness...you can't. There are some people that never want to be housed. I know that from Calgary. There are some people on the streets, they don't like housing, they don't want to be housed. You can't end it. All this money to end homelessness when you can't for some people.
"All the talk about microhomes and tiny homes really gets me, too. There was the story that came out about this guy and his wife who built this little house, it looked like a log house on a trailer, but the city said they couldn't live in it because it was too small. What the f*&?! So you can't live in that, but you can live over here in these modules—and they're smaller than that! My motorhome was bigger, and you're telling me I can't live in my motorhome?
"For me, my ideal home has to have wheels. I want to be able to go where I want to go. I don't want to have to rely on someone else. I was happy when I lived in my motorhome for that whole year and seven months before I got towed. One night that I got a parking ticket, I actually happened to be in the motorhome—thinking back, I wish I had recorded the conversation with the parking authority.
"I come from Manitoba, where any parking tickets that you incur go against your insurance on your vehicle. You can't reinsure your vehicle if you haven't paid your parking tickets. Here, parking tickets don't have anything to do with your insurance. So I could have re-insured my vehicle, but I didn't know I could. I even had the money to insure it. So all that time it was uninsured, when I moved it I had to be very careful. I did not want to have an accident. If I did, I would have just said, 'Take me to jail.'
"I'm hoping that bylaws will change. I'm hoping they will eventually take an empty lot, a trailer park down here. I would like to see a lot, like a campsite, but where we could park our motorhomes—with rules like keeping your site clean.
"[Anti-poverty activist] Jean Swanson's on city council now, so I'm hoping we can get a place where we can park our motorhomes. I'm okay with a fee to park. I might be able to afford $600 once I start working full-time but not that many people could afford that. My motorhome also let me be close to my work. I could walk or bus home.
"There's definitely enough people to fill a motorhome park. There used to be a lot [of motorhomes] over by Strathcona Park but they've towed many of them, making more people homeless. They've got to stop making more people homeless. Take the Hazelwood Hotel on Hastings. They refurbished the building to put more people in there. Take a small room and cut it in half and that's how big the rooms are there. Take someone with claustrophobia and put them in a room like that and what do you think is going to happen to them? If they're not mental before, they will be shortly after.
"It's like these modules over here—the rooms are so small—although at least those ones have a little kitchenette and washer/dryer. But you walk in the door and there's basically just room to turn around in. And you want to stick me in that? No way. It feels like jail.
"I got word today that I move into a residence tomorrow, but I don't really want to. I want my motorhome back. But right now, I'll take the residence. It's in Tamara House, which is an SRO [single-room occupancy]. They tell me it's the biggest room there. It gives me a base to continue to fight to get my motorhome back. I'm going to make the best of it and keep moving ahead.
"The last city council's vision would make living down here [in the Downtown Eastside] unaffordable. The only people that would be here would be the people with money, lots of it. They don't give a s**t about the homeless down here. I shouldn't say that; there are groups that do. But a while ago, I came across a PDF file about the Downtown Eastside and the ideas about what they were going to do down here. They're doing what they think is in the best interest [of the city]. They haven't really come to talk to us. Sometimes what's in the best interest of the people who live here is not in politicians' best interest.
"The night they took my motorhome, I ended up sleeping underneath the Skytrain station at Terminal and Main on the cement. I walked home that night after work, looking around, and was like, 'My motorhome's gone!'
"I turned around and walked back up the street. I didn't know what to think. All of my personal belongings were in the motorhome. I had all my clothing, generators—I'm hoping it's still in the impound. When I got in touch with TV and Tina, a journalist, she got in touch with the city on my behalf and they [the city] told me I owe them $6000 in towing costs, impound costs, ticket costs, fuel costs. I'm supposed to contact a lawyer that Tina found for me, but I've just been so depressed. If it wasn't for my workplace...The staff are really supportive. I don't have any close friends, but we're all kind of in the same boat here.
"I hope I have Wi-Fi at my new place because I have a bunch of computers [in my motorhome] I'd like to get back up and running. I used to build computers. I like to teach people how to use computers. There are a lot of people here that are computer illiterate and I could give something back to the community."
About the author
David moved to Vancouver a few years ago from Manitoba. He works in the Downtown Eastside and is passionate about lobbying the local government to support alternative options for housing in one of the country's most expensive cities
Based on an interview with David by Sarah Hamid-Balma. David's story was aired by the CBC in June 2018. The CBC news clip can be viewed at youtu.be/ZzpP_5RiU78