How colonial institutions carry on the legacy of residential schools
Reprinted from the Supporting Parents issue of Visions Journal, 2021, 17 (1), pp. 26-28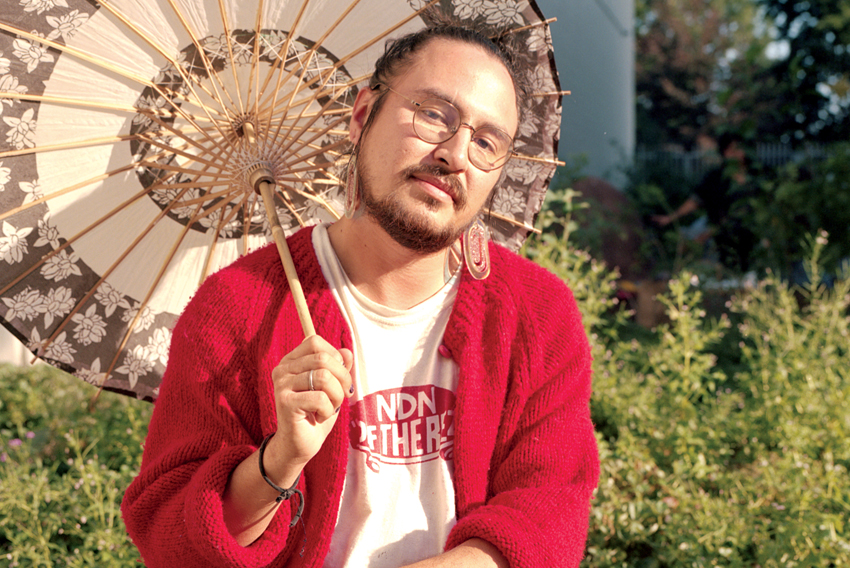 "Never before has there been a time for our LGBTQ2S+ community to walk as freely as we do in North America and most of the western world. I believe we are in that moment now because of those LGBTQ2S+ Elders who literally died for all of us." —Jeffrey McNeil-Seymour (Secwepemc/4th generation settler)1
This morning I woke up to news of the 'discovery' of the remains of 215 children, some as young as three, found buried on-site at the former Kamloops Indian Residential School. This news must've come as a shock to anyone who subscribes to canada's revisionist history, but survivors and intergenerational survivors know far too well the suffering caused by the union of the catholic church and the government of canada.
Many Indigenous people continue, unknowingly, to adopt values that are not our own, but those of our oppressors. And our histories are intentionally obscured or co-opted by the canadian government in order to continue to oppress us. Our languages, customs, laws, culture, and connection to the land were outlawed until the mid-20th century in an attempt to 'kill the native and save the child.' Our Ancestors, at a risk to their bodies and minds, kept our Indigenous ways of knowing alive. But canada's sexist, racist, assimilationist laws and policies still continue to divide and even remove us from our communities.
As I write this, mass graves found on the grounds of residential schools across so-called canada continue to be exhumed, the number of bodies found has exceeded 1500, and that number is going to keep rising. We've mourned the loss of these children, felt their absence in our homes, and we've felt it across many generations. But as the number of children found rises, so too does the number of children who are currently lost in the system, lost in hostile cities, who may never realize the powerful visions for change they hold within their lived histories, who may never make it back home.
My experiences as an Indigenous two-spirit youth in and out of public schools, foster care, youth shelters, rehabilitation centres, welfare offices, holding cells and hospitals were largely what informed my suicidal ideation and gender dysphoria. I learned the hard way that I put myself very much at risk just by being myself. I had to compartmentalize, or outright supress parts of my identity to survive in the heteronormative status quo of canadian society. I had been conditioned to hate myself, and unironically referred to myself as a 'self-hating Indian' when asked about my background.
I believed every word that was said about us, that we were lazy, drunk, irresponsible and a liability, that there was no way we could help ourselves because we didn't know any better. I believed this in part because I saw it firsthand. I saw the way we hurt each other, I saw the suffering, but I had no context, no understanding of why our people were in so much pain. Aside from a paragraph or two about Louis Riel and the Red River Rebellion, there was no representation of Indigenous peoples or our histories in any of the textbooks during my time in public school and, therefore, zero acknowledgement or understanding of the fact that, regardless of gender and/or sexual orientation, there was a role for everyone in each of our distinct nations prior to European contact. The shame, lack of self-confidence, and crisis of identity I developed were symptoms of the ongoing genocide that my Ancestors had to reckon with.
By 2009, I was 19 and living on the streets of vancouver for the first time. I was completely uprooted, without culturally safe support, and lost in a city that was not my own. My social anxiety and shame around my substance use kept me from reaching out or accepting help offered by those close to me, so I ended up homeless, then in a youth shelter in downtown vancouver. None of the workers there were Indigenous, but many of the youth were. I struggled to fit in, didn't know or get along with anyone, and the services that were provided failed to address any of my needs.
It felt like the system was rigged against me, like I would never be able to call somewhere home again, like I was a moving target for some unseen force as I continued to fall through the cracks.
The youth shelter I was staying in, as well as many of the service providers I have relied on for survival, are faith-based organizations that uphold the values of the christian religion. I remember having to sit through a prayer before meals more often than not. I know now that every "free" service I accessed was actually paid for through compromising my spirit a little bit at a time until I was a shell of my true self. I was meant to be a vessel for the word of god but ended up carrying little more than misguided hate for myself and my people.
At the time, I didn't yet have the language to understand myself or my body, or have a voice to speak out against the homophobia, transphobia and racism I was subjected to on a daily basis in these institutions. I had no Elders, peers or positive role models to support me as I transitioned into my true selfhood, no safe space to freely express myself, and no way of acknowledging that I, as a queer, neurodivergent, two-spirited substance user, deserved love and community just as much as anyone else.
I didn't even know about residential schools and the impact they had on my community until I was arrested for theft and put through the alternative measures program for the second time. This program pairs Indigenous youth with an Indigenous cultural support worker as opposed to a probation officer. By the time I was arrested in 2016 my urine had tested positive for fentanyl and a number of people I knew had passed away. As my substance use increased, I found it harder to maintain work or relationships, and I didn't have the capacity to realize that I was essentially committing suicide by continuing to access the poisoned drug supply, let alone understand that it was the intention of colonialism to drive me towards it. Getting arrested and being illegally held in the basement of the store I stole from for two hours gave me time to reflect. It was time for change, I just needed some guidance. I received this guidance from my support worker, who after learning of my past, only gave me one condition, I had to learn about residential schools. I thought I had gotten off easy, but this turned out to be harder work than any community service I'd ever done. Ultimately though, this was the guidance I needed to begin the long journey of reconnecting, of rooting myself, and of understanding the context for how and why my family hurt themselves and each other.
Unfortunately, my experience is not an isolated one, as many LGBTQ2S+ youth I know face similar hurt when accessing services and programs for homeless youth. Culturally enriched and trauma-informed resources for two-spirit people by two-spirit people, especially outside of metropolitan cities, are few and far between. The resources that are available specifically for LGBTQ2S+ people are largely through the non-profit sector, chronically underfunded, and overall, incapable of truly holding space for the reciprocity, beauty, and complexity of our Indigeneity and interconnectedness.
Our bodies, our identities, and our land continue to be exotified and commodified without acknowledging our agency. We, as Indigenous peoples, carry our homelands. We are, each and every one of us, a sovereign body with strong bloodlines connecting us to each other and to the Earth. We hold ancestral knowledge that is waiting to be awoken by a song, a story, the teachings of an Elder, a long walk out on the land, the unconditional love of and from our communities, and to supress those connections, that knowledge, is an act of genocide.
Many LGBTQ2S+ people have experienced some level of intolerance in their home community and continue to migrate to urban areas for their own safety. Through this, as well as the child welfare system, resource extraction, systemic poverty, anti-homeless and anti-substance user stigma, canada continues to dehumanize and uproot us with little to no accountability.
For Indigenous people, canada is comparable to an apocalyptic wasteland where sacred sites are buried under condos; the bodies of our Ancestors gather dust in the basements of museums; women, girls, transgender, and two-spirit people continue to go missing or be found murdered; we are heavily monitored by, brutalized by, and overrepresented in the criminal justice system; we are disproportionately affected by homelessness and housing insecurity; and social workers are kidnapping our children with impunity with support from the police.
And yet we continue to survive.
So, what are you doing to ensure that we too are not buried?
About the author
TJ Felix is a two-spirit artist and educator from Splatsin and a member of the Secwépemc Nation. They are currently working as the community educator at Pivot Legal Society and living on the stolen, ancestral lands of the xʷməθkʷəy̓əm (Musqueam), Skwxwú7mesh (Squamish) and səl̓ilwətaʔɬ (Tsleil-Waututh) Nations