Reprinted from the Supporting Parents issue of Visions Journal, 2021, 17 (1), pp. 10-11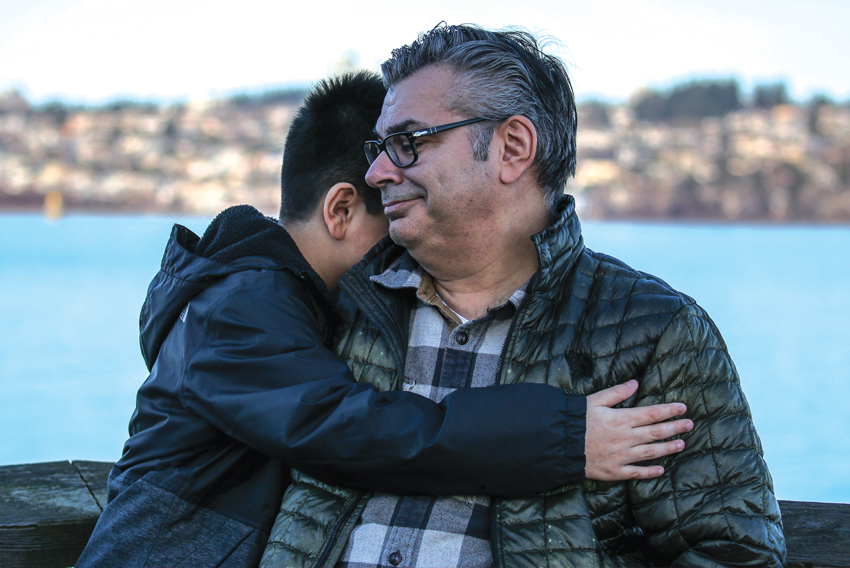 I once met a man I was told was my father. I must have been six years old at the time, and I have some glimmers of memories from that strange encounter. It happened in a hotel room on a sunny afternoon. I'm not sure how we ended up there. I just remember feeling the sun's warmth piercing through the kind of white lace curtains you typically find in southern Europe or France, where I was born and lived as a young person.
I was sitting on the floor playing with my toy car. My mom and the man were discussing something that sounded serious. No argument, just firm, monotone talking. No hand holding, no hugs, no kisses and no soft voices either. Once, I think I felt the glance of the guy who was supposed to be my dad. That glance had no emotion in it—like he was checking out the price of an item on a store shelf. It was all a bit surreal. But somehow, I did not care for this person, never wanting to jump into his arms or feel the strength of my co-creator. I felt miles away.
Later, my Mom told me his name was Simon and that he was married and much older than her. For me, that was the end of any fatherhood story.
In hindsight, I never really suffered for not having a dad around when I was a kid. I never felt embarrassed about it and just got used to it. When needed, I invented an imaginary father. I think the only thing I missed was pronouncing the word Dad. I was always curious to know how it would feel to say it, how it would sound in my voice. Sometimes, I created an alternative world, allowing myself to wander through a different reality where I had a father by my side, where I could pick up the phone and call my Dad to say "I love you" or tell him I would be late coming home after soccer practice, an imaginary world where I could be hugged and loved by a father...
My life took off on its own journey. I developed an interest in cooking and an insatiable curiosity about food, which would eventually lead to my future career. But I had no father by my side to guide me through the years I spent at home with a mentally and physically abusive mother who struggled with drug addiction and mental illness. From that, I did suffer a lot, developing anxiety and posttraumatic stress disorder (PTSD). At age 14, I became an orphan. Sadly, my mother passed away from a drug overdose when she was just 33.
So there I was, alone. I say "alone" because no one can replace a mother. No family, no mentor or friend. You are left with this huge sense of loneliness, an abysmal crater surrounding you. You don't cry, you don't suffer, you just feel empty. Only many years later, in my early 40s, did the cries and suffering appear in the form of PTSD and panic attacks. But at 14, all I knew was that I had never used the word Dad, and now I would never again use the word Mom.
Then, one day, the girl I was dating became pregnant. She wanted to keep the baby. I was scared but never once asked her to get an abortion. As the weeks passed, I got attracted to the idea of becoming a father. There was pure joy in the prospect and a huge sense of curiosity, but also a lot of what ifs: what if I could not do it and walked away? What if I died and the baby never met her/his father? What if I could not feel any emotions about my child? What if not having that father's love would condemn me as a cold-hearted man?
I was scared. Scared of not knowing how to become a father. My real father had abandoned me. Maybe in was in my DNA to do the same. How could I be a great man, mentor and father figure when I, Bruno, had never felt that tight fatherly hug or hand on my shoulder, had never been told bedtime stories. I was so lost in these emotions—right up to the moment I got into the delivery room, feeling dizzy and cold and somehow numb.
Then, there he was: my son, being born. I was becoming a father and the what ifs were gone. We looked at each other, our eyes locked in an intense moment and I felt something strange: my heartbeat slowing down, my mind at peace, like we had met somewhere in the past, in another life.
Life is magical. Life is powerful. Human beings are resilient. Human spirits can overcome any fear. Here I was, a grown man full of fears, learning on my own how to become a father.
Today my son is 14. He is a ski instructor, loves snowboarding and skateboarding, plays electric guitar, enjoys Metallica and is as tall as I am. He is full of dreams and, of course, fears. But I will be there, next to him, to ease his mind so that he can explore life to the fullest. I am so proud of him, but I am proud of myself, too. I've earned this pride; learning to overcome the fears that ravaged my life has freed me to be his father.
My son often asks me how it was growing up without a dad or mom. I tell him it felt "normal." Now I have a new normal: I've become the father I never had.
About the author
Chef Bruno is a judge for CBC TV's The Great Canadian Baking Show. He has worked at Patina Restaurant in Los Angeles and the Four Seasons Hotel in New York and Vancouver. He also taught at the Pacific Institute of Culinary Arts. His first cookbook, Baking with Bruno, appeared last year. Outside the kitchen, Chef Bruno is an advisor to Anxiety Canada and loves spending time skiing, snowboarding and hiking with his son, Sergio