An overlooked, effective treatment for depression
Reprinted from the The Many Faces of Neurodiversity issue of Visions Journal, 2023, 18 (3), pp. 39-41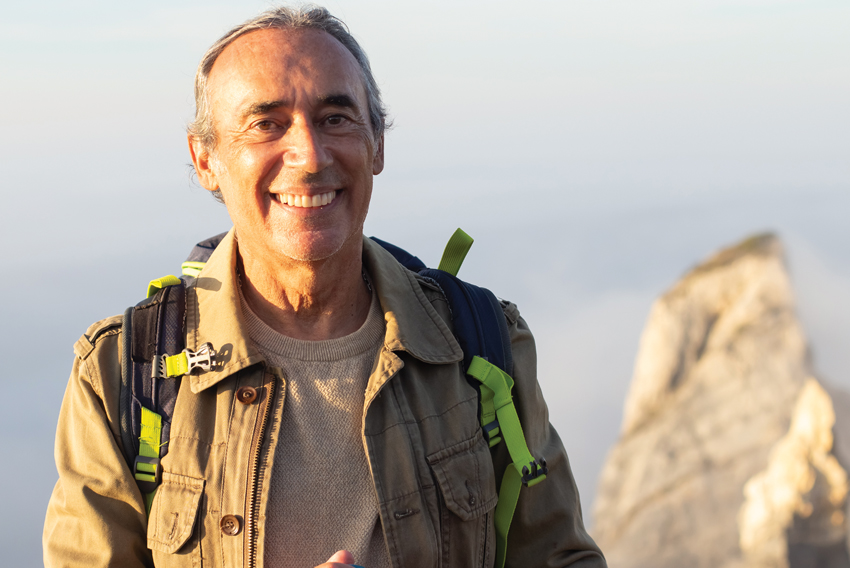 As I observe trends through my work as a psychiatrist, I notice that the lines between treatments for mental illness and interventions for mental wellness are increasingly blurring.
Regular physical activity is likely among the most effective of all medical treatments. Based on my years of experience, I believe regular physical activity should be considered a super "polypill" that can prevent or lessen the risk of over 40 different medical disorders. Regular physical activity reduces the risk of a heart attack, stroke, breast cancer, diabetes, high blood pressure and Alzheimer's disease by 30%. It lessens the risk of colon cancer by 40%! Physical activity results in healthier sleep patterns, better weight control, stronger bones and more flexible joints. The risk of colds and flus is dramatically reduced.
Physical activity combats depression
So what "prescription" of regular physical activity do we need in order to get all these benefits? Just 30 minutes per day of moderate walking. Further, those 30 minutes do not have to be in one session. Walks of 10 + 10 + 10 or 5 + 5+ 20 are just as effective as 30 consecutive minutes. And for the newbies to physical activity, you can get considerable benefit even from a 10-minute or 15-minute intervention in a day. (Note that I stay away from the word "exercise" because many people associate it with "hard work.")
As for mental wellness, regular physical activity results in more energy, a brighter mental outlook and an increase in self-esteem. In terms of mental illness, we know that regular physical activity can decrease the risk of anxiety and depression by 30%.
In terms of depressive illness, which I will address in the rest of this article, the evidence is unequivocal: regular physical activity (i.e., 30 minutes of moderate walking) will result in significant improvement, if not full recovery, from depressive symptoms in close to 55% of people struggling with a depressive illness. Countless research studies in which regular physical activity was delivered to patients with depression show these positive results. Many studies that have compared regular physical activity to an antidepressant medication and to cognitive-behavioural therapy—two standard treatments for depression—show equal effectiveness from all three (i.e., about 55% of subjects improve).
Indeed, several large studies2 examined all the research on exercise as a treatment for depression and had this advice for researchers:
do not do further studies on the effectiveness of physical activity to treat depression; we know unquestionably that it is highly effective as a treatment for depression
develop programs and interventions to offer patients with depression regular physical activity
Lessons learned on encouraging physical activity
While there is still much to discover, we know quite a bit about delivering exercise to patients with depression. Here are some key takeaways:
Increasing physical activity is often easier said than done. It isn't easy for a person struggling with a depressed mood, low energy or little motivation to become physically active.
For a small percentage of people with depression, a "prescription" or direction from a health care professional ("I want you to exercise more") is all that is needed, just as we have previously known that a doctor's direction to "lose weight" or "stop smoking" can be helpful for a minority of patients.
Group-based programs are important: 70% of people prefer to exercise with others.3
A small percentage of people commit to long-term, regular physical activity if they "put flesh in the game" by paying to join a gym or buying a home piece of exercise equipment, or if they receive incentives or rewards for their activity.
By far the biggest incentive for embarking on and continuing regular physical activity is if the activity IS FUN.
Making physical activity blissful
In the Mood Disorders Association of BC's Jump Step program, we ask our participants to go by a schoolyard at recess and just close their eyes and listen. Can they hear the squeals of glee, the laughing, the screaming? That's exercise bliss. It happens when you find an activity that resonates with you and that you will want to continue because it's FUN, just like when you were a kid playing in the schoolyard. Research suggests that a commitment to regular physical activity happens when you feel this way.4
My colleagues and I have been committed to offering exercise interventions to treat depression. We currently offer three free programs (some require a referral from a family physician).
All three are virtual, group-based activities that happen over eight 90-minute sessions:
Jump Step: Jump Step combines home-based physical activity (directed by a certified exercise therapist) with motivational training, like setting small weekly goals. All you need to take part is an exercise band and a yoga mat (furnished by the program). A door jamb is optional! See: mdabc.net/additional-medical-treatments/jump-step-exercise-for-the-treatment-of-depression-2
JOY-TH (Journey of Yoga Therapy for Healing): JOY-TH combines physical activity, cognitive-based mindfulness training and yoga. Each class consists of an initial discussion and education, followed by breathing exercises (called pranayama, in Sanskrit), mindfulness meditation (dharana), physical postures (asanas) and reflection. No prior yoga experience is necessary. See: mdabc.net/additional-medical-treatments/joy-th
Moves for Mind and Mood: Moves for Mind and Mood offers seniors (ages 60 and up) a gentle program using static (seated) and dynamic (movement-based) mindfulness practices, including:
interoceptive meditation, where we focus on the body's signals
mindful movement, which is drawn from Buddhism and yoga
mindful execution of Tai Chi–like manoeuvres, which are adapted from a Chinese martial art called Wing Chun that is well suited to seniors
No prior martial arts experience is necessary. See: mdabc.net/additional-medical-treatments/moves-for-mind-and-mood
When someone suggests "Let's go for a walk!" don't hesitate. It can be a very powerful intervention for the treatment of depression. And remember: when we go for a walk in the woods or by the water, we get the added benefit of lessening anxiety. Sometimes called "green therapy," or shinrin-yoka in Japanese (forest bathing), walking in the woods can calm us, and walking by the water, sometimes called "blue therapy," can be fun and relaxing!
About the author
Dr. Remick is the Medical Director, Psychiatric Clinics at the Mood Disorders Association of BC.1 The Association offers novel medical treatments for mood and anxiety disorders. Dr. Remick has published over 200 scientific articles on mood disorders and has been honoured by awards from the Canadian Psychiatric Association, the Canadian Medical Association and Canadian Mental Health Association