Improving mental well-being and fostering change for youth in the BC care system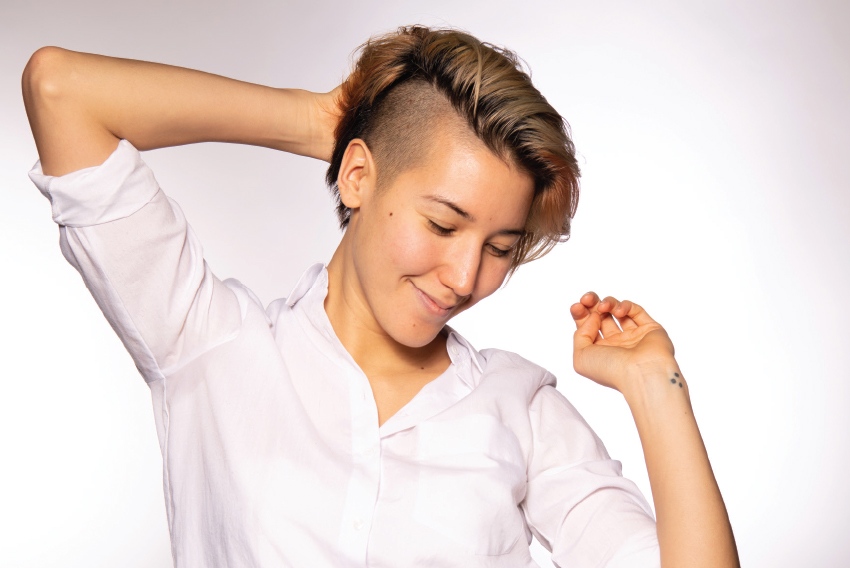 Yesterday I wanted to jump off the Granville Street Bridge.
I was having a panic attack, my heart racing in my ribcage, my breath lost in shallow gulps. I was trapped on an island of toxic thoughts. Waves of self-doubt rushed around me. I couldn't think clearly. The world was a dangerous, scary place. Nothing felt right.
I forgot how to breathe and how to think. I forgot how much I love my cat's pink nose in the mornings, the smell of a warm kitchen full of food, and the magic of a great book or a long car ride with some good tunes.
It's been like this my whole life. Without warning, I am overwhelmed by moments of dizzying panic. I get lost; in those moments, I don't know where "me" goes.
The end of the year is a hard time for everyone I know. Even people who are "normal," well-adjusted, healthy and close to their families are struck with feelings of being overwhelmed, inadequate, powerless and imperfect. They feel insecure about their bodies, their abilities, their accomplishments and sometimes their lives. They feel lonely.
This is doubly true when you have a complicated relationship with the holidays. I am a youth from the government care system, and I was first taken into care one December. I was 13, and my family's home was no longer a safe place for me. I spent that Christmas in a safe house, feeling like I was miles away from anything that felt like home or family. A friend's mom called me on the safe house's landline. She spoke quietly, like she had just seen a deer in the woods. I felt like I had died. I felt such a mix of grief, shame, guilt and teenage embarrassment.
Turns out, I didn't die. I just lost the old me. I lost the life I was used to, the life where I navigated the ups and downs of my mother's health and spoke Chinese on the phone with overseas relatives. I lost the quiet, introspective kid who lived in dozens of rental suites that were full of love and anger.
My new life involved a group home, then a foster home, new siblings, and learning to censor my life at school. Some people couldn't know anything; some people could know some stuff, but not everything.
Then I came out as queer, and some people could know that, but some people couldn't be trusted. Trust is a difficult beast.
Eventually, I dropped out of school. It's common among foster kids: less than half of us graduate.1 I moved out on my own, struggled to pay the bills, fell in and out of love and battled depression. I had a nervous breakdown and became homeless for a year. I hitchhiked, couch-surfed and slept on the streets. I lived with various family members. I didn't talk about mental illness; trust is a difficult beast.
Back then, I saw mental health as a battle. I hated that I couldn't get out of bed some days. I felt so angry at my brain. I felt like I could be okay again if I just fought the brain fog and pushed through the pain. It was my fault that I didn't just feel better—or so I thought.
I was scared, too. I was scared of my brain, scared of other people and scared to ask for help. Help was for people who were sicker than me; help was for people who deserved it.
And what if getting help made things worse? What if I was forever branded as "sick"? What if I got locked up? What if they told me my situation was hopeless?
We live in a system that categorizes things in binaries. People are good or bad, healthy or unhealthy, villains or victims. Mental illness is an evil monster, and you are its victim. It's a bully and you need to fight back. You do this alone, wielding a sword, and one day you cut off the dragon's head.
Bullshit.
Mental health isn't black or white. Being human is a spectrum of emotions and experiences that are good, bad, healthy, unhealthy and everything in between. There are no clear enemies and you can never "defeat" the things that make you different. You can hide them, or you can transform them. But they will always be a part of you.
Maybe I'll have a wonky brain my whole life, but that doesn't mean I'm not allowed to identify as "healthy." I am a mostly healthy person who has unhealthy moments. I am not just "good": I am strong, kind, empathetic, generous and genuine. I am not "bad": I make mistakes, and I learn from them. I am not a victim, and my mind is not a monster. My mind is just really prone to panic attacks and freaking out on bridges, especially in December.
Spoiler alert: I didn't jump off the Granville Street Bridge yesterday. I called a friend and I tried to breathe and I got through the rest of my day. And lucky me, I woke up feeling happy today. I am at home beside my cat writing this article and thinking about all the amazing things I've been able to do, like swimming in the ocean, teaching mindfulness workshops in high schools, growing kale and sunflowers, kayaking, protesting pipelines, seeing thousand-year-old trees and meeting lots of brilliant youth as a student and as a workshop facilitator.
Some of these things I did despite my illness, but some of these things I was led to because of it. My relationship to life is complicated and not at all binary.
We need to stop seeing our illnesses as our enemies. Our mental health challenges are a part of us. They aren't easy to live with, and being sick sucks. But illness is part of a larger whole—a society where people are complex, diverse and sometimes sick.
I don't fight my brain anymore. I try to slow down, give it love, and care for my body and soul. I listen to what my brain is telling me. I don't blame it for being a little bit wonky. It's doing its best. It's helped me to understand other people with wonky brains, to write beautiful poetry and to see where the cracks in the system are.
So I fight injustice now. I fight for a better world. With my brothers and sisters from foster care, I tell the provincial ministers that we need better mental health supports, and more support for youth when they age out of care at 19 years old. We need to give youth not only access to affordable housing, education and health care, but access to community, mentorship and empowerment.
Nineteen is too young to have it all figured out. In my work at Fostering Change, we want all BC youth to have wrap-around support until they can stand on their own two feet. This will make a huge difference to our health. The government and the entire BC community are our parents, and they need to start acting like it.
I fight the idea that mental health has to be a battle. It is a dance: a painful and sometimes wildly ungraceful dance—but one that can be beautiful when we have love, community and a sense of meaning. And when my friends think they are failures, I fight the stupid idea that our value as living beings can be measured by our productivity, our lot in life, how we look or what we own.
I'm grateful to be here on this planet. To whoever is reading this, I'm grateful that you are here, too. You are my friend and my relative in this crazy world. I'm sure you believe in a better world. Let's keep fighting together.
About the author
An immigrant to these lands, Anita is blessed to call the Coast Salish territories home. They are a student, activist and educator with a passion for learning through play. They do foster youth advocacy with Fostering Change, which accepts donations through its parent organization, First Call: BC Child and Youth Advocacy Coalition