How I stopped using drugs and changed my life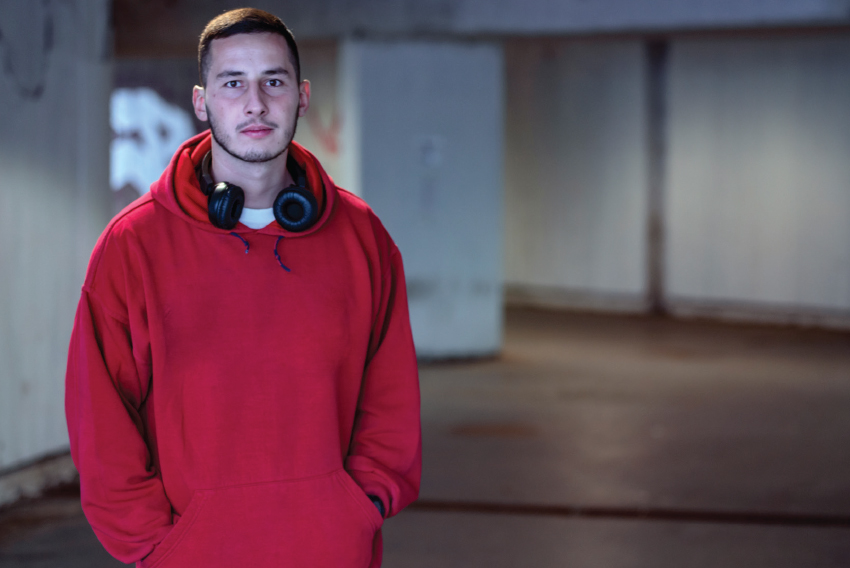 Based on an interview with Sarah Hamid-Balma
I grew up in a small town. I ran into the wrong crowd hard. I was 16 or 17 when I got arrested. It was my first time. We were detained because [the offence] was so serious. At the time, I had a friend who was younger than me. He was being harassed by a kid [who] kept messaging him, saying, I'm going to come to your house, me and your sister are going to do this and that. And I just said, Hey, we're going to make him shut up one day.
We went to where I was supposed to fight him. It turns out, my friend had a pellet gun that he stole. He unloads the pellet gun into [the bully], [the bullets go] through his cheek, into his legs. As we're walking away, 15 cop cars pull up, guns drawn and everything, and that was the most eventful day of my life.
I was not expecting it to go like that. I went to fight the person. I had my skateboard by my side and I'm guessing he thought I was going to beat him up with my skateboard, you know. But I was [planning] to put it down and ask him, Why are you doing this? Do we have to fight? As soon as I [put the skateboard down], he pulled out a big metal pole and my friend just freaked out, I guess, and shot him up.
I was detained for a day and half. But me being stupid and so angry about everything, as soon as I got home, I got connected to the same group of people.
[Next,] we went out and robbed a liquor store for beer. There was like four [of us] kids that ran into the liquor store and then ran away. The next day, we tried it again. [The other kids] kicked the security guard in the face so hard he bled all over me. Then they grabbed the booze and ran, [leaving me behind]. When I got arrested, they didn't think about me or anything, they thought about the booze I had stolen for them. If that was my friend about to be arrested on assault charges, I would've gotten him out of that situation.
Since I was young, my dad always had dope around the house. He was a really hard-working man. Roofing: he had his own business going. It was just a fact that where we were from, there was not a lot of work so, really, you're sitting around half the month with a bunch of drugs around you. What the hell are you going to do when you're already in the hole?
He was using and selling marijuana. Me being me, I thought it would be cool to be like my dad and sell drugs. I'd sell an ounce of dope at a time. [That] gave me power. It would influence all my friends, it would influence the older kids. I really fed off of that [power] for some reason. I don't know why.
My dad has always been against [my using drugs] but [when I was] 13 or 14, he realized it wasn't really [his] choice. My mom was infuriated [when she found out I was using] because on both sides of my family, I have people who are terribly, disgustingly abusive [of drugs].
The [main] reason I did drugs was because [someone I really looked up to did drugs]. This person was a family friend. He's probably 10 years older than me. When I was 13, I went over to his house and I knew I was going to smoke weed all night so I brought my dad's weed. The only difference was, when I smoked with him, instantly I knew I was on something else. That was when cocaine came into my life. [I didn't come home until] the next morning. My mom flipped right out.
That, honestly, was where it really [began].[I started getting invited] to parties. [People] would introduce me to their drug dealers. They would get older people to come and jump me. None of them got me on the ground or anything. None of them ever [landed] a good hit on me. They just gave up.
That's when I ran into the problem [with the pellet gun]. That's why I wanted to defend my younger friend, to show I could do everything for myself. I went to a party a few months before [the pellet-gun incident]. We did a lot of cocaine and drank a lot. I think we drank a lot of cough syrup, too. Everyone was telling me, "It will be great!" But I guess my brain is wired differently, as soon as I started doing drugs and drinking, I started beating the crap out of my friends. They thought it was cool: "Oh, this kid's such a great fighter." I wanted to prove that I was normal. But it didn't feel like me. So I started trying other things, like mushrooms and acid. I'm not going to lie. It was probably three or four months of just doing acid and mushrooms every weekend.
I dropped out of school. When I left school originally, I was in Grade 10, 15 turning 16. [By this time, my family lived in Dawson Creek, another small town.] At this point, I met Tyler,* my best friend still to this day. I can call him up anytime, discuss life problems and that's really what I've always needed. No one else has ever given me advice I can actually take.
But Tyler got me into drinking really badly. He had a really abusive family. I'd come over, his mom and dad would be pissed drunk, yelling at each other, then they'd look over at us [and say,] "Get the hell out of the house." [His parents are] clean now but [at the time] it pushed me down.
He was another person who got me into partying. It was really weird because it was a small town. There'd be people on meth, anything; it was the norm there. Why I quit school: it was the drinking and a really freaky f$#*ed-up relationship—[there was a pregnancy scare and] I dropped out of school and said I'm going to work. Also at the time, her dad was a drug dealer, so I could go to him and say, I need to make this much money. He gave me bags and I'd go and sell them, then sit around the house smoking weed waiting for Tyler to get out of school.
I went back to school, but then I dropped out again. [By this time my family had moved] to a much bigger city. In [my hometown], our high school had as many kids as the elementary schools in this city. It was crazy seeing so many people and none of them wanted to be my friend, no matter how hard I tried. So I said, "Screw you guys, I'm going to go work."
I started out labouring for a forest products company. The job consisted of sitting at a table all day, or stacking stuff all night. Eventually I moved up to a saw operator. But around that time, I was getting into drugs. It made me really emotional. Eventually, I got fired.
I thought it would be cool to move back up to Dawson Creek [where my best friend was] so I called up Tyler, and said, "Hey man, can I have $500 for a bus pass?" He said, "No problem." And I was stunned. So [after I got fired], I go up there.
After it's all done and said, I go to Four Directions High School and graduate with flying colours. The thing is, I've always wanted to have my own kids and I knew I had to have a really good job for that.
I graduated early, I started at the veneer plant, moved up as fast as possible. With a lot of issues of course. I started doing research into mental health and the insane amount of rage I had at the time, and I realized that when you're coming off of drugs like cocaine or crack, even if you smoke a cigarette, you're prolonging the effect.
And I just said, No, I'm not going to be stuck here forever. So I quit everything. All the drugs. I really straightened out. I made sure I was in a mental state where I could actually handle a trade. And now I'm going towards my first-year carpentry certificate.
Kyle was my probation officer. He helped make sure I stuck on the right path, even when I messed up. He just told me, This is what you can do to change it but they're going to look at you this way forever unless you correct it.
Kyle connected me with Bruce [a counsellor] at youth justice and set it up so that I'd be meeting with him and talking to him every day. And as I talk to him more, I realized me and him were a lot alike.
Bruce and Kyle. They still blow me away with the things they can help me with. Not too long ago, Bruce got me into a program for my protective wear and equipment so I can get my lanyard training so I can go high up on cranes and stuff. Kyle pushed me through every program I could've went through. I went to a healthy relationship program for friendships and stuff like that. That really helped me stop being mad at everybody. Everybody has some animal instinct on the inside. And I just realized that if I can't accept that, I can't be friends with a lot of people.
My baby boy was born October 25, 2019. It was definitely the most crazy thing I've ever seen. His name is Xavier William. Other than my son, I'm most proud of my work ethic and my ability to convince people that I'm doing things for the right cause. One day I hope to run my own company.
Just as soon as you let go and say, I'm riding this thing, it's not riding me, it gets a million times easier. I listen to myself now and my own stories so that they're all going to end right.
Sometimes the challenges are what make you beautiful in the end.
*pseudonym
About the author
Troy grew up in Port Hardy, on Vancouver Island. Currently he lives in Kamloops