My experience with gender identity and drugs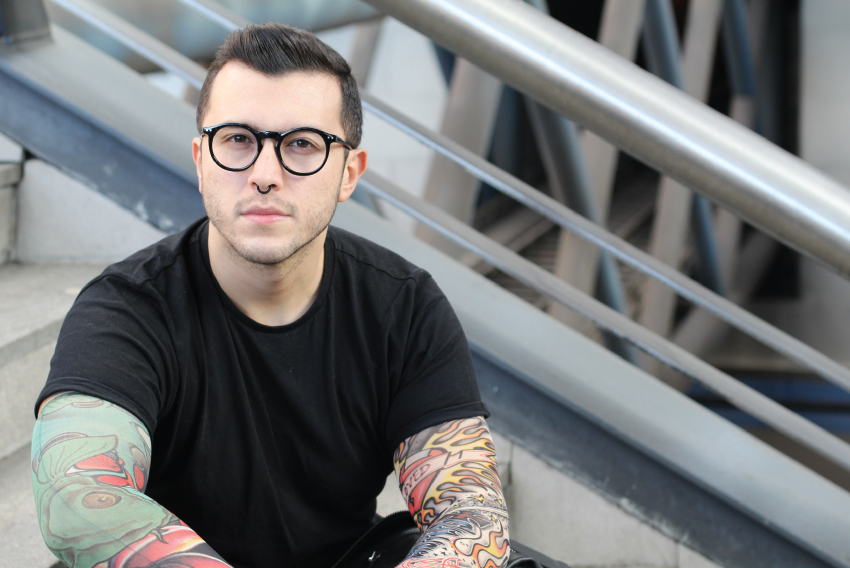 Growing up, I never felt like a girl. I couldn't understand why I didn't fit in, or why I was so depressed all the time. When I was 14, it all began to make sense. I realized that I was transgender—I had been born in the wrong body. The way I felt inside did not align with what was on my birth certificate.
At 15, I began transitioning from female to male. And for the first time, when I looked in the mirror, I felt like I recognized myself. Transitioning was the biggest blessing in my life, but it was also stressful because friends, family and the community aren't always supportive, and it's a major life change to experience.
I started partying a lot to cope with the stress of transitioning as well as to cope with the severe depression and anxiety that I had been dealing with my whole life. I never felt like I belonged when I was growing up, but getting drunk and high changed that. I was the life of the party, and I finally felt like I fit in. I was happy while high, and I felt like I belonged for the first time in my life.
My gender identity, mental health issues and drug use caused a lot of conflict with my family. My parents took it really hard. My mom felt like she lost her daughter, and like she didn't know who I was anymore. At the age of 16, I ended up couch surfing a lot. Sometimes I left my parents' home because of the conflict, and sometimes they kicked me out. I slept at the homes of my friends. I even had my own room at my best friend's parents' house.
The partying started to really escalate from every weekend to every day. I dropped out of high school to work construction so I could afford to drink and do drugs every day. By the time I was 17, I was doing methamphetamines daily.
But after doing meth for a while, I wasn't partying anymore. I was sitting in fast-food bathroom stalls shooting up alone: the party was over. I was unable to work because of my drug use, which had become chronic and out of control. I became distant and isolated from my friends, and I ran out of couches to sleep on. I began living on the streets.
That was at the lowest point of my life. Starting testosterone and beginning the process of transitioning had given me hope, but at the same time, it's hormones, which causes mood changes. I actually experienced a lot of anger issues when I first started testosterone. And then my addictions built on each other. I started doing heroin and fentanyl because they seemed to make the cold, hard ground softer and warmer so I could get some sleep. I remember countless cold mornings, waking up on the city concrete. I would instantly regret waking up to the reality. I would say to myself, "Here we go again. You're f*#$ing kidding me, right?" I felt like I had nothing to live for.
My life was out of control. I overdosed five times. Each time, strangers found me and called 911. Each time, the ambulance arrived in time. I'm blessed to be alive. At 18, I knew I had run out of chances; I knew I needed to get help.
I got myself into a treatment centre for youth. Because I was considered high-risk, my counsellor was able to fast-track the process. I spent two weeks in a detox centre and was then able to enter the treatment facility within a month or two. I didn't successfully fight off addiction the first time, or even the second time. But after a lot of trial and error, the third time was the charm. I finally got clean and began to see a glimmer of hope in my life. I slowly started to repair my relationship with my family and I got onto the path towards healing and recovery.
Treatment saved my life. In addiction, I spent all day, every day, either seeking or doing drugs. Treatment taught me a new way to live. We did individual counselling, group counselling, school work, chores, cooking and workshops on a variety of topics such as healthy relationships. We went to Narcotics Anonymous meetings twice a week. We learned coping strategies for managing triggers, anxiety and anger, and we made plans for what to do when we had cravings. We went to the gym or pool twice a week, and we also talked to people who had completed the treatment program—found out about their life outside of treatment and got advice from them. We had a very structured schedule.
Some really amazing youth workers and counsellors helped me see my strengths.
In hindsight, I'm really glad that when I was in Grade 9, my school connected me with a drug and alcohol counsellor. I had the same counsellor from the ages of 14 to 19. Signing up for treatment in my late teens involved a lot of paperwork. I don't think I would have been able to complete all the paperwork without my counsellor's support because my life was so chaotic when I was trying to get clean. When you don't have a stable place to live, and you're trying to stay warm and get enough food to eat, filling out paperwork is not the first thing on your mind.
Today in British Columbia—and all of North America—we are in the midst of the overdose crisis. We need more treatment centres for both youth and adults. We also need treatment centres for LGBTQ2S and Indigenous youth and adults in order to effectively address the unique needs of those populations struggling with substance use. We also need more programs meant for youth at risk because early intervention can have a major positive impact. Lastly, we need to find a way to address the root causes of substance use: trauma, abuse, isolation, poverty, bullying, mental and physical health issues, marginalization and oppression.
From personal experience, I know that when someone struggles with addiction, gender identity and homelessness, those challenges are intertwined and interdependent. When I was young, if there had been a treatment program that addressed that complexity—the interdependence of many problems at once—I bet it would've been really helpful.
After treatment, I worked in construction for a while. While I was working, I kept thinking about the youth workers and social workers who had been so helpful while I was in treatment. I realized it would be really fulfilling to be able to work with young people who were struggling with substance use.
Today I am 20 years old, and I am so grateful to be happy, healthy and sober. I am a full-time post-secondary student on the path towards becoming a social worker, and it feels great to have found my passion in life. I am an empathetic person, and I am passionate about social justice. I would like to work with youth and adults who are struggling with addictions, mental health challenges, poverty and the criminal justice system. I am also interested in working with the LGBTQ2S population. I volunteer at an LGBTQ2S advocacy youth group and I've had a steady job for a while. I really enjoy school and I can't wait to become a social worker. I think that all the experiences I've had in my life will really help me when I'm out in the field. And that, for me, is the light at the end of the tunnel.
About the author
Cole is a social work student who lives in New Westminster, BC. He loves travelling, volunteering and doing advocacy work