Thoughts on parenting adult children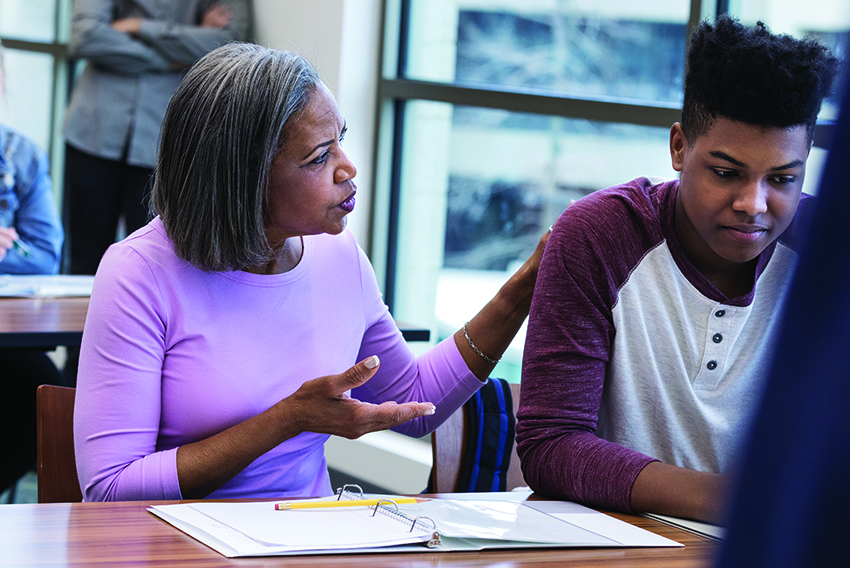 By the time our children become young adults, many of our big parenting lessons and much of our parenting learning are behind us. Yet parenting adult children is an unfamiliar new stage—more like coaching and calling from the sidelines, "I"m over here if you need me!"
I've been working towards this point my entire parenting life; I just wasn't aware of how long it would take—or how fast the journey would seem once I'd arrived.
It was no easy task raising two little boys as a single parent. Our eldest son was two years old and I was seven months pregnant with our second when I left their biological father, who was later diagnosed with bipolar disorder and died by suicide when the boys were still little. After holding on for dear life in the boys' early years and getting continual emotional support for myself and my sons throughout their elementary school years, things were looking up. I finally felt some relief in their pre-teens. I was filled with thoughts of "We made it!" Things seemed to have settled and I had hopes that we were headed for normalcy.
But in the teen years, things got more complicated.
The challenges with my eldest son worsened. By the time he was 13, he wasn't sleeping very much, he was impulsive, argumentative and angry. After a mental health crisis that included an event that psychiatrists thought was a manic episode, he received a diagnosis of bipolar disorder. We spent many years trying different medications for him and attending many counselling sessions.
My younger son was the quiet one. At 14, he began to withdraw even more than usual. Most days, it felt impossible to support him to stop procrastinating and avoiding anything he didn't seem interested in. The daily routine would begin hopefully, but we would quickly get bogged down in ruts we had made for ourselves: I would end up stressed, yelling from the bottom of the stairs to not miss the school bus. He wouldn't move, and most days there wasn't a darn thing I could do about it.
I found it difficult to learn the parenting lessons of that period—like the fact that my sons could choose to connect with the world around them, or they could choose not to, and there wasn't much I could do to influence them. And the fact that it's their choice what to share with me and whether or not to divulge—and their choice depends to a large extent on how I reacted the last time they chose to open up with me.
At first, stepping back and allowing them to make more choices for themselves felt foreign, scary. When they were younger, the rule was that I needed to know where they were and who they were with. As they got older, I had to learn to let go of things that got too difficult to "police." As the years passed, the stakes became higher: they were spending nights away, driving, going to parties. I spent many sleepless nights worrying. I tried to remind myself that this experience as a parent was normal, but everything felt far from normal. I was having difficulty trusting and letting go. I had to learn to go to bed "okay" when they didn't follow through and communicate.
It was necessary for me to reach out and find a counsellor and supportive friends to talk to, and to practise self-care; I walked and journalled almost daily.
I learned through my mistakes. I didn't always say and do the right thing. I struggled with my own fears—which sometimes led me to react in ways that weren't helpful. I caved to the pressures that society puts on most of us, like pushing the "need" to graduate on time. Now that we are on the other side of that timeframe, it seems like a lot of wasted time, stress and frustration that affected my relationship with my sons in negative ways but didn't change the decisions they ultimately made for themselves.
Sometimes, I compared myself (and my sons) unfavourably to others who looked to me like they had it all together. I recall running into the mother of my son's friend—her son had graduated, had a great job and was doing so well. I shyly said she must be so proud, and I shared that my son hadn't graduated and that he was struggling to figure things out. I was surprised when she said, "Well, he's a wonderful person, that's what matters. He will figure it out in his own time." I felt ashamed when I realized that she had offered me a better view of my son than I had shared with her. I wanted to change my thinking.
I found it really helpful when I started to focus more on my sons' strengths and on my positive connection with them. I focused on finding things to celebrate about each of them. This was especially helpful when we were going through periods of conflict.
Other little things helped, too. For example, in times of crisis, I held on to the mantra "This too shall pass." And it always did—we would have bad days, and then things shifted and changed, and we would have good days, too.
Parenting adult children and planning for transition
As parents, one of our tasks is to assess what our children need from us at different ages and stages—whatever struggles they are facing at the time. It can be difficult to gauge what kind of support our children need, as challenges can look different for each individual. As parents, we also have to learn how to modify the support we provide as our children grow and change.
As my sons grew up, I wanted to continue to offer my support, but I wasn't sure exactly what to do or how my offer of help would be received. I realized that it was important to ask them to share what they wanted support from me to look like. When I offered support, I began to follow it with, "Would that be helpful?"
Over time, the objective of preparing them to enter the adult world became more apparent. When my eldest was getting ready to go to college in a distant city, I tried not to say things that might reinforce what he already felt anxious about. Instead, I would ask him how his rental search was going. I would share my own experiences—telling him how I had put down a deposit to secure an apartment, how I put the bills in my own name. I offered support for those practical issues instead of sharing my worries.
Sharing my experiences as a young person landed differently. I was planting seeds, not giving advice. When I offered it in this way, my support was much better received. The adult version of support looked more like sharing vulnerabilities and finding our common humanity.
Getting good support for mental health—particularly when we are going through significant life transitions—is critical. In my son's last medical appointment before the big move, the psychiatrist wrote up academic accommodation recommendations for his college, and the Child and Youth Mental Health clinician sent his file to the walk-in youth clinic in his new city. When my son arrived at the new clinic, they were ready for him. My son really valued the support he received from his mental health team, and the ease with which he made new connections, as he already had so much to navigate in this big transition.
Reframing my feelings as a parent
When my sons first left home, I was flooded with memories and felt a little lost. I felt so much pride and so much loss.
When we text or talk, I always let them know I miss them, but I don't harp on it. Instead, I express excitement to hear what they have been up to. I want them to know that I believe they can accomplish their dreams and that I'm excited for them. Of course, I'm not perfect—I've said things that come out wrong, or I've shared my worries. But I try to learn from my mistakes, and from my reactions and theirs. I acknowledge when I haven't listened as well or as non-judgementally as I would have liked to. I use self-compassion. I know I'm learning how to do this transitioning, too.
When my youngest son got to the point where he needed to come home, it was hard for him. In all honesty, it was a let-down for both of us. We had both hoped he would succeed in finding a new job and a place to rent in the city he had chosen to live. But I didn't want to view it as a failure. I purposely reframed my thinking.
I had heard the term "failure to launch," but I preferred the phrase "false start," which felt more positive to me. I was reminded of Ross Greene's description of "lagging skills"—skills that would help someone cope in certain situations but that haven't fully developed. I found this lens very helpful.1 Together, my son and I brainstormed the things he needed support with in order to be successful the next time.
During this long journey, all three of us have shared unfiltered moments that tested us, but we continued to love and support one another. This is what I had strived for from the outset (even though I hadn't always known it). My heart soars when I see them out there living their lives, and if things get hard, they know they can ask for my help.
In all this reflection, my biggest hope is that my children always know I believe in them, that they are seen and valued, even from a distance. That it's okay that they need me differently now that they are young adults, and that our family is a firm foundation from which they can grow. Our family will always be a positive place in which they are held in unconditional love.
*pseudonym
About the author
Julie is a FamilySmart Parent in Residence (PiR) in a rural community in BC. She looks forward to opportunities to spend time visiting her adult sons and is planning to do some hiking and boating with them over the summer
Footnotes:
Greene, R.W. (2014). The explosive child: A new approach for understanding and parenting easily frustrated, chronically inflexible children. New York: HarperCollins.