A daughter's story of eating disorder and recovery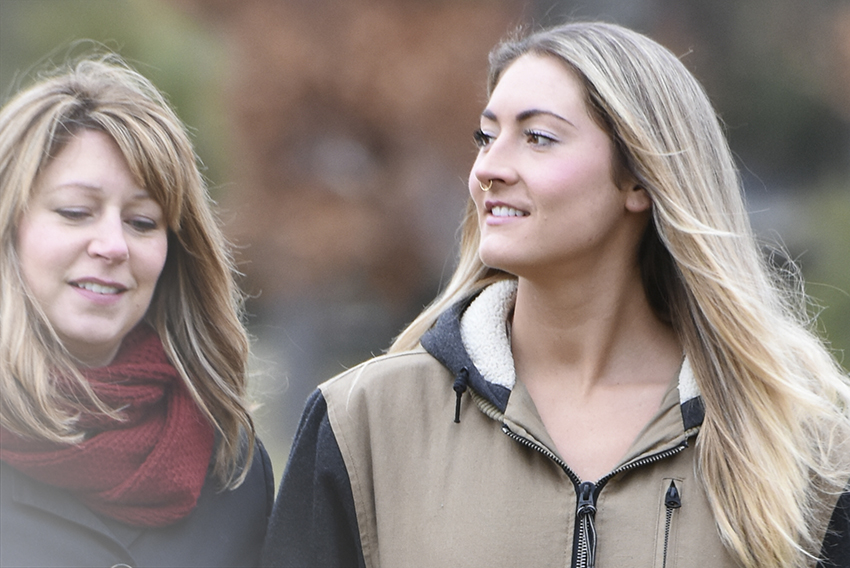 It's difficult to say when my mental health struggles began. I remember being exceptionally nervous as a young child—imagining nightmare scenarios like losing both my parents or getting publicly chastised in front of my primary-school classmates—and sometimes getting so worked up that my stomach would burn and my head would ache and my mom would have to pick me up from school mid-morning.
This undiagnosed anxiety was deemed a normal characteristic of my "type A" personality, and it only grew stronger as I approached puberty. My middle-school years saw countless mornings spent in crisis as I bawled to my mom about how much I hated the way I looked, and how I couldn't possibly go to school looking the way I did. Again, this was assumed to be relatively normal in terms of pre-teen angst, and my mom, dad, younger sister and I hoped that my mood would stabilize eventually.
As puberty took hold, I started becoming aware of my body and comparing myself unfavourably to others. Cosmopolitan magazines and less physically developed peers had me believing that my body was somehow wrong. This dissatisfaction soon turned to absolute self-hatred, and I began experiencing suicidal ideation. I felt overwhelmed with emotion all the time, like I had no control over my body or my mind. So I began taking action: a million diets and countless hours on the elliptical trainer in the basement. The endorphins gave me a rush of temporary happiness, and the dieting provided a sense of control. When my parents tried to intervene, I was furious. I wanted nothing to do with them or their opinions on my strange new habits.
By the time I was 15, the diets had morphed into strict dietary rules, and the exercise sessions had become obsessive rituals that dictated my schedule. I constantly felt that I wasn't good enough and needed to repent for my inadequacy by punishing myself with brutal workouts and depriving myself of food. Watching me self-destruct had my parents paralyzed with fear; their daughter had become someone they didn't know. My mood was horrifically unstable, fluctuating between depressive episodes and manic bursts. I knew something was deeply wrong with me, but it didn't matter; the sense of control I got from steadily shrinking my body was the only thing that kept me going. I didn't know it at the time, but I was in the grips of a volatile eating disorder: anorexia nervosa.
Unaware of the eating disorder's monopolization of my mind, I regarded my parents as my worst enemies as they tried to derail my efforts. Despite my (sometimes violent) resistance, they diligently took me to multiple appointments every week, hoping that someone could tell them what was wrong with their daughter. For a long time, there were no concrete answers, as eating disorders are an obscure corner of the medical world that most health professionals receive no training on. In our small, remote town of Kimberley, the resources just weren't developed to treat such a multifaceted illness. And so I was admitted into the eating disorder ward at BC Children's Hospital in Vancouver, in the summer of my 16th year.
Finding clarity in recovery
I was furious at my parents. I refused to speak to them for the first few days of my stay. All of my painstaking work to establish control was ripped away from me by the doctors and nurses who enforced strict feeding regimens and therapy sessions. No more obsessive exercising. In fact, I was in a wheelchair for the first week because my heart rate was so low it was susceptible to failure. I went through the motions in a haze until, a few weeks in, I woke up with a feeling of freedom. I noticed, for the first time in months, the absence of that little voice telling me I wasn't good enough—that voice of the eating disorder (ED, or "Ed", as we started to call it). That moment of clarity was the first time I felt motivated to recover, and I began to actively engage in my treatment plan.
While I was in the hospital, my parents made the bold decision to uproot us from the town they themselves were born and raised in, in order to relocate to a bigger centre, where resources were available to continue my recovery after discharge. Penticton became our new home, an hour away from Kelowna, where an eating disorder outpatient clinic exists. After almost three months on the eating disorder ward in Vancouver, I reached a level of medical stability that qualified me for discharge. By this time, I had become friends with my caretakers and fellow patients, so I was somewhat sad to leave.
Starting Grade 11 at my new school, Princess Margaret, was scary at first, especially because I didn't want anyone to know about the eating disorder. I attended multiple appointments in Kelowna each week and lied about why I was missing those afternoon classes. My parents, now equipped with vital knowledge and skills that they had learned from the team at BC Children's, became my devoted caretakers, making each meal and supporting me through them. Although we experienced minor setbacks, like a drop in my weight or a particularly depressive episode, our family worked as a team to build an environment where the eating disorder was no longer welcome. Body positivity and anti-diet-culture rhetoric reigned supreme, while self-deprecation and body comparisons were eradicated.
In my Grade 12 year, I started sharing the story of my journey with mental illness, with hopes of making people more aware of eating disorders and encouraging those who are struggling to seek help. My mom and I became more involved in advocacy work for youth mental health, participating in projects aimed to improve the health care system in BC for youth with mental illness. This advocacy work was extremely beneficial to my recovery: it made me feel accountable for my own mental health.
Becoming a healthy adult
Eventually, I aged out of youth care and had to transition into adult services. At this time, I was starting post-secondary at Okanagan College in Penticton while still living at home. I was grateful to have my parents' help in navigating this health care transition. The ups and downs of recovery continued, but with each passing year I found myself growing stronger and feeling more capable of resisting self-harming urges. The depressive episodes grew increasingly rare and the little voice in my head quieted. As the eating disorder's hold on me gradually weakened, my relationship with my parents strengthened. We worked hard to establish boundaries that would allow for transition into a more "normal" teenager-parent dynamic—a dynamic that is challenging enough, without the presence of an abusive eating disorder!
In the fall of 2017, at age 21, I moved to Kelowna to continue my education at the University of British Columbia's Okanagan campus. It was the first time I had lived on my own and I was excited. By this time, I was almost free of eating disorder–related thoughts and impulses, but I continued to feel the dull ache of depression every now and then. My parents were nervous to see me leave the nest, but they were also excited about this new chapter. I was more confident in seeking health care providers on my own, and found a counsellor who helped me through a brief bout of school-related depression. My mom still checked in almost every day, but I found this to be comforting rather than suffocating, as I had in the past.
The team at BC Children's Hospital told us that it takes seven years to recover from an eating disorder; I remember thinking that the number seemed rather arbitrary. Today, I am 23 years old, it has been seven years since I was diagnosed, and I can proudly say that I am 100% recovered from anorexia nervosa! I still need to be wary of my mood when it dips, but I can honestly say that I am really, truly happy. For the first time in my life, I can say that I love myself.
My mom and I maintain an open channel of communication regarding our mental health, and my entire family now jokes about our horrendous experience as a way to continue healing. Then-me hated how involved and controlling my parents and my health care practitioners were during the height of my illness; now-me recognizes that it is necessary for someone with an eating disorder to be relieved of all controls. The ill person cannot see that they are being manipulated by a ferocious disease and that they cannot make wise and healthy decisions for themselves. They might feel like they are in control, and fight desperately to maintain that control, but the fact is that the illness is controlling them. The only way to fight the illness is to remove control from the ill person entirely.
If I had to summarize how my parents were most helpful through the illness, I would have to say that their continuous reminders that I was sick and that it wasn't my fault were one of the keys to my recovery. It was also integral that they continued to paint a picture of a life beyond anorexia, giving me hope that I was capable of recovery and it was worth fighting for. Since the eating disorder was in my brain and always trying to convince me that everything was my idea, having my parents actively oppose it was necessary. Now, as a young adult, what is most helpful is knowing that my parents have my back when I need them, but also that they trust and believe in me to overcome challenges. This trust requires that we all communicate with one another and use our newly formed emotional awareness to assess where we are at.
Recovery wasn't easy by any means, but it was worth it. Our family is now bound closer than ever, and we all take pride in the fact that we faced anorexia nervosa, the most deadly of eating disorders, and lived to tell the tale.
About the author
Rylee is a young adult navigating life after her battle with anorexia nervosa as a teenager. She has a bachelor's degree in human kinetics and is a certified Ashtanga Yoga instructor. Rylee is a passionate advocate for youth with mental illness and hopes that sharing her story will help others