A mother's story of eating disorder and recovery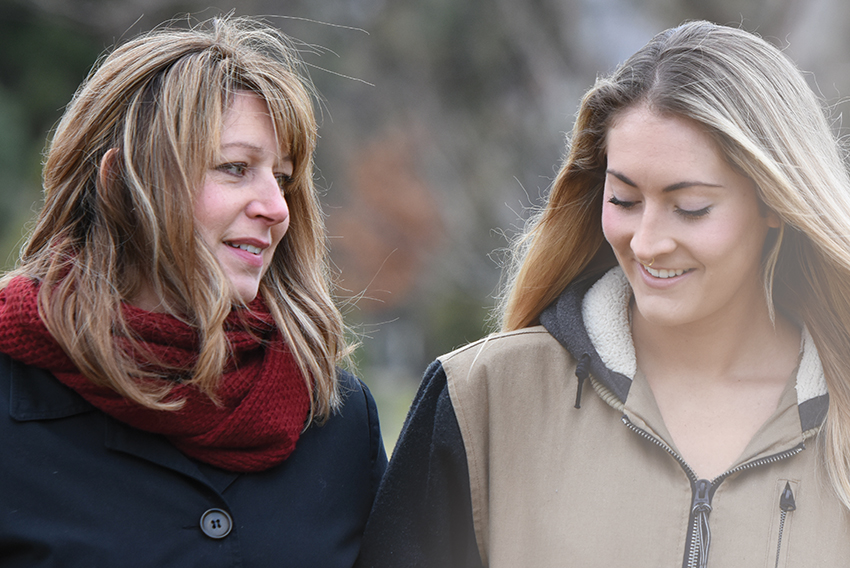 Years after we had weathered the storm of our daughter's eating disorder, Rylee would tell us that the mental illness she fought as a teenager demanded that she do anything but listen to her parents. The eating disorder (ED, or "Ed", as we came to call it) insisted that she die rather than let people dissuade her from severely restricting her food and fiercely over-exercising.
Early on in her fight, Rylee said to me, "Mom, you have to understand that Ed hates you because he knows you're trying to fight him." That was the beginning of my understanding of how an eating disorder can hijack the brain—and the life—of its victim, leaving the person feeling that they are unable to choose any other way of being. Typically, when a child becomes sick, we give them the medicine necessary to heal them. With anorexia, the medicine is food—the most fearful thing in that child's world—and they will do anything to avoid it.
Increasingly, we noticed Rylee's growing anxiety and agitation around mealtimes and a rigidity about exercise routines. And, of course, we noticed her weight loss. Concerned, I took Rylee to our family doctor and an eating disorders nurse. She also saw a dietician, a mental health clinician and a pediatrician. She waited four months to see a psychiatrist.
Initially, we tried to help Rylee without hospitalization. At home, we implemented the few strategies we had learned, not realizing that we needed much more explicit instructions on caring for someone with an eating disorder. Over time, the number of appointments with medical practitioners increased. Often, they were in another town because our hometown had few resources. While each of her providers was excellent, they gave us conflicting information and opinions, adding to our state of confusion and helplessness.
Finding support
When a severe illness strikes one of your children, it can be overwhelming. But then, within weeks of Rylee's diagnosis, I was diagnosed with thoracic outlet syndrome, which required me to have four upper ribs removed. Concurrently, my father was diagnosed with dementia, which would ultimately take his life two years later. When we were told that anorexia nervosa often means an average of seven years of recovery, we felt like we were drowning.
Throughout this period, Rylee was angry, depressed and suffering with suicidal ideation. When she was admitted to the specialized eating disorders unit at BC Children's Hospital, both my husband, Mark, and I were oddly relieved—sad, yet thankful—that we were able to get her medically certified. This meant that Rylee would receive treatment involuntarily.
Navigating the health care system when your teenager has a severe mental illness can be tricky. As a youth approaches adulthood, they have more rights in our care system to choose whether their family is involved in their treatment. Although at 16 Rylee was still legally a child, a 16-year-old patient who isn't certified—a patient who is in the hospital voluntarily rather than involuntarily—is able to make certain choices on their own. If she hadn't been certified, Rylee would have been able to choose to leave the hospital. We knew, however, that the eating disorder had disabled Rylee so deeply that constant supervision and care from highly trained clinicians was likely her only chance for recovery.
The willingness of Rylee's care teams to keep us closely informed of Rylee's care plan, while still respecting her wishes for confidentiality, was, I believe, one of the reasons for her successful recovery. Her care teams were also able to empower us as parents by affirming to Rylee the importance of her family's efforts, despite Ed's constant "voice" telling her not to listen to us.
By this point, I was on medical leave as I tried to manage my chronic pain and awaited surgery. I moved to Vancouver to be closer to Rylee, leaving our home in southeast BC. Mark and our other daughter, Sydney, would come to Vancouver whenever they could, but Mark needed to work and Sydney had sports team commitments. I felt like I was in another world: suddenly living in Vancouver, missing Sydney and Mark terribly when they weren't there. But I was relieved that Rylee was in the best (and only) residential eating disorders program for youth in BC.
Learning how to be a care team
Throughout the 10 weeks that Rylee was in BC Children's Hospital, we received training in the specialized skill-set that primary caregivers need in order to continue the recovery process at home. We found this education extraordinarily helpful. The guilt and shame that parents often feel when their child lives with a mental illness can be debilitating, hindering efforts to help. We were empowered by practitioners' reassurance that parents don't cause eating disorders. We were further empowered by our learning the specific skills we would need to continue battling Ed after Rylee's discharge.
It was during this time that our family made the bold decision to relocate to Penticton, which would enable us to access outpatient support from the Kelowna Specialized Eating Disorders Program. We would be leaving behind family and friends, but we felt we needed the support that the Kelowna program could provide.
After Rylee was discharged, we became Rylee's new local care team. We learned that even after her time in hospital, Rylee's mind would continue to be dominated by Ed for at least a year, maybe more. She needed intensive support, and we had to consistently emulate the hospital's program—but without a team of highly trained professionals on-hand. We planned each meal a week in advance, using strategies to prepare Rylee, coach her and provide post-meal support. Rylee fought hard to manage depression, anxiety and, once again, suicidal ideation as she tried to do the opposite of what Ed continued to tell her.
Sydney tried her best to provide normalcy as she and her sister shared a new home and a new school. Like many siblings of youth living with mental illness, Sydney was quiet, not wanting to demand more of us than we were already giving to Rylee. We talk about this often now, as we understand it is so heartbreakingly common in families struggling with mental illness.
My husband and I also attended a caregiver's support group. This was invaluable to our own self-care. The cross-section of parents from different socioeconomic, ethnic and cultural backgrounds reminded us that Ed doesn't discriminate.
As Rylee continued to recover, she and I became involved in advocacy for youth mental health. We felt that our story might help other youth and families living with mental illness. Rylee has spoken at several events focused on eating disorders and youth mental health; occasionally, we have shared our story together.
Living with mental illness as a young adult
When she was 21, Rylee moved to Kelowna to attend university. Since her diagnosis, she had been slowly but consistently recovering, gaining skills to manage the disorder. Despite keeping Ed in check, the depression and anxiety that often go along with an eating disorder (and with recovery from an eating disorder) were challenging.
Twice, she became severely depressed and was unable to reach out for professional help for herself. When I tried to do so on her behalf, I discovered that navigating the health care system for an adult is very different from navigating the system for a child. Some of the service providers required that Rylee make phone calls and appointments for herself, and we found out that she had "aged out" of some of the programs on which we had relied heavily before.
It was a scary realization for us, that we could no longer just book the services Rylee needed when she needed them. We found ourselves feeling strangely grateful that the most acute part of Rylee's illness had happened when she was still legally under our care.
Thankfully, Rylee welcomed my help. We began with walks outside, as nature has always been a grounding source for Rylee. She attended counselling sessions through the university. She found a new doctor and, once again, drew on her incredible strength and will. In time, she was able to work through her depression.
I have learned that I can rely on Rylee to let me know when she is in trouble. As long as she is able to do that, I know that we can figure out the rest. I trust her to make good choices for herself, and to let me know if she's struggling; she trusts me to avoid micromanaging her life, but to be there unconditionally when she reaches out.
Helpful advice
We are often asked what helped us the most. This is an interesting question, because the answer differs depending on Rylee's age. When she was a child dealing with an eating disorder, and was legally under our care, we found that it was most helpful
to be reassured that our child's mental illness was not a choice she was making
to be reassured that nothing we did or didn't do had caused our daughter to develop an eating disorder
to receive practical education and support as primary caregivers
to learn Emotion Focused Family Therapy (EFFT)—a family-based model for support and recovery from mental illness
to be treated with dignity and respect by Rylee's practitioners and to be involved and consulted in developing a consistent care plan
to advocate for communication and integration between service providers
to receive the unconditional love and support of family and friends
Now that Rylee is an adult, we have found it most helpful
to help and encourage our daughter to build supports ahead of time, so that they are available when needed
to check in often, in a respectful and empowering way (always giving the message that we believe in her to make the right choices), including offering help and advocacy when needed
to continue to use EFFT skills (useful for all relationships!)
to accept the unconditional love and support of family and friends
It has been seven years since Rylee's anorexia diagnosis, and she continues to lead our family in advocating for others, sharing our story and, along with her sister, helping peers who are living with "Eds" of their own. As a family, we have found a resilience we didn't know we had. We enjoy a closeness and a sense of peace that has evolved out of our experiencing something unthinkably difficult together and knowing we've survived.
About the author
Terri is the mother of two adult daughters. She left her career as a special education teacher due to a medical condition, and for the past five years has advocated for increased education about eating disorders and improved mental health care for youth. She works part-time in family peer support at Foundry Penticton