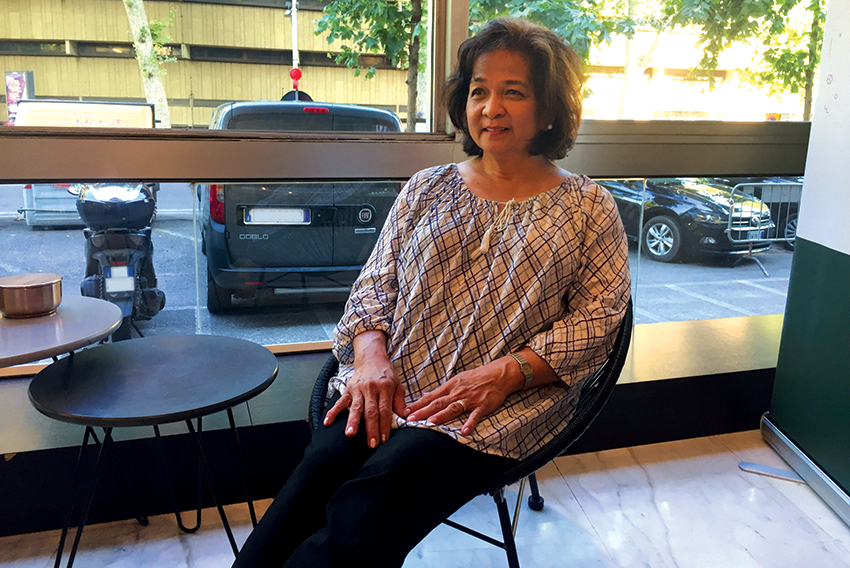 "Mom, why can't I be happy?"
This was the question my 22-year-old son asked me in January 2014. These were painful words for a mother to hear—from the child she loves with all her heart and might, from the young man she thinks the world of.
The question lay at the heart of a larger conversation. He was asking me why he couldn't be like other people. Why did he have to be anxious about everything all the time—about his performance in school and at work? Why couldn't he live in the present moment peacefully, not worrying about what had happened and what might have been, or what will be in the future? Why did he feel compelled to do something every moment? And why did he feel guilty whenever he did something he enjoyed?
My son has been diagnosed with generalized anxiety disorder (GAD). This illness robs him of happiness at every level.
Growing up, my son was always a good boy. He never asked for the latest games or toys or clothes. When we did buy him something new, it was always a generation behind the latest model. He never complained. He was always grateful. His wants were simple: toy cars and a big, plastic two-dimensional map of a town where he could pretend to run the cars from street to street.
In elementary school and high school, my son was consistently the top student in his class. He was recognized for his achievements in math, physics, chemistry and music. He received the Governor General's bronze award for topping three provincial exams in high school. He was on the Dean's List at the University of British Columbia, where he graduated with a degree in applied science in computer engineering. He has a great musical voice.
And all this time, we did not know how he was suffering inside.
Today, five years after that January morning in 2014, my son is a happier person than he was, now better able to manage his fears and anxiety and finding life's meaning in helping other people, especially youth, overcome their own monsters and fears.
This change did not happen overnight, and it did not happen on its own. We tried various counsellors, group therapy sessions and medications. When one solution didn't work, we continued to search for others. For my son and for other people with GAD, to not be anxious is a daily conscious act of the will. To face and conquer his debilitating fears, my son had to harness all the resources and skills he has acquired during the past five years.
A parent's role
As parents, we can help our children overcome their anxiety. Here are a few guidelines:
1. Make sure that your child has a set of committed friends whose main concern is your son or daughter's welfare.
My son was with one of his best friends when he finally told us about his panic attacks and his sleepless nights. Although we were not the first people he turned to for help, we were very thankful that he had felt close enough to his friends to share his concerns.
2. Don't play the blame game.
There are no parenting schools; most of us are trial-and-error parents. We all have good parenting days and bad parenting days, and how we parent depends on our personality and our own experiences. Blaming yourself or your partner for something you did or didn't do as a parent—or for something you did or didn't see—is only counter-productive.
3. Don't give up on finding the right therapist for your child.
When I learned about my son's anxiety, I went online to look for a psychologist. This proved to be a daunting task: how could I entrust the care of my son to somebody I knew nothing about? Then one day, a co-worker recommended a psychologist to me. When I contacted the psychologist, her waitlist was so long that she had to recommend a colleague. But after more than a year of waiting, my son and the psychologist my co-worker recommended finally met each other, and they proved to be a good fit.
4. Cognitive-behavioural therapy (CBT) can be an amazing tool for GAD.
After every visit with his therapist, I would always ask my son how the appointment went. He would excitedly tell me what happened in his sessions (he has generally always been open with me). I noticed a marked improvement in my son's moods. The CBT approach encourages him to be aware of his thoughts and feelings and to manage them in a way that evokes a more positive emotional response. Before he began CBT, for example, he dreaded driving; now he has a regular driver's licence. He used to not care about his health and appearance; now he regularly goes to the gym and chooses and purchases his own clothing. He never cooked before; now he makes meals and washes his own clothes. With CBT, my son started experiencing small victories and big victories, both of which improved his confidence and sense of self-worth.
5. Never underestimate the value of open communication.
In high school, my son became quieter and less communicative. We attributed this change to adolescence; we let him be, although we kept a watchful eye on his school performance and the kinds of friends he kept. As my son grew older and family schedules changed, we spent less time together. We didn't keep our lines of communication as open as they could have been.
Working together for positive change
When my son was diagnosed, our family agreed to make some simple changes that made a big difference. To avoid feeling like he is cooped up in his room and alone, my son now brings his laptop into the living room and stays with us. We might all be doing different things with our evening, but there is that feeling of togetherness.
We also started having family meetings, which can be called anytime by any of us. This started as a way for my son to update us on what's happening with him or for us to say what we wanted to say. At first, these meetings were difficult for us because we were so honest that they sometimes ended on a bad note. Sometimes I would end up in tears or we would finish the meeting resenting each other. But we never gave up. We continued to believe those meetings were important. They have been a good exercise in practising and improving our listening skills and thinking about the other people in the family. Now we can joke about those early, painful meetings because we have become the better for them.
Between school and teaching and his music, at one point my son was juggling four or five schedules at a time. To spend quality family time with us, my son suggested that we start a tradition of going out for Sunday breakfast. Now, every Sunday at around 9:00 am, we head out to a nearby restaurant that serves breakfast.
Hope for the future
There is no doubt that all these things—the support of family and friends, a good psychologist, CBT, medication (to a certain extent) and an open line of communication with his family—contributed to my son's recovery. But there is one thing that enables all these factors to work in the person's recovery process. This is the hope on the part of the person that things will get better and recovery is possible.
Medical researchers Tanvi Acharya and Mark Agius point out that the "central tenet in recovery is hope—it is the catalyst for change, and the enabler of the other factors involved in recovery." According to Acharya and Agius, "mental illnesses are not part of one's nature, but are states of mind which can be changed in many instances...hope offers the means by which a better future can be perceived; and therefore, achieved."1
Each of us approaches life and its challenges in our own way. When my son asked me in January 2014 why he couldn't be happy, although it hurt, I considered it a good sign that he would be seeking the kind of happiness that truly lasts.
In the meantime, I answered him, "There is a reason for everything, including suffering. The greater your suffering, the greater meaning you will get out of it." It was an answer borne out of faith experience and trust in the Divine Providence. My son might not have fully understood it at the time, but in our talks recently, he acknowledged that what I told him was indeed true.
Today, he is happy when he works with others who struggle with anxiety disorders. And he knows he is good at what he does because he has experienced some of the same suffering and felt some of the same pain. What gives him joy now is the fact that he is able to help keep alive that hope in people with mental illness.
It was—and still is—painful to watch my son suffer. But when I see how he has used his suffering to help others, I know that my answer was the right one. There is a reason for everything, and because of this, there is always a reason to hope for the future. In the words of Alexander Pope (from his iconic "An Essay on Man: Epistle I"): "Hope springs eternal in the human breast: / Man never is, but always to be blest."
About the author
Janet currently works in a Catholic elementary school in Vancouver. Not only does her son describe her as naturally funny, warm and kind-hearted but he also sees her as a person who truly loves God and is true to her faith
Footnotes:
Acharya, T. & Agius, M. (2017). The importance of hope against other factors in the recovery of mental illness. Psychiatria Danubina (September 29) (Suppl 3), 619-622 (Abstract). www.ncbi.nlm.nih.gov/pubmed/28953841.